What is a Power Shower? Everything You Need to Know
By Natasha Brinsmead published
Exactly what is a power shower? Our quick guide explains everything you need to know if you are a little confused by the various terms in the showering world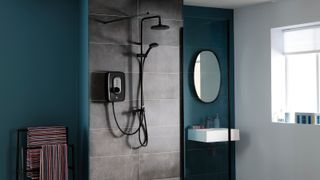 (Image credit: Triton Showers)
If bathroom jargon has left you wondering just what is a power shower then we are here to help.
When it comes to bathroom or wet room ideas, it can be confusing to know exactly where to start when it comes to choosing a shower. There are so many different terms and types.
There are several reasons why people consider buying a power shower, but the most common is because they live in a house with poor water pressure and are seeking a way to give their shower a little more oomph.
Our guide explains exactly how a power shower works, what they are, how they are installed and what they typically cost.
Just What is a Power Shower?
Just like mixer showers, power showers combine water from your hot and cold water supplies in order to achieve the right temperature. However, where they differ from standard mixer showers is that they feature a shower pump, designed to boost water pressure. This is a key distinction when it comes to how to choose a shower.
The shower pump will usually be sited within the shower unit, where it forces water through at a much higher pressure. (Although an alternative is to fit a shower pump — but a power shower provides an all-in-one unit.)
They are commonly specified by people who are after shower room ideas but who live in homes with a cold water tank in the loft that supplies water to a hot water tank, usually located in the airing cupboard. This is because these types of plumbing systems (gravity-fed) often suffer from low water pressure.
Can I Have a Power Shower?
Before rushing out and buying a power shower, you will need to ascertain that your bathroom design and, more importantly, your plumbing system will be compatible with one.
"If you have a combination boiler (where water from the mains is heated by the boiler as it is required) or a pressurised system (where your hot water tank is fed directly from the mains, rather than a cold-water tank), then you won't be able to install a power shower," says Hannah Thomsen, Product Manager of Electric and Power Showers at Mira Showers (opens in new tab). "However, you can install a mixer or digital shower."
Electric Shower Vs Power Shower
There is usually some confusion surrounding the difference between electric showers and power showers — but they are not the same thing.
"An issue that confuses many people is the difference between a power shower and an electric shower, the common misconception being that they are the same," says Hannah Thomsen.
"In reality, although they have similarities, they serve different purposes. Electric showers only take water from your cold-water supply before heating it to the required temperature and because water is coming from the mains, the pressure usually doesn't need to be boosted by a pump. An electric shower is suitable for any bathroom and plumbing system, but power showers can only be installed in the specific circumstances."
Unlike an electric shower, power showers don't heat the water using an electric current — and they tend to result in a more powerful spray than even some of the best electric showers. One similarity, however, is that they both require an electricity supply, as the pump needs one to run off.
What Types of Power Shower Are There?
There are two types of power shower:
Thermostatic power showers are designed to keep the pressure and temperature of the water coming from your shower steady, even when water is used elsewhere in the house.
Manual power showers, on the other hand, rely on the user to tweak the controls until their desired temperature is reached and adjust it if necessary when water is used in another part of the house.
How Much Do Power Showers Cost?
Manual power showers tend to be cheaper than thermostatic versions, starting at around £160. Thermostatic power showers, on the other hand, cost from approx. £250, rising upwards of £700.
Natasha is Homebuilding & Renovating's Associate Editor and has been a member of the team for over two decades. An experienced journalist and renovation expert, she has written for a number of homes titles. She has renovated a terrace and is at the end of the DIY renovation and extension of her Edwardian cottage. She is now looking for her next project.
Homebuilding & Renovating Newsletter
Get the latest news, reviews and product advice straight to your inbox.
Thank you for signing up to Homebuilding. You will receive a verification email shortly.
There was a problem. Please refresh the page and try again.