Bathrooms on a Budget: Create a Restful Retreat For Less
By Natasha Brinsmead published
Designing bathrooms on a budget doesn't have to mean compromising on style — our guide explains the top ways to cut costs without cutting design flair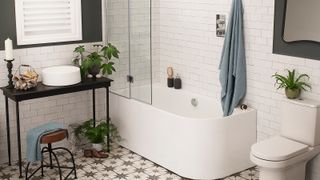 (Image credit: Waters Baths of Ashbourne)
For those creating bathrooms on a budget, we're here to reassure you that it is quite possible to achieve a luxury, spa-like space without spending a fortune.
Bathroom ideas always need to be carefully considered in order to ensure you end up with a space that meets all your needs, but when you are trying to keep spending to a minimum, there are certain challenges that need addressing more than if you are happy to spend, spend, spend.
Our budget bathroom guide brings you the top 10 smartest ways to save, from easy bathroom makeover tips to how to find complete bathroom suites for less than you might have thought possible.
So, if you are dreaming of bathing heaven but are worried about splashing out, worry no more — your dream bathroom is within reach.
Planning Bathrooms on a Budget
Bathroom design should be based on your individual needs as opposed to simply trying to mimic something you have seen elsewhere.
Before you can begin to plan a budget properly you need to have a clear idea of what items and fittings you require, in order of priority.
Asking yourself the following questions will help:
Who will be using the bathroom?
Will you be installing it on a DIY basis?
What kind of heating do you want?
How big is the room?
Are there any accessibility issues to consider?
Are there any existing fittings you could retain?
Are there awkward features to consider (bulkheads, sloping ceilings etc.?)
Once you have the answers, you should have a better idea of what sanitaryware and other bathroom fittings you will need. For example, you may have come to realise that it is family bathroom ideas that you really need to focus on, in which case you may have come to the conclusion that fitting both a bath and a shower will be necessary. Or perhaps you have decided that you can save money on some aspects of your bathroom fitting by doing it yourself, freeing up funds for a designer shower.
While we are on the subject of good planning, it is worth pointing out that a significant amount of money can be saved simply by planning ahead. What this means is thinking about any light fittings, heat sources or brassware that might need wiring or pipework early on in order to prevent costly disruption later down the line.
Planning ahead also means you can take advantage of any sales you see before work gets underway.
With your list of priorities sorted, take a look at our budget bathroom tips.
1. Retain an Existing Layout
If you are renovating a bathroom, as opposed to starting from scratch, one of the best ways to save money is to work with what you have. This applies to existing sanitaryware in good condition, as well as the layout of the space.
"The most cost-effective approach is to keep the same layout," explains Jay O'Neill, Director at Bathroom Mountain (opens in new tab). "That way you won't need to pay for additional plumbing work or for installing new pipes behind walls or under the floors, which can be costly."
Changing the layout of an existing bathroom can actually be one of the most expensive aspects of a bathroom renovation, particularly when it comes to moving the location of the toilet as this will usually mean moving the soil pipe — which can be a pricey and labour-intensive job.
2. Opt For a Standard Suite Then Jazz it Up
When you start shopping around and perusing bathroom showrooms it can be easy to get swept away by some of the eye-catching sanitaryware and brassware products on offer — egg-shaped stone bathtubs, striking metallic basins and enormous overhead rainshowers included. However, if you are on a tight budget, you really need to avert your eyes and get a little bit creative with some of the more standard, off-the-shelf items on offer.
The good news is that simple cheap bathroom suites can be picked up for as little as around £120 (for a basin and toilet) and as little as £250 for suites that include a bath. While the products might be fairly basic in their design, there is certainly nothing offensive about them either.
The key thing is how you treat them and the ways in which you combine them with other design flourishes in the space. Saving on basins means you might be able to spend a little more on some more design-worthy taps, or a stylish mirror to hang above it, for example.
Be aware that pedestal basins and close-coupled toilets will usually be the cheapest options, where as wall-hung basins and toilets will be the more costly choice.
3. Stamp Down Your Bathroom Flooring Costs
When it comes to your bathroom flooring ideas there are several points to note when sticking to a tight budget.
Before choosing, bear in mind that your choice needs to be compatible with being fitted in a wet environment and, if you are installing underfloor heating, you will need to check your flooring is suitable.
Practicalities aside, the cheapest bathroom flooring option is generally ceramic tiles which can start from as little as £10/m2. Do be aware, however, that some ceramic tiles will be slippery to walk on when wet and can chip easily — look for those with a good anti-slip rating. Although a little more costly, with prices starting from approximately £15/m2, porcelain tiles are more durable than ceramic — again, check their anti-slip rating before installing them in your bathroom.
Vinyl flooring is another great, low-cost option, with prices starting at £15-20/m2. This is for standard vinyl, as opposed to LVT (luxury vinyl tile) which costs from £30-£40/m2.
If you are considering laminate flooring for a bathroom, be aware that not all laminate is recommended for wet areas such as this — you will need to seek out a water-resistant laminate flooring, the prices of which are more than standard laminate (around £25/m2+.)
3. Transform a Standard Bath
While standard, white acrylic baths might not immediately get your heart fluttering, they are actually a great, low-cost starting point for creating something striking and stylish. Plain steel baths are another good low-cost option that often offer a little more stability than cheaper acrylic models.
Simple baths that are designed to be built in can be picked up for as little as £100 yet, with the addition of painted wood panelling or some jazzy tiles – rather than a plastic panel – can end up looking unrecognisable.
5. Cut Down on Wall Tiling Costs
Although wall tiles have become something of a staple way of finishing bathroom walls over the years, considerable savings can be made by limiting them to just certain areas of the room — or getting rid of the idea altogether.
"Limiting your use of tiles to just the areas that need them, such as around a shower or bath or behind the basin, will help reduce costs while creating a great focal point," says Jay O'Neill. "If you are paying a tiler, consider the size and shape you choose — hexagonal or herringbone tiles will take longer to install thereby increasing the labour charge."
Many people now simply choose a good bathroom paint instead of tiles. Or how about bathroom wallpaper instead?
If you have existing tiles that need a quick, cheap update, then painting tiles could be an alternative; there are some really good tile paints out there, as well as tile stickers, designed to cover and update old-fashioned designs.
6. Try Your Hand at DIY Bathroom Fitting
Installation could take up a huge portion of your bathroom budget, so when it comes to the cost of fitting a bathroom, do consider whether there are any jobs you could take on yourself in order to keep labour prices low.
According to The Home Owners Alliance (opens in new tab), DIY bathroom installation could save you up to 60% — a significant saving given that, according to Victoria Plum (opens in new tab), the average cost of installing a new bathroom in the UK is £6,500.
Even those not confident of their plumbing skills can usually take on more straightforward tasks such as tiling walls and floors and decorating. Some people also choose to fit their own sanitaryware before calling a plumber in at the end to plumb them in once they are in place.
When it comes to bathroom electrics and lighting, on the other hand, this is a job best left to the professionals.
7. Save on Your Suite, Spend on Brassware
If you have followed our advice and opted for a standard, off-the-shelf bathroom suite, you should have been able to make some significant savings.
What this hopefully means is that you should be able to loosen the purse strings a little when it comes to brassware, such as taps and your shower.
In fact, basin taps need not cost the earth anyway — basic pillar taps start at just £30 and even sleeker, more contemporary monobloc taps (where flow and temperature are both controlled from one lever) can be snapped up for around £50. That said, it is, of course possible to spend well into the £100s for some designs, particularly if you are going for wall- or floor-mounted taps.
When it comes to showers, manual shower mixers start at £60, although most people these days opt for thermostatic mixers which will start from double this. Of course if you feel your budget could stretch a little for a luxury shower, you might like to take a look at digital showers or ceiling-mounted shower heads — but you will need to have accounted for this early on in your financial planning as prices of £200+ can be expected.
8. Be Clever With Bathroom Lighting
Stylish bathroom lighting ideas do not have to break the bank. Even better news, there are clever ways to use lighting that can make all the difference to how your bathroom looks and feels.
Although the go-to for bathroom lighting tends to be recessed downlighters, do consider other types of light fitting too. Wall lights and chandeliers can really make a statement — perfect if you have opted for a fairly basic suite as they will add warmth and character.
Pay attention to light colour temperatures — you'll want warm light if it is a calm, tranquil bathtime experience you are after.
Ensure you understand bathroom lighting zones and IP (Ingress Protection) ratings when choosing your lights – these ratings determine how the lights are sealed from moisture and dirt – as not all lights are suitable for bathrooms.
9. Cut Costs on Shower Enclosures
Although the ideal for most people is to have both a walk-in shower enclosure as well as a bath in the bathroom, there are alternatives that will cost you less.
Installing a shower over your bath is always going to be cheaper than fitting a shower tray with an enclosure, however you need not worry about missing out on style or on a spacious showering experience.
"For families, or those who like to have the choice of a shower or bath, a 'P' or 'L' shaped shower bath will give the feel of a spacious shower area with the option of a relaxing bath without the expense of purchasing them individually," says Jay O'Neill.
10. Make Savings on Bathroom Storage
Good bathroom storage ideas are essential in the bathroom, particularly where space is limited if you want to prevent the room from looking cluttered and untidy.
However, fitted bathroom vanity units and similar can really add to how much a bathroom costs, so it is wise to explore the other options.
Consider buying or repurposing freestanding items of storage furniture, such as corner units or sideboards and save on floorspace as well as money byt fitting wall-hung open shelving.
Natasha is Homebuilding & Renovating's Associate Editor and has been a member of the team for over two decades. An experienced journalist and renovation expert, she has written for a number of homes titles. She has renovated a terrace and is at the end of the DIY renovation and extension of her Edwardian cottage. She is now looking for her next project.
Homebuilding & Renovating Newsletter
Get the latest news, reviews and product advice straight to your inbox.
Thank you for signing up to Homebuilding. You will receive a verification email shortly.
There was a problem. Please refresh the page and try again.