9 Barn Conversion Lighting Ideas for a Bright and Cosy Home
By Amy Reeves published
Don't be left in the dark — these barn conversion lighting design tips and tricks will spark a lightbulb moment for a bright home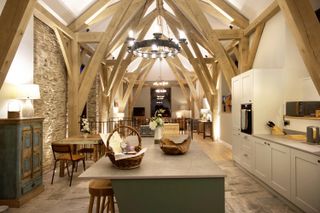 (Image credit: Richard Downer)
Getting barn conversion lighting right is often half the battle when creating a new home through the transformation an unloved or derelict industrial property — and one that takes time and a certain amount of flexibility to tailor the scheme to an individual project.
Illuminating dark, forgotten alcoves, corners and beams provides a charm and character which goes hand in hand when setting out to convert a barn. But as no two barns are alike, establishing a unique plan from the start of a project will save both time and money further down the line.
Find out how to illuminate impressive vaulted ceilings, zone large, spaces and inject modern personality into a restored building with the varied collection of real projects below.
Where to Start with Barn Conversion Lighting
"Until you have a firm lighting design you should hold off on choosing and buying lighting fittings," advises Associate Editor Natasha Brinsmead. "The lighting plan should contain everything from the obvious elements, such as the location of fittings and switches to the less often though-of bits, such as where the wiring will run, what you use the room for and where natural light enters and space."
"Lighting is often neglected or added as an afterthought to the design of a new home — but it shouldn't be, given its importance," continues architect Allan Corfield, founder of Allan Corfield Architects. "Ideally, lighting design should be 'layered', meaning that there are multiple light sources at different levels within the room (floor, wall or ceiling mounted) designed to fill different roles.
"These should be individually controllable if possible, to allow completely different moods, or 'scenes', to be created depending on the occasion. Usually these scenes are pre-programmed and changed via switches or voice control."
1. Showcase Impressive Features Using Statement Lighting
No matter the size or shape of a barn, the attraction many of us feel to these types of projects is the inherent impressive nature of their spaces. From vaulted ceilings, exposed beams and original features, draw the eye to these elements using clever lighting.
When converting and extending his Grade II-listed barn Jamie Le Gallez (director of SOUP Architects) retained a section of the triple-height space and exposed granite wall. A statement Tom Dixon pendant light, hung from the very top rafters, down beside the mezzanine library and into the living area, creates a magical sense of drama that the right barn conversion ideas can highlight and showcase.
2. Zone Large Spaces with Lighting
One of the major difficulties when designing barn conversion interiors can be how to split up and divide large expanses of space without disrupting the essence of the building with small rooms and stud wall partitions.
A good lighting design can be incredibly helpful for projects like this as mixing different types of illumination will provide differing 'moods' and 'zones' throughout the floorplan.
Discuss with your electrician colour temperature, size of the fitting or sconce, height of wall lights and how each 'zone' will be controlled to achieve a space that works for your lifestyle without ruining the barn aesthetic.
3. Introduce Natural Light Where Possible
The most natural way of bringing in light and views from outside is to utilise existing openings as barn conversion planning may prevent more windows being punched through walls.
"Introducing natural light into these buildings can require forethought depending on the size and amount of existing openings," warns Hannah Wooller, Head of Heritage and Conservation at Hudson Architects.
"While you might be able to come up with interesting ways of bringing in light from above – through glazed roof tiles, a mesh covered rooflight, etc – you should approach rooflights with caution.
"Not only can glazing get expensive and increase barn conversion costs but installing rooflights can also move away from the architectural language of the building, making it look domesticated and tarnishing the character if visible from the exterior. Historic England and conservation officers will also have strict design guidance on the matter too."
4. Set a Cosy Mood with Layered Lighting
Where smaller spaces are being created in barn conversions, such as bedrooms, bathrooms and snugs combine different types of lighting that can be dimmed or controlled depending on the task.
For instance, reading in bed or sitting on the sofa requires a direct light (usually called task lighting) while getting ready or watching TV requires more ambient lighting that washes over every surface. The trick to getting this right in new spaces in a barn conversion is setting out a plan early with your electrician.
This Cornish barn conversion smartly utilises downlights concealed in the ceiling and a large pendant in the centre of the room as ambient lighting while task wall lights don't just brighten the space next to the bed, but also provide a wash down the raw finish of the internal timber cladding (from The Main Company (opens in new tab)).
5. Keep Practicality in Mind in Kitchen and Bathrooms
"Consider the height and location of task lighting in relation to the activities in a space," says David Nossiter, director of David Nossiter Architects.
"In a domestic property this is likely to consist of lighting designed to shine onto surfaces such as kitchen worktops, dining tables, or perhaps provide a halo of light on the surface of a side table next to a comfortable chair, by a bed or to read beside. In bathrooms you will require lighting that is both flattering and practical, for example each side of a mirror."
This comforting kitchen-diner in a barn conversion feels welcoming due to a mixing of kitchen lighting ideas. The warm ambient lighting (note the wall uplighters as well as diffused pendants) and cleverly matched as the worktops are lit by down-facing wall lights for a clear workspace.
6. Create a Modern Influence on New Spaces
Although barns have a certain old-world charm, that's not to mean modern elements can't be brought in through the choices in lighting style. In fact, the large, contemporary pendants installed in this barn conversion beautifully punctuates exposed beams and pared-back interiors.
"In a tall domestic space the lighting should seem intimate as well as celebrating the scale of the space," suggests David Nossiter. "Avoid putting too much lighting at high level, as this can overwhelm a space and make the occupier feel isolated."
Play around with heights and levels of interesting lighting to really hone in on these more modern elements — think long-drops for pendant lights, high curves for floor lamps, or even adjustable arms on spotlights.
This works particularly well when looking for lighting ideas for vaulted ceilings to bring a small touch of the contemporary into an older property.
7. Pick Out Special Elements with Accent Lighting
"Provide background or accent lighting to celebrate the qualities of spaces," suggests David Nossiter. "It is better to accent light a few features, such as the timber structure in a barn.
"Allow shadows to have an equal importance to the lit areas. You might like to have accent lighting to highlight corners of rooms providing ambience. These lights could also light a surface, or they could bounce light off a surface such as the corner of a wall."
8. Use Wiring Cables as an Industrial Feature
The joy of wiring (or rewiring) a blank canvas like a barn conversion means that the positions of everything from the fittings, cabling and sockets is at your discretion. If an exposed wall will feature, consider creating a point of interest with an exposed cable and switch, as in this converted blacksmiths.
The polished brass faceplate catches the eye when contrasted against the red brick wile the black cabling harks back to the structure's original industrial nature.
9. Illuminate a Barn Conversion's Exterior
"Don't forget about outside lights either, but please be aware of the issues of light pollution in the countryside," advises David Nossiter.
Maximise kerb appeal and impact on arrival with a smart outdoor lighting scheme. Many barn conversions don't come with a drive or, much less a patio area so ensure that these elements are part of the lighting plan.
Use outdoor wall lights like up and down lighters to wash a unique stone or brick exterior or flood lights with a motion sensor to deter unwanted visitors in a rural area.
Assistant Editor Amy began working for Homebuilding & Renovating in 2018. She has an interest in sustainable building methods and always has her eye on the latest design ideas. Amy has interviewed countless self builders, renovators and extenders about their experiences for Homebuilding & Renovating magazine. She is currently renovating a mid-century home, together with her partner, on a DIY basis, and has recently fitted her own kitchen.
Homebuilding & Renovating Newsletter
Get the latest news, reviews and product advice straight to your inbox.
Thank you for signing up to Homebuilding. You will receive a verification email shortly.
There was a problem. Please refresh the page and try again.