Sash Windows: Everything You Need to Know
Considering function and style, learn all about sash windows with renovation advice, a guide on replacement materials and great design inspiration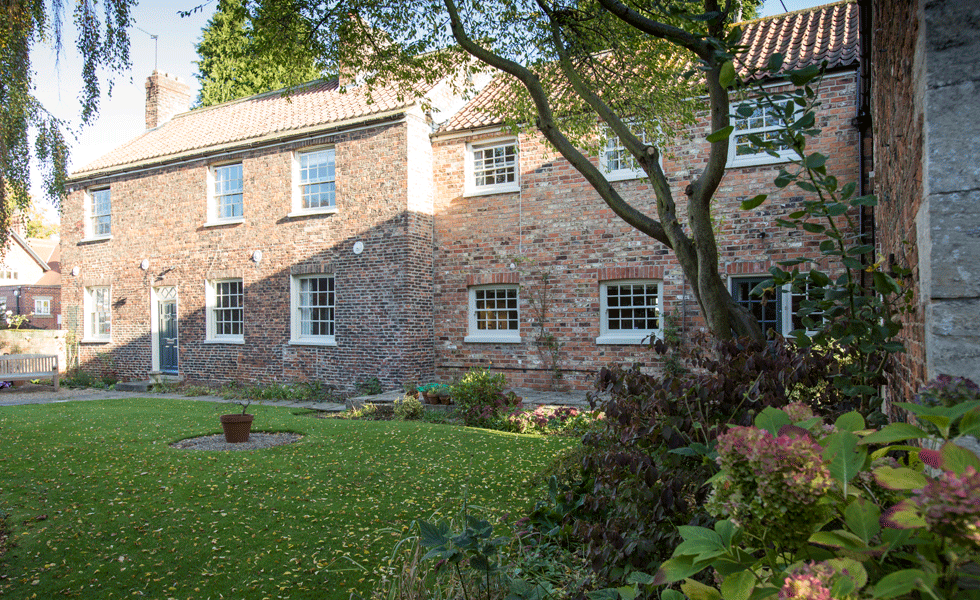 (Image credit: Dave Burton)
It is as important to think about the function of a sash window as much as the style. From restoring frames and incorporating modern glazing to replacing in a material faithful to the period, there's a lot to consider. When material, cost and mechanism are carefully thought out, sash windows can enhance a traditional-style self build or conversion and transform a run-down renovation project.   
They provide an unparalleled glimpse into past traditions but when designs are not matched to the correct period or originals are ripped out when they could be saved, it can affect character and charm of the house as a whole.
An inherent part of British architectural history, any styled property from the 17th to 19th centuries would be lacking without sash windows; if you're renovating a Georgian, Regency or Victorian property or building a new home inspired by these periods, this item should be high on your shopping list.
(MORE: Get a tailored quote for your sash windows)
What Part of a Window is the 'Sash'?
The word 'sash' refers to a single frame for glazing. The sash sits inside the frame, which is fixed to the house. In a casement window the sash opens via a crank handle, while a traditional double-hung window features two sashes that slide up and down.
How Does a Sash Window Work?
In basic terms, the window works by balancing the sash with a counter-weight of steel, cast-iron or leaden weight hung on a cord which is concealed within a hollow box frame. Insulation can be retrofitted in these pockets in older windows. This classic design is most commonly found in Georgian and Victorian properties, but can also been seen with variations in late Victorian and Edwardian houses.
A very popular variation includes the horizontally sliding sash, known as a Yorkshire sash or a 'slider' window. This design actually pre-dates the vertical sash and although they use the same sliding mechanism, one of the sashes is usually fixed in place.
Styles of Sash Window
When replacing windows on an older property, or deciding on a design for a period-style home, you must be careful to get the time period right. There were several developments and style changes in sash windows over the years so don't get caught out. 
Sashes traditionally consist of a number of small panes, or 'lights'. These are held together by glazing bars – astragal bars – to create a larger glazed area. This is because glass advancements at the time didn't allow for very large expanses of clear glazing. 
The period of the house will dictate the number of panes in each sash separated by astragal bars:
Georgian: The 'six over six' style is quintessentially Georgian, although larger 'eight over eight' windows were also common
Victorian: 'Two over two' reigned supreme in Victorian times, but many other configurations can be also found through the whole period. This included sash windows with just a single light, as well as the inclusion of sidelights 
Edwardian: Typically 'six over two' panes was most common, but, as with the Victorian era, the Edwardians saw variations in style
(MORE: Get a tailored quote for your sash windows)
Other variations in sash style include: 
Venetian windows which consist of a central sliding sash between two fixed panes either side
The Queen Anne Revival styles incorporates several panes in the upper sash but just one or two in the lower
Sashes were often arched instead of rectangular in Regency or Gothic revival periods, and it some regions it is popular to have horizontally-sliding sashes
(MORE: Window Styles: How to Make the Right Choice)
What is a Sash Window Replacement?
Whether you're updating your existing home or taking on a period renovation project, be careful not to make the mistake of removing period timber sashes. Where they can be restored and waterproofed, it is always worth holding onto the original windows.
However, if the windows are beyond repair or if there aren't any left in place, many companies manufacture authentic replacement.
When to Replace a Sash Window
Most issues with timber windows can be fixed, including foggy windows, rotten frames and sticking sashes and a professional will be able to assist in making the decision in whether to salvage or replace but ultimately, the decision to keep original sash windows is down to customer preference and budget.
Benefits of repairing where possible: 
House retains original charm and character
Homeowners benefit from improved thermal performance with double glazing and draught proofing if the box frame is retained and glazing is replaced
Original timber is generally of better quality than the products we can purchase today
Properly repaired timber windows can last another 100 years with a bit of care and attention
Case Study: A Suitable Replacement
This cottage in Powys had ill-fitting PVCu windows which detracted from its character so the owners chose to replace with sash windows.
How Much Does It Cost to Replace or Repair a Sash Window?
Glazing can be replaced in sash windows if the original frames are salvageable. If able to be renovated to a good condition, the single-glazed panels can be upgraded to slim double-glazed units. Also new sashes can be fit into existing frames for which sash window repair specialists Ventrolla estimate anything from £1,000 per window. 
For a complete replacement of sash window, cost will depend on specification (glazing types, choice of timber and any special feature of detailing required). Roughly, expect to pay from £1,750 per window.
(MORE: Window Repair: What's Involved and How Much Does it Cost?)
Editor's Note: Homebuilding.co.uk partners with the UK's best window and door suppliers to match your requirements with their products. Simply answer a few questions on what you need from your doors and windows and we'll put you in touch with a relevant partner.
Installing new sash windows in an existing house or in a traditional-style self-build are generally more expensive than casements, but the extra cost for added character or a realistic recreation is usually worth it. As with most windows, uPVC sash windows are cheapest, but lack the finish of traditional timber.
How do you Maintain a Sash Window?
Timber windows need maintenance and although modern stains and other products can help reduce the frequency, they do need a little TLC once in a while. Of course bigger, more complex jobs will need a professional involved, but there are some job that can be done DIY.
(MORE: Window Repair Guide: What's Involved and How Much Does it Cost?)
Minor cracking or flaking in paintwork is a common issue which should be looked at every five or so years for external paintwork. As the paint protects the timber beneath, keeping a firm eye on any deterioration will ensure the frames won't rot or swell.
Sand the frames to remove the loose pain, taking care to clean and remove dust
Apply a primer and undercoat
Start by painting the mullions, working from the top down, and then move to the frame (again from top to bottom).
Ensure two coats of pain are applied
Glazing putty works as a sealant to secure panes into a frame or sash. Unfortunately, putty can be damaged by sunlight and if the affected area is so severe just filling in the gaps won't fix the issues, replacing the putty may be the only option.
Remove cracked or affected putty and allow wood to dry out
Paint with a little linseed oil and allow to dry
Apply new putty, following the existing lines and taking care not to go over as this can be unsightly from inside the house.
To prevent sticking or jamming, frequently check hinges, locks and catches. Using beeswax or tallow to the edges of the frames will assist a smooth run.
Using draught strips or brush seals can fix any minor pesky draughts, but haps between frames and surrounding masonry might need to be sealed with silicone or pointed with weak mortar.
What Material Should I Choose for a Replacement Sash Window?
For traditionalists or for those living in a Conservation Area or listed building, genuine timber sash windows are likely to be the first and only choice. Sadly, plastic cannot achieve the same tactile effect.
Durable
An excellent insulator
Long lasting (if properly maintained)
Modern finishes are available in most paint colours and stains. Modern developments also mean that timber windows are no longer high maintenance
PVCu (sometimes seen as uPVC) is often used as a substitute for painted wood. Though most commonly seen in white, it comes in a wide range of colours and finishes, including a photo-effect wood finish. However, if you live in a conservation area or in a listed building, changing to plastic sash windows will most likely be frowned upon. 
Low maintenance
Energy efficient (but not sustainable as they cannot be recycled)
Cheaper than timber (PVCu can cost around 40% less)
Better quality models are more attractive and hard-wearing but difficult to repair
Conservationists are, in the majority, opposed to plastic windows
It is becoming popular for sash windows to be composite in their construction. Newer products offer timber on the interior with aluminium cladding on the exterior.
They retain the classic look of wood on the inside
Outside are extremely low-maintenance
Able to withstand all weathers
(MORE: Window Styles: How to Make the Right Choice)
Can Sash Windows be Double Glazed? 
Although it is possible to install single glazed units on many sympathetic restorations, modern building regulations make it near impossible to have single glazed windows on a new house and there are many new timber products with double glazed sash designs.
Growing concerns about the energy efficiency of period properties might also steer you in the direction of replacing single panes with double when renovating. While it is possible, it needs close attention to be sure the delicate look of a sash window is not lost in modernisation. 
Dividing up small units of double glazing with thick bars tends to look clumsy, but there are ways to effectively recreate fine glazing bars. The best way is to bond mock bars onto either side of a single double glazed unit. You could also incorporate spacer bars between the glass sheets, at a higher cost, to add to the effect.
Triple glazed options are available in these traditional styles, but as with all triple glazed windows, it might come at a premium. However, modern triple glazing could be seen as no longer carrying the cost stigma that was attached for the last couple of decades. This is in the majority due to triple glazed windows being manufactured in mainland Europe where it is much more mainstream.
(MORE: Triple Glazed Windows: Do They Make Sense?)
Need a Quote for Replacement Sash Windows?
Get matched with a partner who can help you make the right choice of windows for your project.
How It Works
1. Enter your details below. Tell us a bit about your project and what you are looking for, and leave some contact details.
2. We search our database. We'll match your requirements with the products and services that our partners offer.
3. Partners will contact you. Don't worry about being bombarded - only the suppliers that match your requirements will contact you.
Homebuilding & Renovating Newsletter
Get the latest news, expert advice and product inspiration straight to your inbox.
Thank you for signing up to Homebuilding. You will receive a verification email shortly.
There was a problem. Please refresh the page and try again.