Best Kitchen Paint: Most Durable Buys for Your Kitchen Walls
By Steve Jenkins published
Discover the best kitchen paint to add style and substance to the heart of your home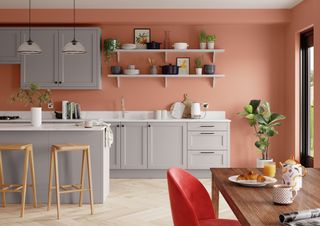 (Image credit: Dulux)
The best kitchen paints are specially formulated not only to make your kitchen design scheme come to life, but also help keep your kitchen looking good for as long as possible. It's where all the cooking action takes place and this means moisture, grease, and even smoke. All of these will have an unwanted impact on the walls and ceilings of your kitchen, and nobody wants that.
The beauty of kitchen paints is that they combat these unwanted scenarios much better than standard emulsion paint. They help repel moisture — this will help stop wallpaper lifting and peeling off the walls, will be resistant to grease — helping keep your walls cleans, but perhaps most importantly they will be wipeable. So when you do get grease, moisture, food splashes or sticky fingers on your nice clean walls you can give them a wipe down without worrying about spoiling the finish.
(MORE: How to Paint a Room)
Check out this collection of kitchen paints that will help your kitchen walls and ceilings stay clean and look good for years to come.
What are the Best Kitchen Paints?
Johnstone's Kitchen and Bathroom Emulsion Paint
The best overall kitchen paint
Reasons to buy
+
30+ colours
+
Good coverage
+
High moisture resistance
+
Durable wipeable finish
Johnstone's Kitchen and Bathroom Emulsion Paint is specially formulated to help give protection in areas that are prone to condensation. This makes it an ideal choice for the majority of kitchens, but it's especially useful for small kitchens that lack ventilation to help remove steam from the air.
It provides good coverage, is low odour - so no overpowering smell and is easy to apply with a brush or a roller. It dries to a mid-sheen finish that is durable with ten times the wash resistance of normal emulsions, wipeable and resistant to grease. There are over 30 subtle and bold colours to choose from making it easy to match your current kitchen. And if there is any left over you can use it in other areas that need durable wipeable paint such as hallways and stairways.
Buy Johnstone's Kitchen and Bathroom Emulsion Paint (opens in new tab)
---
GoodHome Kitchen Paint
The best budget kitchen paint
Reasons to buy
+
Inexpensive
+
Good coverage
+
Two hour recoat time
+
Wipeable
+
Large 5 litre tin
If you are on the lookout for a no-nonsense paint in white then this own-brand offering from B&Q is a great inexpensive option. Available in 2.5 and 5-litre tins the larger tin gives you around twice the amount for the same price as most 2.5 litre tins from big brand manufacturers.
It provides good coverage but it is not quite so easy to apply as some well-known brands, But you still only needs two coats on most surfaces. It has a two hour drying time, meaning you can be adding another coat pretty swiftly. Like all good kitchen paints, it is resistant to grease and stains and is wipeable and can cope with the odd scrubbing or two. Plus, its deep matt finish helps to hide imperfections.
Buy GoodHome Kitchen Paint (opens in new tab)
---
Dulux Easycare Kitchen Paint
The best grease-resistant kitchen paint
Reasons to buy
+
Greaseproof formula
+
Good coverage
+
Stain-resistant
+
Wipeable
Any paint that is grease resistant and will keep the stains at bay is a paint that is an ideal choice when you are looking to give your kitchen a refresh. This offering from Dulux is specially formulated for kitchen walls and ceilings and its greaseproof formula means that your nice new paintwork will stay stain-free for longer.
Give your walls a wipe when they get splashed and you won't need to paint again any time soon. Though the paint is easy to apply with a brush or roller and gives really good coverage its specialist formula means that drying time is longer than most. It will be at least five hours before you can think about adding another coat and like most paints, you will need two coats to get a decent finish.
Buy Dulux Easycare Kitchen Paint (opens in new tab)
---
Crown Trade Clean Extreme
The best scrubbable kitchen paint
Reasons to buy
+
Stain resistant
+
Tough and durable
+
Good coverage
+
Large tin size
+
Hundreds of colours
Reasons to avoid
-
Not as cheap as some paints
Keeping your newly painted kitchen walls and ceilings clean and looking good is no easy task in a busy well-used kitchen. Regular cleaning is the order of the day and this tough, durable and scrubbable friendly paint from Crown is an ideal choice for such a job.
This matt finish paint is formulated to be far more stain-resistant than conventional matt vinyl emulsion. This means when you do get a new stain, or even an older stain, it's tough enough for you to give it some heavy-duty cleaning with soap and water if needed.
The paint is easy to apply with a brush or roller and is even suitable for spraying. It offers better coverage than most kitchen paints, dries pretty quickly and as an added bonus is available in hundreds of different colours.
Buy Crown Trade Clean Extreme (opens in new tab)
---
Dryzone Anti Mould Paint
Best mould resistant kitchen paint
Reasons to buy
+
Mould resistant
+
Washable
+
Easy to apply
Nobody wants some horrible black mould appearing in the corners of their kitchen walls and on the ceiling. It doesn't look good, it's unhealthy and means you will need to redecorate. This paint from Dryzone — a manufacturer and supplier of damp-proofing and waterproofing materials to the construction industry — is mould resistant making it ideal for kitchens that suffer from a lot of condensation.
This matt emulsion is easy to apply (try our best paint rollers or best paint brushes out for easy application) and washable but struggles to cover quite as well as other kitchen paints. It is only available in white or magnolia, but if you do need another colour it would make an ideal base to keep mould away.
Buy Dryzone Anti Mould Paint (opens in new tab)
---
Dulux Trade Diamond
Best coverage kitchen paint
Reasons to buy
+
Excellent coverage
+
Wipeable
+
Stain-resistant
+
Large tin size
Reasons to avoid
-
Costs a little more than most
Though not specifically formulated for kitchens, Dulux Trade Diamond Matt is a tough, water-based matt emulsion paint that offers stain resistance through it's unique Stain Repellent Technology. This means it is tough — ten times tougher than Dulux Trade Vinyl Silk and Dulux Trade Vinyl Matt according to the manufacturer —while durable and wipeable.
You can give a wall or ceiling plenty of wipes and it doesn't polish up like some kitchen paints. It is easy to apply with a brush, roller or a spray gun if you have one, and it provides excellent coverage offering 2-4m2 per litre more than most kitchen paints. It lacks standard colour options with only two on offer, but you can use Dulux colour mixing to get the colour you want. You just won't be able to get it straight off the shelf.
Buy Dulux Trade Diamond (opens in new tab)
---
How to Choose the Right Kitchen Paint for Your Next Project
Kitchens are susceptible to condensation, stains, grease and any other number of elements that can spoil the look of your new paint job when you've spent ages painting a ceiling and walls. So, when choosing paint for the heart of the home you want one that is tough, durable and at the very least wipeable. Standard emulsions are simply not designed to work in kitchens so that's why you need specialist kitchen paint.
The first two factors to really consider are durability and washability. Typically a mid-sheen finish is easier to wipe clean, but specially formulated matt paints can work just as well. If your kitchen gets a lot of use then you want a paint that is stain resistant, grease-resistant and can withstand plenty of cleaning and scrubbing, especially around the cooking area and high traffic areas such as around the door.
These types of kitchen paint help stop your wall from getting stained and won't polish up after a lot of cleaning, especially important if you have a matt finish. If you are looking to paint areas away from the cooking area then wipeable paint will be fine. If you have a small kitchen and a lot of condensation then look for a paint that combats condensation or a mould resistant paint to help stop it from growing.
Finally, it's all about the colour. Most kitchen paints come in white and magnolia but if you are looking for a more contemporary colour then you will need to choose a paint range that gives you more choice. Alternatively, some paints manufacturers offer colour matching services so you can get pretty much any colour you want.
It's worth noting that kitchen paints aren't suitable for painting kitchen cabinets or painting tiles. You'll be looking for specialist paints, such as the best kitchen cabinet paint, for those tasks.
Steve is an avid DIYer with over 20 years of experience in transforming and renovating homes. He specialises in painting and decorating, but has strong all-round building skills, having previously worked in the industry for 10 years.
Homebuilding & Renovating Newsletter
Get the latest news, reviews and product advice straight to your inbox.
Thank you for signing up to Homebuilding. You will receive a verification email shortly.
There was a problem. Please refresh the page and try again.