The 6 Best Kitchen Cabinet Paints to Refresh Tired Cupboard Doors
By Steve Jenkins published
The best kitchen cabinet paints can be an inexpensive and easy way to revitalise your cupboards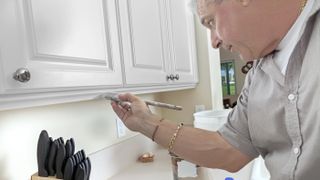 (Image credit: Getty)
The best kitchen cabinet paint can transform your kitchen design with a hot new look, without the hassle and expense of tearing out your current cabinets.
You might be surprised just how impactful painting a wall or refreshing your doors and cupboards can be in helping you fall in love with your kitchen all over again. And it doesn't have to be expensive or time-consuming, either.
Moreover, it doesn't matter if you have a solid wood kitchen, wood veneer, melamine, or a high gloss finish. As long as you prep your cabinets and doors properly and choose the right kitchen cabinet paint, painting kitchen cabinets will be within the skillset of any competent DIYer, and in less than half the time it would take to rip out an old kitchen and fit a new one.
These are some of the best kitchen cabinet paints to help you get a smooth, professional finish.
Best Kitchen Cabinet Paints
1. Johnstones Revive Cupboard Paint
A specialist paint with quick results
Reasons to buy
+
Self-primer
+
Easy to apply
+
Durable
+
Low odour
If you are looking to transform your wood, melamine or MDF kitchen with the minimum of fuss then this specialist cupboard paint from Johnstones is just the ticket.
You don't need a primer or undercoat, which will save you time, but you will need to clean and sand down your cabinets to make sure that you get the durable finish you'll want.
You will need a minimum of two coats to cover, three on darker cabinets and doors. The paint is self-levelling and is touch dry within an hour and you can add another coat after five hours.
Once completely dry you're left with a smooth, professional-looking satin finish.
---
2. Dulux Quick Dry Satinwood
Another good option for a good-looking satin finish
Reasons to buy
+
Durable and washable finish
+
Hardwearing
+
East to apply
Reasons to avoid
-
Takes longer to dry than others
If you're renovating your kitchen cabinets with a few coats of paint you will need one that is durable, hardwearing, washable and looks good. And this is exactly what you get with this satin offering from Dulux. But you will need to prep and prime your cabinets and doors properly to get the best finish.
It's really easy to apply and provides good coverage, but to get a strong finish you need to apply a couple of thin coats with a brush or roller. It may say it's quick drying on the tin but it's not as quick as you might expect or hope, but it's worth the wait.
It is touch dry within an hour and fully dry and ready for another coat in six hours.
---
3. Rust-Oleum Kitchen Cupboard Paint
A paint specially made for kitchen cabinet and doors
Reasons to buy
+
Durable finish
+
Easy to apply
+
Wipe clean
+
Water and scuff resistant
Reasons to avoid
-
Takes a week to fully harden
This is a paint specially formulated for kitchen cupboards and does a great job of transforming tired cabinets and doors. It is easy to apply, and typically needs two coats, but you may need to apply a third to get a durable and scrubbable finish.
Its flat matt finish is resistant to water, scuffs and stains and if you do drop a sauce or condiment on it it's easy to wipe clean.
There's no need for a primer, so less prep time is needed and works well on wood or melamine cabinets and doors. The paint is touch dry in an hour and hard dry and ready for another coat in four hours. But it does take a week to fully harden so you'll need to be careful to avoid any cleaning until then.
---
4. Nuvo Cabinet Paint Kit
A quick-start kit to transform your kitchen
Specifications
Tin size:
31 oz (approx 915 ml)
Reasons to buy
+
Includes paint, brush and rollers
+
Tough durable finish
+
Self-primer
This kit comes with everything you need to renovate and transform your kitchen into a clean and contemporary space that you will love.
It comes with a premium price tag compared to the non-kit paints on this list, but you get good bang for your buck, including a roller arm, two roller covers, a 2-inch angled brush (ideal for edges and corners), and two tins of 31oz (almost a litre) Nuvo Cabinet Paint.
This is enough paint to cover 100 square feet of cabinets and doors; the perfect size for small to medium kitchens (depending on what's being painted).
The water-based modified acrylic formula bonds to wood and laminates, and it's touch dry in 2 hours. It is self-priming too. One downside is the lack of colour options, but if they have the colour you want it's a great no-nonsense solution.
---
5. Frenchic Furniture Paint
Easy to apply and eco-friendly
Reasons to buy
+
Self-priming
+
Eco-friendly
+
Water-resistant
+
Smooth finish
Reasons to avoid
-
Long time to be fully dry
-
Small tin sizes
Frenchic paints are all-natural, eco-friendly, contain zero toxins and are virtually odour-free, making them a great choice for the environmentally conscious and ideal for painting indoors.
The Lazy range is a chalk and mineral paint with a wax infusion with a full range of pastel colours. It is easy to apply, provides good coverage and is self-priming, self-levelling paint and water-resistant. This means you get a smooth often brushstroke-free finish that not only looks good but is wipeable, helping your paintwork looking fresh for longer.
It is touch dry within an hour and ready for another coat - which is recommended - within two hours in ideal conditions. But you need to leave it for 48 hours for it to be fully dry.
---
6. Zinsser AllCoat Interior
Provides a very durable finish
Reasons to buy
+
Strong, durable finish
+
Low odour
+
Good for spraying
+
Good colour range
This oil-based 4-1 primer, sealer, stain blocker and finish adheres to all types of surfaces without sanding, making it ideal for high gloss and melamine kitchen cabinets - though we still recommend sanding first.
A low odour paint with hundreds of colours to choose from, it is touch dry within an hour, re-coatable in around six hours and hardens to a strong durable finish in less than 24 hours.
Coverage is typically less than most water-based paints, so you will need more but you can get it in 5L tins. It can be applied with a brush, roller or pad, but to get a smooth professional finish it is ideal for use with one of the best paint sprayers.
---
How to Choose the Best Kitchen Cabinet Paint
Choosing the best kitchen cabinet paint for your kitchen will very much depend on what type of cabinets you have, what type of finish you want and of course the colour.
Paint type
Most kitchen cabinet or cupboard paints are water-based and these are easier to apply and clean up than oil-based paints. But oil-based paints typically have a stronger finish and are less likely to chip. However, in everyday use, there isn't much difference between the two. You might get away with a single coat of oil-based paint, but in reality, whatever paint you choose two coats are always better.
Real wood kitchen cabinets and doors are the easiest to paint. A quick rub down and on your top coat goes. If you have melamine or gloss doors you will need to prep them with a good rub down and most probably a primer. Once prepped properly though you can choose whatever finish you want.
Finish
The finish you choose is very much a matter of personal taste with gloss, eggshell, satin and matt the common choices.
Eggshell and matt finishes are typically harder to maintain and clean but are easy to recoat. Satin and gloss finishes are easier to wipe clean and keep their appearance for longer. But high gloss finishes are not for everyone. A good compromise is a satin finish. It's not high gloss, but it's easier to clean than eggshell and matt.
Colour
The final and maybe most important choice is colour. Are you looking for contemporary kitchen ideas, or simply going white for easy matching? Whatever you want, just make sure that the paint range you choose has the colour you want.
Steve is an avid DIYer with over 20 years of experience in transforming and renovating homes. He specialises in painting and decorating, but has strong all-round building skills, having previously worked in the industry for 10 years.
Homebuilding & Renovating Newsletter
Get the latest news, reviews and product advice straight to your inbox.
Thank you for signing up to Homebuilding. You will receive a verification email shortly.
There was a problem. Please refresh the page and try again.