Modern Window Designs: What Styles to Include in Your Home
Discover the latest trends in modern window design for a contemporary and stylish home with advice from glazing experts and architects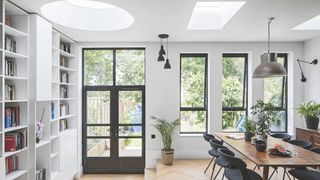 (Image credit: Adelina Iliev)
Getting to grips with modern window designs ultimately comes down to your personal taste and how your home will function on a day-to-day basis. A good range of styles and types works best for a practical house, as well as one that really showcases the time and effort put into a home renovation or self build.
From casements and tilt-and-turns to picture windows and patio doors, the world of window styles is a diverse place so it is easy to get overwhelmed by choices and possibilities.
Take a look below for cutting-edge ideas and advice on how to include them in your home design — old or new.
Modern Window Designs: What to Consider
"Before you can apply for planning permission, you will need to finalise the style and appearance of windows," advises chartered surveyor Bob Branscombe. "Performance is not likely to be an issue at this stage, but the planners will need to know the layout, location and style of your windows to understand your proposals."
"A modern window can have a huge impact on an existing house design, whether that is by replacing older windows with new slender framed aluminium systems or by creating a new extension where you can custom design large windows into the layout of the space," comments Edward Stobart, sales manager at IDSystems. "Modern windows can let in more light which can help turn uninviting darker spaces in your home into brighter, lighter and more contemporary rooms."
"The amount and size of the glazing should be considered, as natural light is such an integral part of any build project," Carly Coren of IQ Glass adds. "The orientation of the glazing must be considered to ensure any glass coatings are specified where they are needed, such as solar control glass which should be specified for south facing glazing to prevent the space from overheating."
1. Dare to be Different with Coloured Window Frames
"White was for years the go-to colour for windows regardless of what material they were manufactured from," says Edward Stobart. "Modern aluminium windows are now available in more than 200 colours."
New developments in power-coating aluminium, durable and diverse external timber stains and even paints to update uPVC windows have led to a resurgence in homeowners adding a colour to the exterior of their homes. Consider matching a front door and bargeboards in the same colour, or complementing shades, for a well-designed home that oozes kerb appeal.
Edward Stobart comments that the majority remain with a timeless grey. "This colour works well because it contrasts nicely with external render, timber cladding or even brick and really stands out compared to the white windows we have become used to seeing."
This charming timber frame extension incorporated a pale green in the window frames and pendant lighting – as well as the kitchen cupboard doors – to create a cohesive finish.
2. Use a Picture Window to Admire the View
Picture windows are ideal for a modern home design that wants to celebrate its garden from inside the house.
Be they positioned in a kitchen, as above, or in a bedroom to create view of the tops of trees, this type of window will instantly create a connection to the outside.
"It works really well to have the modern extension with the large windows to let light in," Phil Handley of Studio Bloc, who added the window above in his extension to a barn in Shropshire. "It's the perfect spot to just grab five minutes with a coffee or a book."
3. Think Laterally with Sliding Doors as well as Windows
"The development of super-wide bifold and sliding patio doors in recent years has been something of a game-changer for maximising the flow of natural light into extensions," explains chartered surveyor Ian Rock.
In particular, utilising these larger doors to create a 'glazed wall' which can be stacked or pulled back into a wall pocket is a fantastic way towards creating a sociable indoor-outdoor kitchen and terrace.
Here, three banks of bifold doors were added along the open-plan kitchen so when they're stacked back, the lines are blurred between in the interior and outdoor patio spaces.
4. Mix Style with Energy Efficiency
There's no denying that improving the energy efficiency in out homes will motivate many home improvements in the coming years. Whether you're simply replacing windows for a quick update, or designing a whole house, introducing triple glazed windows is quickly becoming the norm for many projects.
"The comfort benefits of triple glazing are being increasingly understood. Human beings are particularly sensitive to 'cold radiance' which affects our feeling of comfort and wellbeing," says Chris Herring, director of Green Building Store. "Good triple glazing helps reduce this cold radiance by delivering an inner leaf temperature of around 17C or better even when it is very cold outside."
A stylish mix of coloured-frame tilt-and-turn bathroom window ideas and on-trend bright tiles create an instant impression in this Passivhaus.
5. Combine Traditional Charm with Modern Window Developments
Even if your home is styled in a traditional manner, including cutting-edge window style will create a timeless appearance that won't date or feel too twee.
When building an oak frame home face glazing can create stunning, frameless lines that celebrate the charming structure while showcasing the latest window styles. While only suitable for fixed and non-openable windows the result is undoubtedly impressive, providing clean and uncluttered lines.
6. Balance Budget with Modern Window Materials
"For homeowners seeking modern windows these typically are nowadays manufactured from aluminium," comments Edward Stobart, of IDSystems. "The slender frames that are possible with aluminium, compared to timber or uPVC, allow for larger glass units which in turn allow for more light to be let into a home – a must have for anyone planning a bright, contemporary living space."
However, when weighing the benefits of uPVC vs aluminium windows, cost has to be a central consideration as well as style.
Timber windows, while also quite costly, can now be manufactured to be just as efficient as aluminium and can suit contemporary, as well as period home styles.
7. Lend Extra Space for a Larger Window
Bigger is often better when it comes to modern windows so if you can, add at least one truly special window in your design that really makes a new extension or self build sing. "We are seeing larger windows being used more often, particularly with fixed frames or picture windows," says IDSystems' Edward Stobart.
While this also works in renovation projects, you may have more trouble organising permissions to enlarge existing window openings.
Carly Coran of IQ Glass adds: "Structural glazing can be used to create bespoke windows of any shape, size or design whilst maintaining an extremely minimal finish."
8. Let Light and Air in From Above with Motorised Rooflights
"Locating extra windows in roofs is often visually more acceptable and offers greater flexibility than punching additional openings in main elevations," explains Ian Rock. "Utilising flat roof lights, dormers and roof lanterns for internal illumination is of course a practice that dates back centuries, but today we're spoiled for choice with a wide range of affordable options suitable both for pitched and flat roofs.
"Because roof windows are angled facing the sky they can let in significantly more light than the conventional variety, hence they can be relatively small and discreet."
While any type of rooflight will of course be a valuable addition, going to extra inch by installing the latest electric roof windows will help to give your project a modern edge.
9. Keep to Fuss-free Modern Styles
"Frameless picture windows have become increasingly popular in recent years, with floor to ceiling windows being the latest trend within home design," comments Carly Coran from IQ Glass.
"Among Passivhaus designers there is a trend towards simplicity and simple sightlines," explains Green Building Store's Chris Herring.
"By keeping window openings and window transoms or mullions to a minimum the costs of windows are also kept to a minimum and often thermal performance benefits from a simpler window design with fewer openings."
10. Rock the Round Window Look
"On the whole, round windows can be just as versatile as their square counterparts," details Sabatino Torchitti, head of quality in building regulations at RESI. "They allow for different placement options and are available in a large variety of sizes and designs.
"Bullseye designs are small round windows with glazing bars, also called Oeil-de-boeuf or porthole windows (because they resemble those seen on a boat). Larger sized circular windows with no glazing bars can make great focal points and can double up as window seats."
What is the Most Popular Style of Window?
"Aesthetic trends include the move towards more 'frameless' styles with minimal sightlines," advises Chris Herring of Green Building Store. "The 'frameless' appearance is achieved by a 'hidden frame' design or 'concealed frame' design. The frame is invisible from the outside because it is fully integrated into the wall. These 'frameless' windows are very suited to contemporary design newbuild projects."
What Types of Windows are Modern?
"As the Passivhaus low energy building standard becomes increasingly popular and widespread there is a growing awareness about the need for installed windows to offer excellent levels of airtightness performance to achieve these stringent building standards,"Chris Herring continues.
"This will come both from the window performance itself and ensuring that the installation is highly airtight."
Get the Homebuilding & Renovating Newsletter
Bring your dream home to life with expert advice, how-to guides and design inspiration, direct to your inbox.
Assistant Editor Amy began working for Homebuilding & Renovating in 2018. She has an interest in sustainable building methods and always has her eye on the latest design ideas. Amy has interviewed countless self builders, renovators and extenders about their experiences for Homebuilding & Renovating magazine. She is currently renovating a mid-century home, together with her partner, on a DIY basis, and has recently fitted her own kitchen.