Flat Roof Windows: All You Need to Know
By Mark Brinkley published
Flat roof windows are growing in popularity, but require careful thought before they are installed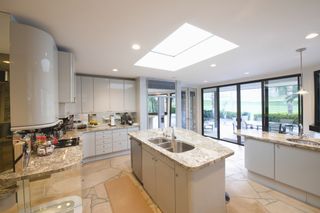 (Image credit: getty images)
If you want to get natural daylight flooding into a room under a flat roof, then you will be looking at a flat roof windows. They are a relatively new phenomenon and have grown more common as glazing techniques have improved.
As with flat roofs themselves, flat roof windows (also known as flat rooflights) are never strictly speaking flat: they are either slightly domed or are installed with a slight slope, usually around 5°, in order to aid rainwater run-off.
However, visually they appear to be flat from both above and below.
Flat rooflights differ from roof lanterns which are more like mini conservatories, three-dimensional structures that sit on top of a flat roof. Both bring in light from above, but architecturally they are very different.
(MORE: Flat Roofs)
Do I Need Planning Permission for a Flat Roof Window?
Flat or domed roof windows are, by their very nature, discreet and make very little visual intrusion on either the home where they are installed or on the neighbours. Overlooking also tends not to be an issue because the view is of the sky above, not the neighbours' bathrooms.
However, the current planning guidance seems to predate the current wave of interest in flat roof windows and simply says that roof windows should not protrude more than 150mm beyond the plane of the roof slope. On the subject of flat roofs, and specifically flat roof lights, the guidance is silent.
Whilst a protrusion of less than 150mm is easy to achieve with a sloping rooflight, it is more challenging with flat rooflights where it is conventional to build an upstand for the rooflight to sit on, in order to achieve good watertightness.
Therefore any rooflight which protrudes above 150mm (and many will) will in theory require planning permission, although it is hard to see on what grounds it could be refused.
If the work forms part of a self build or new extension, then the rooflight will be considered with every other aspect of the job. Indeed, if it's included when building an extension, it would usually be considered acceptable under permitted development rights.
However, if your wish to install a rooflight in an existing flat roofed area, and the protrusion is greater than 150mm above the existing roof level, then as things stand you should approach the planners with your intensions and ask whether you need formal approval.
What's on the Market?
There is a wide range of flat roof window options available at a variety of price points.
The simplest are the fixed, domed rooflights with a polycarbonate cover, costing just a couple of hundred pounds. At the other end of the spectrum, there are bespoke glazing solutions that you can walk on, costing as much as a new car.
Flat roof windows can be fixed, manually opening or electrically-operated to open. The openings themselves can be either hinged or sliding.
Are Flat Roof Windows Any Good?
Pros
Flat roof glazing is a brilliant way to get lots of light into the space below. It is said that you get around three as much light from above than you do through a conventional vertical window and there isn't any time of day when you are not collecting that light.
There are many modern designs where big open plan spaces would be dark and unwelcoming without overhead light.
Cons
They have to be carefully installed to ensure good waterproofing. This is normally achieved by building a small upstand which acts as a base wall for the rooflight to sit on. Whilst domed rooflights can be laid horizontal, genuinely flat ones need a camber to ensure good rainwater run off.
In really hot spells, you can accumulate rather more heat than you want in the room below. There are ways you can mitigate against this, including fitting solar control glazing which reflects sunlight. It is best to limit the amount of overhead glazing to no more than 20% of the floor area you wish to light.
Thermal Performance of Flat Roof Windows
What is a U Value?
The U value is a measure of the thermal effectiveness of any glazing unit and this information is usually available online, though sometimes it takes a bit of sifting through to get to.
The thermal performance of a flat rooflight is no different to a vertical window.
It is determined by the quality of the glazing (triple glazing scores much better than double) and the way the glazing units and the surrounds have been constructed.
Generally speaking, the lower the U value the better. Look for a U value (sometimes expressed as Us (W/m2K) below 1.5, which represents the heat loss score of a good double glazed window. Triple glazed windows will have an even lower score, below 1.0.
How Big Can a Flat Roof Window be?
Off-the-peg flat rooflights are available in a range of shapes and sizes. Until recently, these options ran up from as little as 600 x 600mm to around 1.5 x 1.0m but Velux have introduced a Vario range which is modular, meaning that you can add extra units to make up your chosen configuration.
The limitation thus becomes a structural one: how big an opening can your roof take and does it need to be re-reengineered or rebuilt in order to incorporate your chosen rooflight.
There are also many niche players making structural glazing solutions, which can be used for walls as well as roofs, and once again, the same structural limitations apply.
Choosing the Right Size and Position for Your Flat Roof Window
The usual place to install an overhead rooflight is in a kitchen or in an otherwise dark hallway, where good quality day lighting is best appreciated.
Popular spots include above dining tables and over islands or peninsulas in large kitchens.
Generally, it makes sense to keep any overhead lighting fairly central, unless there is a specific reason to locate it to one side. One stunning effect, only available from bespoke structural glazing specialists, is to run an overhead rooflight to the edge of a room and there to combine it with a vertical wall window with a seamless joint.
How are Flat Roof Windows Installed?
In a new roof, the opening will formed by the carpenters during the carcassing process.
Details of the sizing and any upstands required should be available from the manufacturers, together with advice on insulating the sides of the opening to avoid cold bridging and condensation.
Often there is a delay between the roof being formed and the flat roof window appearing onsite, so a temporary cover needs to be effected: corrugated plastic sheets are handy here.
The roof covering material is installed over the upstand, before the roof window itself, so that the final waterproofing takes place when the window flashings are fitted onto the upstands.
This work needs to be supervised by a building inspector: the alternative route to window compliance, using a FENSA registered contractor, does not cover new window installations, only replacements.
On the more elaborate installations, involving sliding glazed roof sections, it is recommended that an annual service contract is put in place to ensure that the mechanisms keep functioning properly.
(MORE: How to Install a Roof Window: Step-by-step Guide)
Features and Upgrades You Should Look Out For
Double glazing can be upgraded to triple glazing for a cost premium of around 30%: this adds thermal efficiency and a degree of solar control. In addition, you can add dedicated solar control, also known as low-g glass, which helps to control summer overheating.
Self-cleaning glass is also a possibility.
If you buy off-the-peg rooflights, then the various glazing options are available from a menu: Velux is the market leaders in this respect and its catalogue is something you will be referencing at this point.
If you select a bespoke solution and work with the manufacturers or installers, you need to get up to speed about your glazing options.
All overhead glazing is required to be toughened, but for those interested in walk-on glazing, the glass has to be both thick enough and strong enough and this is achieved by laminating several sheets together into one thickness. Walk-on glass can also be fritted to prevent slip.
The other major decision you have to make is whether to have a fixed light or to have it opening, and if opening, should it be a manual process or electrically operated. If you go for electric control, you should have the option of fitting a rain sensor as well.
Can You Walk on Flat Roof Windows?
Walk-on rooflights are something of a fashion trend.
Obviously the glazing has to be strong enough to withstand not just the weight of a person but also heavy objects being dropped onto it, and the glass is often fritted to make it non-slip.
Usually, it is combined with decking so that there appears to be a level roof plane.
How Do You Clean a Flat Roof Window?
Flat roofs are usually accessible from the ground via a ladder or from a window and generally flat roofs provide a safe working platform. External cleaning and maintenance is therefore fairly easy to achieve, as they simply require an occasional wash and window cleaners are well used to them.
Internally, access can be more challenging and may require a step ladder. On the other hand, there isn't very much to make the internal glass dirty and cleaning is needed only very occasionally.
Mark is the author of the ever-popular Housebuilder's Bible and an experienced builder. He's just finished his latest self build.
Homebuilding & Renovating Newsletter
Get the latest news, reviews and product advice straight to your inbox.
Thank you for signing up to Homebuilding. You will receive a verification email shortly.
There was a problem. Please refresh the page and try again.