uPVC vs Aluminium Windows: Which is Right For You?
By Natasha Brinsmead published
uPVC vs aluminium windows — the big debate. Here, we take a look at the pros and cons of each to help you decide which will be best for you.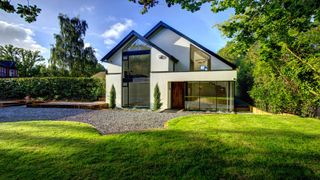 (Image credit: IQ Glass)
Many people choosing new windows for their home will, at some stage, think about uPVC vs aluminium windows. Both can be great options, but this very much depends on the style of the house they are being fitted in, as well as the requirements of the homeowner and their budget.
Here, we compare uPVC and aluminium windows, taking a look at the advantages and disadvantages of each to help you decide which window style is best for you. In order to help you decide, in this quick guide to uPVC vs aluminium windows, we will cover:
Pros and cons of aluminium and uPVC windows
Window prices
Window maintenance
Window styles
Lifespan of uPVC and aluminium windows
Window thermal efficiency
What are the Benefits of uPVC Windows?
The advantages of uPVC windows are numerous. While for some years uPVC windows suffered from a bad reputation for their clumsy appearance when compared to other window styles such as timber windows and aluminium, this is no longer the case thanks to huge advancements in manufacturing techniques.
The benefits of uPVC windows include:
Price: uPVC windows still tend to be one of the cheapest types of window out there
Low maintenance: A simple wipe down from time time is usually all that is required to keep uPVC windows in good condition
Good thermal efficiency: Providing you buy your windows from a reputable manufacturer and have them fitted with double glazing (or triple glazing)
Good security
Wider range of colours and finishes than ever before
Slimmer profiles are now available
Disadvantages of uPVC Windows?
Of course there are still some disadvantages of uPVC windows to consider — many of which concern their appearance when compared to timber windows or aluminium. These include:
Fewer colour options than with aluminium windows
Wider sightlines compared to aluminium
Chunkier appearance
Some cheaper versions, without UV coatings, will not last long, with colour fading and and loose fittings being common themes
Shorter life expectancy than aluminium at around 25 years
Advantages of Aluminium Windows Compared to uPVC Windows?
There are many benefits of aluminium windows, with appearance being a particularly big draw for many people considering window styles.
The main advantages of aluminium windows are:
Slimline frames and narrow sightlines. Aluminium has a high strength to weight ratio meaning that even with very slim framing profiles security won't be compromised
Large openings are possible — huge picture windows can be created thanks to the lightweight composition of aluminium
Great thermal efficiency. Aluminium windows should all now come fitted with a thermal break. In short, this prevents the aluminium on the outside from coming into contact with the aluminium on the inside — so the cold air from outside will not be transferred inside, and vice versa
Low maintenance. Like uPVC, aluminium windows should require little in the way of upkeep
Huge range of colours on offer
Long lifespan — many manufacturers state their aluminium windows will last as long as 30-45 years
Good eco-friendly option — aluminium is 100% recyclable and non-toxic too
What are the Disadvantages of Aluminium Windows?
Despite the many benefits of aluminium windows, there are still a couple of cons to consider, including:
Price. Perhaps the biggest factor in deterring people from choosing aluminium windows is their relatively high cost, although some bespoke hardwood timber windows can cost more. The price difference between uPVC and aluminium windows can run into the thousands
Style. For some traditionalist out there, timber will always beat the more contemporary appearance of aluminium
uPVC Window Prices vs Aluminium Window Prices
One of the main benefits of choosing uPVC windows is their price. They come in, on average, at around £1,500 to £2,000 cheaper than aluminium when installed in a whole house.
Although the cost of aluminium windows tends to lie at the top end of the price scale, if your budget allows, this initially high outlay can really pay off in the long term.
Not only do their have a long lifespan compared to other window types, but they also require little in the way of expensive maintenance.
Are uPVC or Aluminium Windows More Secure?
When it comes to the security levels offered by uPVC aluminium windows, there is little in it — providing you choose reinforced frames and multi-point locking systems.
You should also look for the Secured By Design seal of approval. This is a British manufacturing status accredited by the Police and Home Office.
Natasha is Homebuilding & Renovating's Associate Editor and has been a member of the team for over two decades. An experienced journalist and renovation expert, she has written for a number of homes titles. She has renovated a terrace and is at the end of the DIY renovation and extension of her Edwardian cottage. She is now looking for her next project.
Homebuilding & Renovating Newsletter
Get the latest news, reviews and product advice straight to your inbox.
Thank you for signing up to Homebuilding. You will receive a verification email shortly.
There was a problem. Please refresh the page and try again.