Electric Roof Windows: Your Essential Guide
Considering installing electric roof windows? Our guide explains everything you need to know in order to make the right choice for your home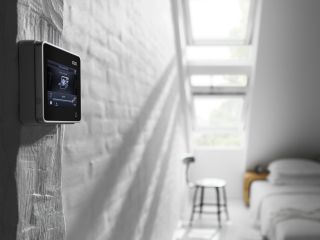 (Image credit: Velux)
Electric roof windows are definitely worth considering if you are planning to install roof windows in your home. 
Whilst conventional rooflights provide the ideal way to draw light into areas of the house that are not easily served by conventional windows, electric roof windows go one step further, making operation of these sometimes hard-to-reach features a doddle.
(MORE: Get a quote for the windows for your project)
What is an Electric Roof Window?
Electric roof windows are those which can be operated by means of a panel on the wall or remote control. They also include rooflights with automatic weather sensors. 
Manual or Electric Roof Windows?
Although manually operated rooflights are the simplest and cheapest solution, they are not always practical. 
In many places, such as where there are high ceilings, or over staircases, the window will be out of reach. If you want to open the roof window, you would either have to use a pole — or opt for electric roof windows. 
How do Electric Roof Windows Work?
Electric roof windows require an electrical motor that has to be housed somewhere accessible, although it is sometimes concealed within the structure. 
There also needs to be a switch which can be hard wired to a switch plate, or they can be wireless. 
Some automated rooflights are solar powered too. 
Should I Choose Wireless Electric Roof Windows?
The choice between wireless or hard-wired home fixtures is a common factor these days in many aspects of housebuilding, including thermostats for heating, door bells, alarm systems and media platforms. 
Wireless switching is much easier to install but is reckoned to be less reliable, although as Wi-Fi and Bluetooth improve, the difference is getting less noticeable. 
Generally, wireless switching requires a hand unit that runs on batteries, so these will need changing from time to time.
Should Electric Roof Windows Have Rain Sensors?
Most rooflights with automatic opening offer rain sensors as an option. 
These are small metal plates which detect rainfall and then automatically close the rooflight when rain is detected.
The quality varies — check to see whether the sensors you opt for will detect other adverse weather such as snow or hail as some have been known to remain open in these conditions...
Will I Need Automatic Rooflight Blinds?
If the rooflight is hard to reach, then it also likely that any blinds it comes with will also be hard to get to meaning electrically operated blinds and shutters will also need to be considered. 
Take a look at our round up of the best skylight blinds. 
Can Manual Rooflights be Converted to Electric?
Yes, although it will require power and switching to be fitted which may be a little more disruptive than you wish in the form of some redecoration and patching up. Talk through the amount of disruption that can be expected with your supplier. 
Electric Roof Windows Smart Tech
One of the more advanced options in the world of automated rooflights is the Velux Active Climate Control module that opens and closes both windows and blinds depending on indoor temperatures, humidity and CO2 levels. 
These automated rooflights and blinds can also be controlled by a smartphone app. In this way, the window control is rather more like a thermostat on a radiator, in that its position is being determined by a simple algorithm which is programmed to respond to certain pre-defined states — i.e. temperature or indoor air quality.
(MORE: Smart Home Gadgets)
Get a Quote for Your Electric Roof Windows
Homebuilding.co.uk partners with the UK's best roof window suppliers to match your requirements with their products. Simply answer a few questions on what you need from your roof windows and we'll put you in touch with a relevant partner.
How it Works
1. Enter your details below. Tell us a bit about your project and what you are looking for, and leave some contact details.
2. We search our database. We'll match your requirements with the products and services that our partners offer.
3. Partners will contact you. Don't worry about being bombarded - only the suppliers that match your requirements will contact you.
Mark is the author of the ever-popular Housebuilder's Bible and an experienced builder. He's just finished his latest self build.
Homebuilding & Renovating Newsletter
Get the latest news, reviews and product advice straight to your inbox.
Thank you for signing up to Homebuilding. You will receive a verification email shortly.
There was a problem. Please refresh the page and try again.