Bifold Windows: A New Trend to Embrace
Bifold windows are hot news right now, the perfect compromise between bifold doors and standard windows. We explain all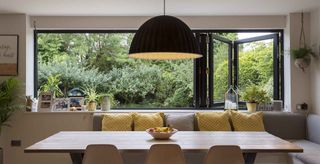 (Image credit: Origin)
Bifold windows, not to be confused with their big brother, the bifold door, are relative newcomers to the world of windows and doors and yet have fast become a popular feature with self builders and renovators searching for window styles.
What are Bifold Windows?
Bifold windows are also sometimes referred to as a 'servery window' or sometimes 'refectory-style window'. They were, and still can be, often found used in bistros, cafes and restaurants, where their ability to open up the side of the building, while keeping it separate from the pavement or street made practical sense.
However, the advantages of bifold windows is has now been recognised by both window manufacturers and suppliers providing products for homeowners, as well as by the homeowners themselves.
As you might expect from the name, bifold windows work in the same way as bifold doors, folding and sliding, concertina style, stacking back to one wall, leaving a clear opening.
Advantages of Bifold Windows
Bifold windows offer many of the benefits of bifold doors, along with a few of their own.
Slim sightlines, the potential for huge openings, smooth operation, plenty of configuration options are amongst these advantages.
Bifold doors are not an option for everyone – particularly those concerned about losing kitchen unit space or having to rethink furniture positioning due to the full-height nature of them. Bifold windows overcome this problem, in many ways offering the best of both worlds.
Of course, they don't open up spaces to the outside in quite the same way as bifold or sliding doors, but they do look great when combined with these products.
Bifold Window Materials
As with all other styles of window and door, bifold windows come in a range of materials, including aluminium, timber and PVCu. Each has pros and cons.
Aluminium bifold windows offer fantastic thermal efficiency, the potential for slim sightlines, low maintenance and a range of configuration options, yet is undeniably more expensive than PVCu and some timber products too.
Timber offers a classic appearance that appeals to many — but opt for a high-quality engineered product to ensure movement doesn't become a problem.
There are some really good PVCu bifold windows on the market now too — just be sure to head for the upper end of the market rather than opting for the cheapest option as you may well be disappointed if you attempt to scrimp. These new PVCu windows offer great thermal efficiency and impressively slim sightlines too.
Bifold Window Sizes
You decide how big you want your bifold windows to be, with many suppliers offering both standard and bespoke options.
In the case of Origins' aluminium bifold windows, individual sashes can be made in sizes range from 400mm to 1200mm wide and can open inwards or outwards and fold from the left or the right. The configuration can also be split down the middle.
Wooden bifold windows from Timber Bi Folds come with a maximum panel width of 1000mm and come with some great features such as integrated blinds and fly screens.
Get the Homebuilding & Renovating Newsletter
Bring your dream home to life with expert advice, how-to guides and design inspiration, direct to your inbox.
Natasha is Homebuilding & Renovating's Associate Content Editor and has been a member of the team for over two decades. An experienced journalist and renovation expert, she has written for a number of homes titles. Over the years Natasha has renovated and carried out a side extension to a Victorian terrace. She is currently living in the rural Edwardian cottage she renovated and extended on a largely DIY basis, living on site for the duration of the project. She is now looking for her next project — something which is proving far harder than she thought it would be.