What is the Passivhaus Planning Package?
By Tara Gbolade published
The Passivhaus Planning Package can help marry up your design and energy credentials. Architect Tara Gbolade explains all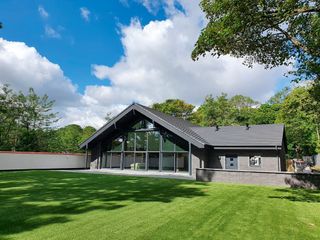 (Image credit: Green Building Store)
The Passivhaus Planning Package (PHPP), also known as the Passive House Planning Package, is modelling software developed by the Passivhaus Institute. It is used when designing energy-efficient buildings to calculate their operational energy use and carbon emissions.
The software, which is easy(ish) to use and is based on Microsoft Excel, can be used to inform the design of both new buildings and energy-efficient renovations.
More than this, the PHPP is the starting point for designing and building a certified Passivhaus or EnerPHit home.
Whatever your specific goals, it can provide a key tool for creating an energy-efficient dwelling. For instance, a growing number of self builders are choosing to go down the route of building to Passivhaus standards without applying for certification.
(MORE: Ultimate guide to self build)
What Does the Passivhaus Planning Package Measure?
Heat Loss Form Factor
This is the ratio of surface area that can lose heat (walls, roof) to the treated floor area (the area that gets heated). The higher the ratio, the less efficient the building.
The Passivhaus Planning Package contains tools to calculate comfortable internal ventilation, heat load and summer comfort, as well as to measure heat gains and losses. This allows you to ensure there is an adequate 'energy balance'.
Buildings lose heat through their fabric (walls, floors, roofs and windows) and attain it through solar gain, heating and other internal sources — all appliances generate a certain amount of heat.
Designers and architects can use this information to control a building's energy economy through good design, looking at things like building orientation, Heat Loss Form Factor, fabric U values and external shading to achieve this.
Based on the performance targets the homeowner or self-builder hopes to achieve, PHPP also calculates their design's annual Primary Energy demand (PE, the total energy used for heating, lighting, power and hot water in kWh/m2a) and Renewable Primary Energy (PER, the amount of energy generated from renewable resources).
It also breaks down heating and cooling demands into separate figures and assessing annual renewable energy gains.
Why Use The PHPP on a Project?
PHPP is a worthwhile exercise to undertake because it can identify gaps in otherwise energy-efficient designs, providing confidence that performance targets will be achieved at the end of the build process by closing the gap between predicted energy use and real-world performance.
Performance gaps are one of the biggest challenges in the construction industry. Buildings often do not perform as they are designed to, so using a tool such as PHPP to provide rigorous modelling before starting on site can be invaluable.
To really make sure every possibility has been taken into account, PHPP modelling should be undertaken not just once, but at three key stages:
Early design feasibility
Detailed design stage
Technical design stage
It is also strongly advised that a post-occupancy performance analysis is undertaken some time after completion. This is required by default when working to achieve Passivhaus certification.
One of the advantages of using the PHPP is that it is constantly being developed, so it's worth ensuring the latest version is being used (this is PHPP v.9, at time
of writing). It can also be used in tandem with 3D modelling tools such as SketchUp, which has a plugin incorporated.
Who Works With The PHPP?
PHPP modelling will often be undertaken by your architect, who will need to be technically capable of the task. Even if they are not a certified Passivhaus designer, they may nonetheless have the knowledge and expertise to the use technology.
The PHPP can also be employed by a sustainability expert or consultant who, working alongside your architect, will be able to interrogate design decisions and working assumptions to ensure that all aspects of the spreadsheet have been taken into account and any flaws in the design addressed.
How Soon Into a Project Should you Start Using the PHPP?
The PHPP needs to be put to use as early in the design process as possible, as in theory it should help you design your building by considering:
Possible adaptations to its orientation, form, and fenestration, with attention paid to the use of north and south-facing façades
The option to incorporate external shading
The project's thermal envelope
Any challenges that might face the design and the options for designing them out.
All of the above need to be taken into account alongside contextual challenges such as planning constraints like frontages, local materiality, overlooking and privacy.
A fine balance must be sought throughout the design process between the requirements of PHPP-aided energy efficiency and the more physical challenges of a site.
How Much Does it Cost?
PHPP can be bought for £160 plus VAT, at the time of writing (or a reduced cost for partner bodies).
However, if you are working with an architect, Passivhaus designer, or other sustainability professional, then they may already have a copy, the use of which will usually be included in their overall fee rather than incurring an additional cost.
What Information Does Your Architect Need to Enter?
The time it takes to input information into the PHPP depends on the amount of information available and the experience of the person using the software.
If it is to give the most accurate results possible, the PHPP will usually require the following information (note that intelligent Building Information Modeling often helps to pull out a lot of this information):
Building description: Is it residential or commercial? What is its external volume?
Climate data: This is given by selecting the most appropriate region from a drop-down list l U Values: This covers material layers and thermal conductivities, material thicknesses and surface resistance
Areas: Treated Floor Areas (TFA) on a room-by-room or whole-floor basis
Ground: Perimeter/area ratios (P/A) and U values of floor
Components: Are the windows and doors double or triple glazed? What are the specifications of the frames and glazing?
Shading: Its location, size, and distance from the building
Ventilation: System sizing, volume (TFA x 2.5m), air test volume and air pressure test result
Heating: The software uses the standard calculation procedure for heating load employed by Passivhaus and others, sometimes called 'the monthly method'
In addition to the above, overheating calculations, domestic hot water, electricity and auxiliary electricity (appliances, lighting, cooking), Primary Energy value and boiler information (fuel source, boiler size and efficiency), will also need accounting for.

Tara is a Passivhaus designer and co-founder of architectural practice Gbolade Design Studio and won the RIBA Rising Star Award in 2018.
Homebuilding & Renovating Newsletter
Get the latest news, reviews and product advice straight to your inbox.
Thank you for signing up to Homebuilding. You will receive a verification email shortly.
There was a problem. Please refresh the page and try again.