Half Wall Panelling Ideas: 12 Ways to Introduce Wainscoting
By Amy Reeves published
Half wall panelling ideas are fantastic for adding character and visual interest to a room — take a look at our favourite styles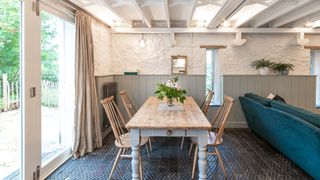 (Image credit: c/o Design Storey)
Including half wall panelling ideas into a fresh interior design scheme will instantly provide a charming feature that can be as modern or classic country as you want it.
While full wall panelling ideas have been in the zeitgeist for a few years, more and more homeowners are looking to include wainscoting (wood panelling on the lower parts of a wall) to create shelving, hide insulation or services or as an alternative to skirting boards.
We've selected our favourite half wall panelling styles below to inspire you — with top tips on how to install DIY, what to consider for different rooms around the home, and how to prevent your walls from feeling smaller.
Half Wall Panelling Ideas: A Re-emerging Trend
Panelling the lower half of a wall is a tradition which dates back centuries. Originally, the practice was undertaken to protect walls in hallways and other high-traffic areas from getting dented and damaged.
In recent years this style has been on the up alongside other modern interior design trends which include a focus on timber and texture. Plus, alternative wall covering ideas to plaster, such as wainscoting can add warmth and instant character to new rooms in renovated or self build properties.
While painted wooden panelling is most often used, we're also seeing a trend of experimenting with wall panelling materials and styles such as tiles, wallpaper and paint effects.
1. Use Half Wall Panelling to Create a Small Shelf
Not just a way to create visual interest, half wall panelling is also great for adding extra surfaces for showing off paintings, pictures and treasured objects around a room.
Styles like this one work best with a pastel or bright coloured upper wall to really showcase belongings.
When finding the right height for wainscoting in a bedroom take your cue from existing furniture, such as a bed frame, bedside table or chair. Locating the top of the panelling a few inches above will ensure the space feels carefully curated and avoids making the room feel squat.
Find out how to replicate this style Shaker-style by taking on DIY wall panelling.
2. Protect or Conceal Damaged Hallway Walls
Whether your hallway walls are already damaged and dented or you would like to prevent such issues from occurring, half wall panelling is the way to go. It might also be a cheaper alternative to replastering walls in some instances.
Precisely what it is famed for, covering the lower half of a wall will provide a fresh look as well as a long-lasting durability.
Other hallway ideas, such as a bench seat or console table, could also be built in and panelled in a similar fashion for a more bespoke-looking finish.
3. Consider an Alternative to Wooden Half Panelling
Wood is not the only way to achieve a durable, yet stylish finish to the lower half of a wall. Porcelain or ceramic wall tiles are also a lovely and interesting way to add a modern slant on this traditional idea.
Just as with wooden panelling, tiling a wall can be done on a DIY basis so costs remain low, and the incredible range of choices means any homeowner can make their impact on their interior design.
Crucially, this period home doesn't just stick to one format of square tile, but finishes the top with a moulded dado-inspired tile.
4. Flip Half Wall Panelling on it's Head
This stunning hallway and staircase takes the idea of panelling half a wall and applies it to the upper section instead.
The tongue and groove interior timber cladding beautifully contrasts with the red brick of the lower wall, and draws the eye up the stairs and towards the glazing on the first floor.
Note also that the wood panelling is included along the side of the stairs to create 'hidden' under stair storage ideas below.
5. Play with Half Wall Panelling Heights
While half wall panelling tends to refer to cladding which is taken up to the height of a dado rail mid-way up the wall, that does not mean experiments in higher or lower designs can't be successful.
Much the opposite, in homes with high or vaulted ceilings, taking the panelling to the 3/4 mark will make the room feel cosier while a 2/3 design can also work best in a living room or dining area where chairs are likely to be pushed against the walls.
Conversely, lowering panelling to half a metre or 1/4 of the wall height is a contemporary alternative to skirting boards, which many find outdated and untidy.
6. Fake it with Wallpaper
While fitting panelling is a job many can undertake themselves, apprehension of mistakes or a lack of tools might prevent this endeavour. What's more, wainscoting can steal internal floorspace, which may not be ideal in smaller spaces.
For simple shortcut, many retailers are now offering wallpapers with a half wall panelling design. Either hire a professional or learn how to wallpaper and simply cut, paste and admire!
Here, the lower 'panelling' picks out a rich blue of the main floral wallpaper and continues it into the room beyond and up the stairs, beautifully contrasting with the white skirting board and pale flooring.
7. Conceal Electrics and Plumbing with Half Wall Panelling
Half wall panelling doesn't have to just add style or protection, the covering can also be used to conceal all manner of practical things.
The grey tongue and groove half wall panelling of this converted shop – a scheme designed by architects Design Storey – conceals the electrics and radiator plumbing that would otherwise look messy when not properly chased into the walls themselves (a restriction of many a solid wall home).
If your home is chilly but you don't want to lose vital floor space, hiding internal wall insulation behind wall panelling such as this is a great solution.
8. Reinvent Wainscoting in the Bathroom
Half wall panelling has been a popular look in bathrooms for many years — but this new take on the idea takes into the 21st century. Paint lower panelling the same colour as the upper wall for a uniform, but textured look.
In bathrooms, try to find a suitable water-resistant paint (like this Dulux Bathroom Emulsion from B&Q) and perhaps even coat the MDF or OSB in a sealant or varnish so the high humidity or water splashes don't warp the finished effect.
Once the practicalities are sorted, however, matching wainscoting with a roll-top bath tub and period-inspired flooring will produce a luxurious spaces just like this one.
9. Use Half Wall Panelling as a Kitchen Splashback
Once again, using half wall panelling ideas in unexpected places will inspire a unique and interesting interior design.
Here, the splashback for this kitchen has been created using tongue and groove panelling above the units – and under the island – with a convenient shelf above for storing pretty bowls and plates.
If you're attempting this style, try not to go too high with the panelling, lest the room feel claustrophobic with so much timber and furniture around. Also use the best kitchen paint you can find as the panelling will take more than its share of bumps while the kitchen is in use.
10. Use Half Wall Panelling to Add Bold Colour to a Room
While many homeowners are growing ever bolder with their colour choices in the home, many of us don't want entire swathes of bright pink or dark blue in a room after painting a wall.
Splitting a wall up with panelling provides the opportunity to go a bit wilder and more daring with hues either above or below the middle without completely overwhelming the space.
11. Subvert Expectations with Creative Half Wall Panelling
The majority of half wall panelling we see are flat Shaker styles or tongue and groove. While this is by no means a bad thing, there are other alternatives to create an individual take on the trend.
Thin slats or flutes, as seen in many modern homes' exterior cladding, can be a striking option, as can wide horizontally-hung weatherboarding.
Semi-circular or curved strips, as shown in this lovely dining area, is definitely visually appealing and produces a more bespoke feel to the room.
12. Pay Homage to Half Wall Panelling with Paint
The downside to half wall panelling of late is the sharp increase in material costs and the construction materials shortage. Timber of all types, including sheets of MDF, ply and OSB are all far more costly than they were even a year ago and this might make many second guess the value added by installing wall panelling.
While already on track for a more cost-effective alternative by choosing to clad half of the wall, some may still balk at the total amount required.
Although paint doesn't produce quite the same visual interest as wainscoting, a similar effect can be created by precisely taping a line at dado-height and painting the top and bottom different colours. Also play around with different types of paint and finishes — there are million and one options to make this idea suit your style.
Assistant Editor Amy began working for Homebuilding & Renovating in 2018. She has an interest in sustainable building methods and always has her eye on the latest design ideas. Amy has interviewed countless self builders, renovators and extenders about their experiences for Homebuilding & Renovating magazine. She is currently renovating a mid-century home, together with her partner, on a DIY basis, and has recently fitted her own kitchen.
Homebuilding & Renovating Newsletter
Get the latest news, reviews and product advice straight to your inbox.
Thank you for signing up to Homebuilding. You will receive a verification email shortly.
There was a problem. Please refresh the page and try again.