Types of Paint and Finishes: What are They and What do They do?
Our complete guide to types of paint will help you learn to distinguish your eggshell and emulsion from your satin and semi-gloss. Here's what you need to know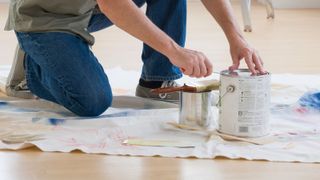 (Image credit: getty images)
Different types of paint do different jobs, so while your first thought might be about appearance when choosing a paint, you also need to be thinking about durability.
Matt paint, for example, is great at hiding imperfections when painting a wall, but it isn't as durable as a satin or gloss paint. Gloss is great for a durable high sheen finish, but isn't as subtle as matt or satin and can accentuate, rather than disguise, imperfect surfaces.
Choosing a type of paint is a balancing act between these two considerations, and our guide will help you to pick the perfect paint for your next project.
What are the Different Types of Paint?
There are many different types of paint to choose from, but while some vary in their finish, others are defined by its ingredients or its usage.
This guide will break down the most commonly used paints around the home so you can get to grips with what the differences are between them.
1. Oil-based Paint
Oil-based paints are often the choice of the professional painter. They provide a durable hard finish that is water-resistant, are good at stain-blocking and provide good adhesion.
They are ideal for interior and exterior bare wood surfaces such as painting windows and doors. However, they are not as easy to apply as water-based paints, typically take far longer to dry and white paints yellow quicker than similar water-based paints.
Oil-based paints are also more likely to emit VOCs (volatile organic compounds) which are linked to health issues.
2. Water-based Paint
The evolution of water based paints means that they are nearly (but not quite) as durable as oil-based paints, but have several key advantages. They typically dry much quicker and are easier to apply with a brush or roller — so popular with DIYers.
It's quicker and much easier to clean brushes and tools, they are low odour and more environmentally-friendly. Emulsion, satin, gloss and matt paint are often water-based and are great for interior walls, windows, doors and painting skirting boards.
3. Emulsion
Emulsion is a hard-wearing water-based paint that is typically used for walls and ceilings. The two common types are matt and silk. Matt has a very low sheen and reflects very little light which makes it ideal for painting a ceiling and walls that might not quite be perfect. Silk has a higher sheen and is more durable and easy to wash than matt, but is more likely to show imperfections. It is easy to apply with a brush and roller and easy to clean.
4. Gloss and Semi-Gloss
Gloss has a very high sheen, while semi-gloss has a slightly lower (but still high) sheen which gives a luxurious looking finish. Typically used for wooden trim such as skirting boards, door frames, doors and windows, but can be used on walls as well.
The best gloss paints produce a hard-wearing finish that is easy to clean. But its high sheen means it reflects a lot of light and will show up surface imperfections. To get a good finish you will need to do a little more prep.
5. Satin
Satin paint is like a mid sheen gloss paint. It has a finish that sits somewhere between matt and gloss and you'll often see people weigh up satin vs gloss, especially on woodwork such as doors, windows and skirting boards. It's less reflective surface means it shows fewer imperfections and creates a more subtle finish. It is typically durable, and wipeable to get rid of any dirty finger marks.
6. Eggshell
Eggshell has a low sheen, but a higher sheen than matt paint and has a finish similar to that of an eggshell — hence the name. Comparing eggshell vs satin, this paint is similar in appearance but typically has a slightly shinier sheen. It works well on woodwork for a durable finish that can be wiped clean when needed.
7. Primer
Primer is a key ingredient for helping paint adhere to a surface such as walls, wood and metal. It is the first coat that helps seal the material you are painting and creates a base for the following coats.
For example, a primer on bare wood seals the wood to help ensure that the undercoat and top coat, such as gloss, don't keep soaking into the wood and helps create a durable, good-looking finish.
8. Spray Paint
Spray paint typically comes in a can and is used to paint small surface areas such as chairs and cupboard doors as it provides a smooth even factory style finish.
It is quick and easy to apply, but you need to make sure that you apply thin even coats to stop runs. It typically has a strong odour and will leave fine spray around painted areas so need to prep and cover to keep these areas free from paint.
9. Enamel
There are a lot of varieties of enamel paint, but they work well on surfaces such as metal, wood and concrete and dry to a hard durable finish. In the home, enamel based paints are ideal for painting kitchen cabinets due to their toughness and typically gloss finish.
10. Masonry Paint
Masonry paint is a paint that is typically used on exterior surfaces (but can be used indoors) such as brick, stone, concrete, plaster and pebble dash. The best masonry paints provide good long-lasting weatherproofing and protection. They come in two finishes - smooth and textured. Smooth is easier to clean while textured is the better choice for hiding imperfections but is harder to clean and will need cleaning more often.
11. Specialty Paint
Some materials and surfaces require a specialist paint to get the best finish. There are a host available on the market that are specially tailored for a specific job. For example if painting tiles is on your to-do list, you can purchase tile paint that adheres well to shiny surfaces. You might need a paint that is resistant to high temperatures like a stove, want extremely hard wearing floor paint for painting floorboards or create an on-wall chalkboard.
Whatever specialist paint job you have in mind there will be a specialist paint for it, and thankfully they're relatively easy to identify as they're usually called whatever they're meant to be used for.
Get the Homebuilding & Renovating Newsletter
Bring your dream home to life with expert advice, how-to guides and design inspiration, direct to your inbox.
Steve is Homebuilding & Renovating's DIY content editor, and has been a writer and editor for two decades. He is an avid DIYer with over 20 years of experience in transforming and renovating homes. He specialises in painting and decorating, but has strong all-round building skills, having previously worked in the industry for 10 years.