How to Wallpaper Like a Professional
By Steve Jenkins published
If you need to know how to wallpaper, we've got you covered. Follow these easy steps for wallpapering success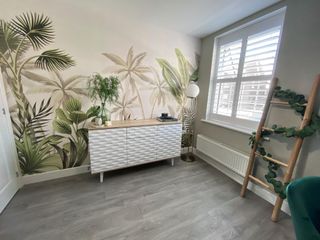 (Image credit: ilovewallpaper.co.uk)
Knowing how to wallpaper is a great way to give a room a fresh new look, whether you opt to paper the whole room or just a feature wall.
While competent DIYer can do a good job of hanging wallpaper, if this is your first time, start by hanging lining paper to hone your skills.
Before you start make sure to measure up and see how many rolls and how much wallpaper paste you are going to need.
Follow this step-by-step guide to get all the tips and tricks you need to get a professional finish.
(MORE: How to Paint a Room)
Measure Twice, Order Once
Use an online estimator, such as B&Q's Wallpaper Calculator, to see how many rolls of wallpaper you will need. Don't forget to add around 10% extra for wastage. Alternatively, ask in store for help.
You Will Need:
Lining paper
Wallpaper
Pasting table
Pasting brush
Hanging brush
Wall sealer
Wallpaper paste
Wallpaper scissors
Filler knife / Filler
Plumb line or spirit level
Tape measure
Step ladder
Bucket
Cloth
Seam roller (optional)
Preparation
Step 1: Clear the Room and Fill Any Cracks
You will need space for a pasting table, ladder and room to manoeuvre when hanging wallpaper. So, an empty room is the best option. Alternatively, place furniture against the opposite wall you are going to paper and cover with dust sheets.
Ideally, a bare wall is the best base to work. Make sure that any minor cracks are filled with an interior filler such as PolyCell Quick Drying Polyfilla or TOUPRET Redlite Filler. If you have bigger holes to fill try PolyCell Deep Gap Polyfilla or patching plaster. Use a 2-3 inch filler knife to apply. Let it dry and rub down with a fine grit - 120 - sandpaper to get a smooth finish.
Step 2: Treat the Wall if You Plan to Wallpaper Over New Plaster and Paint
A newly plastered wall needs to be treated as it absorbs wallpaper paste and makes it difficult to hang wallpaper. Try a sealer like Solvite Wall Sealer and apply with a roller for speed. Alternatively apply a coat of wallpaper paste to the wall and let it dry.
To wallpaper over a previously painted wall first make sure to remove any loose/peeling paint with a scraper. Fill any cracks/holes and sand. If the wall is dirty or greasy give it a quick clean with sugar soap. Finally, give the whole wall a quick sand - especially if the paint has a gloss finish - to improve adhesion.
Step 3: Mark the Placement of Fixings
After removing any fixings such as TV brackets, shelves or pictures, put any screws taken out back into the wall. Leave the screws protruding around 1-2cm. When papering the wall gently push the paper to see where the screws are. Get a sharp blade and cut across the screw head and gently push the paper over the screw head and finally pat down with a hanging brush.
Application
Before hanging any wallpaper first mix your wallpaper paste. A general all-round wallpaper paste such as Solvite All Purpose Wallpaper Adhesive - Extra Strong - is ideal for most wallpapers. Read the packet to see how many rolls the packet covers. One quick tip - make sure you add paste to water and stir as instructed to avoid lumps.
Step 4: Find the Spot for the First Drop
Top Tip
When working with wallpaper it will be either a straight match - this lines up the same on every strip - or a drop match, which will need to be hung in a staggered pattern. This means you will need more paper. Add 15-20% on top of your estimate to cover the extra needed.
Ideally start at a corner with no doors or windows so you can get a complete drop from ceiling to skirting board. Try to avoid having to hang narrow strips near a door or window. If you are using wallpaper with a large pattern, hang in the centre of the wall and work in both directions. Ideal for a feature wall or fireplace.
Before you start hanging, create a vertical straight line on the wall to ensure that the wallpaper goes up straight. Use a plumb line and bob to mark a line with a pencil. Alternatively, use a 600mm - or larger - spirit level to draw the line.
Step 5: Should I Paste the Wall or the Wallpaper?
This will depend on your wallpaper. Wallpaper commonly comes in two variations - paste the wall or paste the paper. If you are using paste the wall wallpaper, use a paint tray and roller to apply to the wall. Make sure the coat is even and not too thick. If you are using paste the paper wallpaper use a standard pasting brush to apply the paste to the paper.
Step 6: Apply the Wallpaper
Top Tip
If you are using patterned wallpaper write T at the top of every strip you cut to make sure you don't hang any patterned paper upside down. Also try matching up the pattern by placing the dry wallpaper against the wall to get an accurate idea of where you need to cut.
Measure the wall - don't forget to add around an extra couple of inches top and bottom. Place wallpaper on a pasting table, measure and cut and apply paste.
Fold over the bottom of the wallpaper - paste side to paste side - around halfway up the strip. Now place the top of the strip at the top of the wall with a slight overlap onto the ceiling. Guide into position with both hands and brush down and out. Now pull down the folded paper, adjust position and brush down. If using paste the wall wallpaper, pat the paper onto the wall - start at top - and guide into position and brush down.
Use a hanging brush to push out any bubbles. Start in the middle and brush up and out towards edges to push out any air. Do the same of the bottom of the strip. Use a seam roller to make sure the seams are stuck down properly to the wall.
How Do I Get a Neat Fit?
To ensure the wallpaper fits neatly against the ceiling and the skirting board, use the back of your wallpaper scissors to create a crease in the paper. Cut along the crease for the perfect fit. Now use the hanging brush to finish. Wipe down - top and bottom - with a damp cloth to remove excess paste.
Step 7: Working Around Awkward Corners and Objects
Electrical sockets, light switches, radiators, doorways and windows are the common awkward areas when decorating.
To work around electrical outlets first switch off the electric supply. Locate the socket or switch and pierce a hole in the centre of the paper with scissors. Now makes four cuts from the centre to an inch past each corner of the socket/switch. Now trim each triangle, but leave just enough to go behind the socket. Unscrew the socket/switch, push paper behind and screw back to wall. Make sure the wallpaper paste is totally dry - usually 24 hours - before switching the power back on.
The easiest way to paper behind a radiator is to remove the radiator. If this is not possible, measure from the edge of the last strip of wallpaper to where the radiator hanging bracket is. Now cut a slit - from top of radiator bracket to bottom of paper. Use a long handle brush to brush down the wallpaper.
For doors and windows hang the strip, cut near the window or door edge - leave a couple of inches - and then push into place with a dry hanging brush. Create a crease with the back of your wallpaper scissors, cut and pat down with a hanging brush. Wipe off any excess paste.
Finally when you get to the last strip it won't match perfectly. Plan to finish in a corner. Measure the width of the final gap and add 1-2 inches when you cut. Paste, put up and use the back of the scissors to create a crease in the corner and cut along the crease to fit.
FAQs
Should I Hang Lining Paper First?
Lining paper helps hide small imperfections, prevents shrinkage, covers stains and creates a smoother better quality finish to apply your wallpaper to. It's available in different grades from 800 (thinnest) - 2000 (thickest). 1200/1400 is the ideal grade for most walls. Use a heavier grade if the wall is in need of it. Check your wallpaper packaging to see if it recommends using lining paper.
You can hang lining paper vertically or horizontally. Vertical is the easy option and ideal for DIYers, but the pros hang horizontally, also known as cross lining. This helps stop seams lining up when the wallpaper goes on. A simple solution is to hang lining paper vertically, but when hanging wallpaper make sure to start in the middle of the lining paper strip to avoid seams matching up.
Should the Seams of the Lining Paper and Wallpaper Match Up?
No. But try to ensure that all the seams on lining paper butt up as close as possible without riding over each other. This will help ensure that you get the best finish on the wallpaper.
Do I Have to Hang Wallpaper Vertically?
No, but it is the common choice as this allows the paper to drop naturally and is much easier to do. Many patterns are designed to work on a vertical drop, though you can buy wallpaper that is specially designed to be hung horizontally.
Can I Wallpaper Over Existing Wallpaper?
As a general rule it is best to remove all old wallpaper to get the best finish, but there are a number of things to consider before you wallpaper over existing paper.
Is there already more than one layer of wallpaper? If there is, don't add another.
What is the condition of the current wallpaper? If it has lumps, tears or is peeling you need to remove before papering.
Does the current wallpaper have a vinyl coating? If it does, do not paper over.
(MORE: Removing Wallpaper)
Steve is an avid DIYer with over 20 years of experience in transforming and renovating homes. He specialises in painting and decorating, but has strong all-round building skills, having previously worked in the industry for 10 years.
Homebuilding & Renovating Newsletter
Get the latest news, reviews and product advice straight to your inbox.
Thank you for signing up to Homebuilding. You will receive a verification email shortly.
There was a problem. Please refresh the page and try again.