Dormer Bungalow Ideas: How to Maximise Space and Value
These dormer bungalow ideas will help you unlock the potential in your home, whether you hope to extend, renovate or simply want to revamp the interiors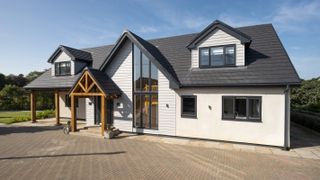 (Image credit: Jeremy Phillips)
With the right dormer bungalow ideas to hand, a dated property can be brought to life. Dormer bungalows have a lot to offer — a large, accessible ground floor, with bedrooms, tucked under the eaves, providing additional accommodation on the floor above. They also often provide plenty of potential for those looking to create a 21st-century home.
The possibilities for extending to the side, and to the rear are usually in abundance, thanks to their healthy plot sizes. As many dormer bungalows were built in the 1960s and 1970s, they don't require the level of renovation that an older property often needs either. What's more, they typically offer large windows and generous room sizes.
If you're renovating or extending a dormer bungalow, or building one from scratch, take a look at the ideas below from real-life projects. While some of ideas can be applied to any type of bungalow design, we will be looking at the possibilities of the 'rooms-in-the-roof' created using dormer windows.
What is a Dormer Bungalow?
A dormer bungalow is often known as a a one-and-a-half storey home, or a chalet bungalow. These are properties with the living spaces on the ground floor with additional living space positioned in the eaves, with sloping ceilings, dormer windows and often limited floor space.
Usually featuring vaulted ceilings, bedrooms and bathrooms on the first floor often need some consideration in dormer bungalows.
1. Add a Long Dormer to Maximise Head Height
Although many existing dormers to bungalow are the width of a regular window, using bungalow extension ideas for a space in the loft which creates a continuous length of usable roof height will be a more practical and eye-catching option.
It also provides the opportunity to get creative with glazing, as demonstrated by this dormer bungalow transformed by Transform Architects.
Most dormer bungalow extensions will fall under Permitted Development, but you'll need to check with your local planning department before making any structural changes.
"It is worth noting that Permitted Development is quite restrictive from a design perspective, however, rather strangely, you can sometimes achieve more under Permitted Development than would be granted through planning permission," suggests architect Will Dewar.
2. Extend a Dormer Bungalow to the Rear
Building an extension to the back of a bungalow is a popular route to add more floorspace — as is enlarging the loft room space with a two-storey extension.
This once-dated bungalow was revolutionised by a scheme which opened up the living spaces to the garden – thanks to large sliding doors – as well as a flat-roofed dormer extension to add a full-height bedroom. The bungalow interior design has also been given a complete overhaul.
3. Open out a Dormer Bungalow to the Garden
Maximising the connection between the house and the garden while planning a bungalow renovation can be a great way of increasing the feeling of space within a dormer bungalow. Be it with a picture window, bifold doors or frameless glazing, framing a view in each of the rooms will make the floorplan feel larger.
This open-plan living, kitchen and dining area features new aluminium windows powder-coated in a black to contrast with the pale Scandi-inspired interior design. The different formats of the floor-to-ceiling windows along the back wall provide different perspectives towards the garden and trick they eye into believing the ceiling-height is taller.
4. Add an Extra Bedroom with a Loft Extension
While dormers are already blessed with at least one room situated in the eaves, adding a bungalow loft conversion or extension will provide full-height spaces.
"The biggest problem with the dormer bungalow is generally the ceiling height on the first floor," comments Martin Bell. "They often don't have enough height between the first and second floors, meaning you won't be able to stand up straight in them. This can be quite restrictive and will affect your ability to furnish these rooms properly."
Options include taking off the original roof and building a new, taller space for bedrooms and bathrooms, or, if a more hand-off route is more enticing, a modular loft conversion means that new rooms in the roof are prefabricated off-site and the craned into place.
5. Design and Build a New Dormer Bungalow
We often consider dormer bungalow to be pre-existing from the 1960s, but many self builders are choosing the create their own homes using this style as a basis.
"Don't forget the way in which these homes nestle into their surroundings either," advises Natasha Brinsmead. "This not only often pleases planners, but also seems to embed them cosily into their settings, giving their inhabitants a sense of being cosseted."
The self builders behind this project used the opportunity to create an accessible and energy efficient new home.
6. Reconfigure the Interiors of a Dormer Bungalow
If a sociable and light living space is a priority for your lifestyle, dormer bungalows are a great to experiment with new open- or broken-plan layouts. However, before you get the sledgehammer out to knock down internal walls there are a few things to consider.
Martin Bell, managing director of Transform Architects warns: "The walls are generally all load bearing and will require secondary steelwork to support if removed."
Before knocking through every internal wall you come across, first think about grouping together day-to-day functions and purposes and how you interact with different rooms at different times.
While an open plan kitchen, living and dining space was all the rage a few years ago, many homeowners are opting for a kitchen with a dining area (perhaps with a sofa included) and a separate living room. This provides for morning breakfasts and dinner socialising, but removes smells of food and views to the dishes when you want to wind down in the evening.
An alternative option is to have a seating area downstairs, and a smaller snug in a dormer room upstairs.
7. Extend Upwards with a New Second Storey
Completely starting again with the first floor spaces is a tempting idea — many dormer bungalows are limited on useable space.
Removing the roof and adding a second storey to a bungalow will provide rooms which aren't restricted while, of course, essentially doubling the floorplan.
This stunning bungalow extension actually added two storeys to the original design, with a master bedroom in the eaves of the third floor.
8. Give a Dormer Bungalow an Exterior Makeover
One thing which often turn perspective buyers away from dormer bungalows are their dated appearances. However, this can be easily remedied by an exterior makeover and new house cladding.
Creating a new look for a dormer bungalow design will also create potential for improving energy efficiency by adding external wall insulation before the cladding.
"Externally it is really important to balance the internal space gained against the visual impact of the dormer," explains Will Dewar, of Sketch Architects and designer of this bungalow renovation and dormer extension. "For example, two smaller dormers will usually have less impact externally than one large dormer, and the space lost internally may not be required.
"Maximising the size of the windows will also reduce the visual bulk, but it is important to think about the potential for overheating with large amounts of south facing glazing — the use of solar control glass or louvres can reduce this.
"Glazing at the triangular ends of dormers is also a neat way of reducing the visual impact in some scenarios."
9. Get Smart with Dormer Bedroom Storage
If you're either building a new dormer bungalow or are renovating an existing property, the best suggestion anyone will make is to seriously consider storage and how spaces can best serve your lifestyle.
Under the eaves spaces are often wasted so there are some fantastic solutions to these areas, although many houses may require a bespoke design to compensate for the lack of wardrobes and so on.
This fantastic children's room has a hidden half-height wardrobes in the tongue-and-groove clad walls. Also note the storage opportunities presented by the window seat.
10. Reconfigure a Dormer Bungalow for Accessibility
Dormer bungalow are a great option for those with accessibility concerns as their layouts can be adapted and reorganised to suit larger doorways and other features of lifetime homes.
"The removal of walls and internal doors for an open-plan layout also makes single storey homes easier to navigate for anyone with mobility issues, particularly those who use wheelchairs or mobility scooters," advises architect and specialist in designing accessible homes, Martin Bell of Transform Architects. "You may also want to consider removing any steps or thresholds in order to improve accessibility further.
"The addition of a through floor lift could be considered," adds Martin Bell. "This is installed in the main living area, allowing access to the first floor via a small platform which lifts up when required. It can be used by both occupants and visitors and often blends into the interior design."
11. Think Strategically About Bathrooms in Dormer Spaces
Many modern lifestyles aren't suited to having bedrooms upstairs and the bathroom downstairs so if a new family bathroom or en suite is on the cards during a dormer extension or renovation, plan the layout carefully.
The nature of the sloping vaulted ceilings means a shower is best placed towards the centre of a house layout, at the apex of the peak, while baths and toilets can be positioned where headroom is less of an issue.
Beware of limiting space for getting changed and dried after coming out of the shower and the banged elbows it may cause. Consider if a bath is strictly necessary (will great shower room ideas suffice?) or if a toilet with a vanity is all that is required by the bedrooms.
How Do You Extend a Dormer Bungalow?
There are many options for extending a dormer bungalow, including adding a rear extension, a two-storey extension or wrap-around extension. Extending the roof, perhaps with the addition of larger dormers, to create more usable space on the first floor is also a popular option.
"Dormer bungalow extensions offer the potential to create additional space in the roof space and are a more cost-effective way to extend your home than extending on the ground," says Martin Bell of Transform Architects.
"It may be easier to gain planning permission for the additional space if you are using Permitted Development with dormers. This is a good option if you have limited space in your garden and you wish to maintain it. A loft conversion is also much less disruptive than having builders in your garden for weeks or months at a time."
"If you do not have enough headroom internally, and the roof's ridge needs to be raised, then you will need to gain planning permission," says Will Dewar. "The local council should have guidance as to what they would usually deem to be acceptable. This will either be in the local plan, or they may have a supplementary planning document (SPD) relating to residential extensions in particular."
Can I Turn into a Single-Storey Home into a Dormer Bungalow?
"It is important to note that not all bungalows can be made into dormer or chalet bungalows," advises Will Dewar, director of Sketch Architects. "Firstly it is important to check if there are any legal covenants or restrictions stopping development of the property or the conversion of the roof.
"The second item to check is the current height in the loft space. If the ridge is not going to be raised then there needs to be enough height under the ridge internally to allow for sensible standing headroom, once all insulation etc has been installed.
"In a lot of cases, it may be easier to remove the roof entirely and rebuild it, but again unless you are able to push the roof higher, then adequate internal height is essential.
"Thirdly, local planning restrictions and the impact on neighbours needs to be thoroughly checked, it is usually best to consult an architect or design professional.
"If the ridge of the bungalow needs to be raised then you will need to go through the planning process. If however you have enough internal head height then it may be possible to use the permitted development route. If Permitted Development rights are used however, it is crucial to understand the key constraints — volume, materials, design and the use of obscured glass on side elevations, to name a few."
Get the Homebuilding & Renovating Newsletter
Bring your dream home to life with expert advice, how-to guides and design inspiration, direct to your inbox.
Assistant Editor Amy began working for Homebuilding & Renovating in 2018. She has an interest in sustainable building methods and always has her eye on the latest design ideas. Amy has interviewed countless self builders, renovators and extenders about their experiences for Homebuilding & Renovating magazine. She is currently renovating a mid-century home, together with her partner, on a DIY basis, and has recently fitted her own kitchen.