Bungalow Interior Design: Ideas For Single Storey Homes
By Natasha Brinsmead published
After some bungalow interior design inspiration? Our collection of ideas includes plenty of creative and original ways to treat single storey layouts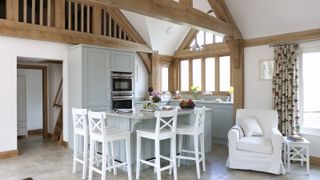 (Image credit: Border Oak)
Bungalow interior design need not be boring — single-storey layouts often result in some of the most visually striking interior schemes.
When considering bungalow design ideas it's key to consider both kerb appeal and exterior of your home, but also how the interior spaces will function on a practical and aesthetic level.
We have pulled together some of the best bungalow interior ideas interior design ideas around to help, covering everything from clever floorplans to how to make spaces feel bigger, as well as ways to add character and ensure privacy.
If you thought bungalows meant old-fashioned then our portfolio of ideas is sure change your mind.
1. Create a Sense of Height
Good bungalow design is all about maximising the proportions of the space wisely. Very often this means using the vertical dimensions to increase the sense of space and this is a great idea where vaulted ceilings are available anyway.
In this project, by Rural Design, the white-pained timber clad underside of the ceiling and gable end really draw the eye upwards, as does the stove flue which has become a feature in its own right.
2. Embrace Open Plan in a Single-Storey Home
Bungalows really lend themselves to open-plan layouts which will make the most of every inch of space available and ensure a good flow of light.
Combining kitchen, dining and sitting area in one open-plan living space will not only add a contemporary feel to a bungalow but will foster a sociable feel too. Having an open-plan 'public' space like this at the heart of your bungalow layout is also a good way to create definition between the more private rooms and those in which guests are likely to gather.
In this single storey home, a large kitchen island separates the cooking space from the dining area, while the large sofa marks out the living room at the far end. The change in light fittings and position of the timber roof trusses also helps visually 'zone' the space.
3. Use Furniture to Help 'Zone' the Interior
One of the keys to getting open plan layouts right is to ensure there is visual definition between the various zones within the space. This not only helps each area feel like a room in its own right, but it also gives character and warmth that can be lacking in larger homes with an absence of internal walls.
A great way to make a statement and achieve these zones is to use big, bold items of furniture which not only perform a practical everyday purpose but also carry out the role of room dividers.
In this gorgeous coastal home, designed by Rural Design, the generous and tactile orange sofa (offset beautifully by the slate floor) cossets the living space, making it feel like a cosy space from which to enjoy the enviable views.
4. Create Flexible Spaces with Bifold Interior Doors
Open plan spaces can work really well in bungalows where they make the most of every inch of space. However, it is useful, at times, be able to close spaces off from one another.
This can be particularly useful when living spaces are open to kitchens, where the noise of appliances and cooking can interfere with the more relaxing vibe desirable in a living room.
In this home, from The Wee House Company, a set of timber bi-fold doors separates the living room from the kitchen diner when required, while a central log burning stove acts as a visual definition between the two.
5. Locate Private Spaces Wisely
By the very nature of a bungalow, all the rooms are set at ground level — however, this does not mean you can't still enjoy a sense of privacy where you need it most.
At the initial design stages, it makes sense to locate those rooms where a greater degree of seclusion is required, such as bathrooms, toilets and bedrooms, so that they face the rear garden or an internal courtyard.
This will make it possible to enjoy a bath or Sunday morning lie in without feeling the need for blinds, screens or heavy curtains, allowing you to enjoy views of the outdoor spaces beyond.
6. Create a Central Courtyard
With every room at ground level, bedrooms included, bungalows can really benefit from a central courtyard at the heart of the layout — this allows for all the internal spaces to have access to a sheltered outdoor space, as well as ensuring a nice sense of privacy.

If you include great outdoor lighting, a cosy fire pit and an outdoor kitchen within your courtyard, it can really feel like part of your bungalow interior design too.
This ground floor bedroom features a swathe of sliding doors that, when the weather allows, mean it can be opened up completely to the courtyard and floods the whole space with light — the rooflight in the room helps with this even more.
7. Use Beams to Create Character
Oak frame homes are always full of character and there is no reason why bungalows can't enjoy the charm offered by this construction type too.
Single-storey properties actually lend themselves really well to exposed oak beams and trusses as they often have high or vaulted ceilings.
This self build from Border Oak features a beautiful exposed oak frame which ties in perfectly with the timber interiors of the doors leading out to the internal courtyard beyond — a clever way to visually extend the space outwards.
The door to the right leads out to a hallway that separates the social spaces from the private.
8. Build a Mezzanine in a Bungalow
If your bungalow has high ceilings, a mezzanine is a great way to add extra space, as well as architectural impact to your interiors.
Not only can a mezzanine level provide an extra bedroom or snug, they are also useful where extra storage is required.
You may want to take this one step further and another floor. Bungalow loft conversions are a popular project.
In this striking single-storey building, designed by Ström Architects, walls and ceilings are clad in reclaimed pine, while the stud partition walls are clad in grey Valchromat. The floor plan consists of two cosy bedrooms, one bathroom and an open plan living/games/bar area — with the mezzanine providing extra storage space.
9. Maximise Ground Floor Glazing
Large picture windows work really well in bungalows. Their linear, often long, forms really suit corner glazing, particularly where seating is positioned precisely where it can take full advantage of any sweeping views.
In this home, by Rural Design, dramatic openings give views over the breathtaking landscape beyond. The parquet floor is neutral yet warm so as not to compete with the vistas and the green of the simple sofas echos the natural surroundings.
10. View External Spaces as an Extension
Make sure your bungalow interior design ideas take into account outdoors spaces too. By creating a terrace or patio that extends directly out from your interiors you can effectively extend your living spaces to outside — perfect where a bungalow's dimensions might be on the narrow side and more depth is required.
Using large expanses of slimline glazing and matching exterior flooring materials to those used indoors will visually unite the inside and outside — as has been done in this stunning home designed by Ström Architects.
The ceiling has been clad to tie in with the flooring in order to embrace the simple single-storey rectilinear form of the building and the living areas look out onto the south-facing courtyard, allowing sunshine deep into the plan.
11. Skip the Doors
A 'broken plan' layout can work very well in bungalows, allowing spaces to flow seamlessly into one another without blocking light, all while maintaining a sense of distinction between various zones.
Here, a wide opening creates definition between the kitchen and dining space — the two remain linked thanks to the absence of any doors, yet the dining space maintains its bright, casual, sociable feel thanks to roof lantern and plenty of glazing.
12. Use Wings to Create Separate Interior Zones
Give your bungalow wings and you are well on the way to the perfect bungalow interior design scheme. Although this might sound a little odd, when it comes to bungalow design, one of the best ways to start is with the shape of the layout. Base your design on a 'L' 'U', 'H' or 'X' shape. This will allow you to keep sleeping and living spaces connected yet distinct from one another.
This amazing single-storey home was designed by Ström Architects and features four different 'pavilions', each with its own function, occupying the four different corners of the pin-wheel plan.
Natasha is Homebuilding & Renovating's Associate Editor and has been a member of the team for over two decades. An experienced journalist and renovation expert, she has written for a number of homes titles. She has renovated a terrace and is at the end of the DIY renovation and extension of her Edwardian cottage. She is now looking for her next project.
Homebuilding & Renovating Newsletter
Get the latest news, reviews and product advice straight to your inbox.
Thank you for signing up to Homebuilding. You will receive a verification email shortly.
There was a problem. Please refresh the page and try again.