8 Design Ideas from This Stylish Live/Work Chapel Conversion
By Amy Reeves Contributions from Debbie Jeffery published
One homeowner has converted a neglected Edwardian chapel, adding a mezzanine and roof terrace to create a peaceful live/work space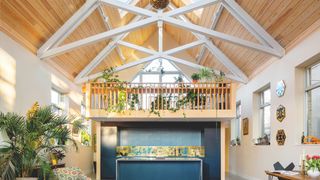 (Image credit: Juliet Murphy)
As an artist, carver and gilder, Anastasya Martynova is passionate about materials, and her eye for detail is evident throughout the unique chapel she converted as a London home.
The semi-detached brick building was previously a Kingdom Hall, which was being used as a bohemian art studio with a makeshift bedroom in one corner.
Feeling inspired? Take a look at our conversion guide to give new purposed to barns, churches, schools and industrial buildings.
1. See Potential in an Unlikely Building
"I'd done bits and pieces of building work before, but nothing on this scale," she continues. "There was no hot water or insulation, so the place was absolutely freezing as well as rat-infested. It was essentially one open-plan space, with a canteen-style kitchen and a toilet to the rear, but I knew that I had to rescue it."
The chapel was built in 1906 and had previously been used for commercial purposes, but its use had been changed to work and residential, which made funding the project more difficult for Anastasya. She was eventually able to change the use to fully residential to secure a small mortgage.
2. Bring Light Into Every Space
Anastasya lived in a rented flat nearby while the chapel was gutted and reconfigured to suit her needs for both a home and workspace. Alex Nikjoo was recommended to her, as his architecture and interior design practice, Nikjoo (opens in new tab), fuses technology and craft in imaginative projects.
"My biggest priority was light and outdoor space, because it was quite a dark building with mesh security grilles covering the windows," says Anastasya.
A building contractor was chosen to undertake the work, following a tendering process, and the chapel was carefully stripped back to reveal original features.
A curved window on the front façade had been covered over, another window was also exposed above the front door and rooflights were installed at the apex of the vaulted ceiling and in the bedroom to bring light in from above.
3. Add a Home Office Mezzanine
"Alex cleverly created a mezzanine home office design – overlooking the main living area like a pulpit and lit from above by rooflights – which opens onto a suntrap roof terrace through a wall of glass.
"Surprisingly, the chapel isn't listed, and Alex was easily able to obtain planning permission for the changes we wanted to make," Anastasya continues.
4. Give an Old Chapel Contemporary Styles and Features
"At one stage I arrived on site to find a digger in the chapel, because the floor had been laid directly onto earth with no cavity, so it was damp — so much so that mushrooms were growing inside," says Anastasya. "Digging out the floor allowed insulation, screed and underfloor heating to be laid without losing any height."
As much of the existing building fabric was retained as possible, and new insulation added to improve the building's thermal performance. This included internal insulation for the walls, between-rafter insulation for the roof, and below-slab floor insulation, combining to give a U value that exceeds Building Regulation requirements.
The entire exterior has also been clad in a dark grey house rendering to emphasise the simple lines of the building.
5. Create a Layout from an Empty Space
Alex designed a simple open plan living layout, based on the original configuration, with the former nave used as a vaulted living area and the old vestry rebuilt to contain the main bedroom, en suite, two guest bedrooms and a bathroom.
"I didn't want to carve up the main space, so the bedrooms are quite modest in size," says Anastasya. Exposed roof trusses were preserved internally and polished concrete flooring was laid in the living/dining/kitchen area. "It's one of my favourite features and it was so interesting to watch the floor being laid and scored into sections to avoid expansion cracks," says Anastasya.
6. Express Yourself Through Interiors
For the kitchen design, dark grey units with a blue tint were installed, which echo the colour of the external render. Encased below the mezzanine, inspiration for the colour scheme came from an unusual source.
"It was the gothic supernatural horror film Sleepy Hollow that provided me with the idea for the dark and moody styling," laughs Anastasya, who made the striking glass splashback herself when she was unable to find exactly what she wanted.
7. Build an Urban Roof Terrace Sanctuary
Gaining permission for the new terrace proved the most contentious element of the planning application, due to concerns over potential overlooking, which the architect needed to design out. This was achieved by ensuring that the roof terrace wouldn't impinge on the neighbours, with a landscaping design of planters along the sides to soften and obscure the boundary between gardens.
"The new roof was built using a minimal steel frame and timber infill structure, with the quantity of steel reduced to lower the total carbon footprint," explains architect Alex Nikjoo. "The terrace is essentially a warm insulated flat roof, with fibreglass waterproofing, and replaced a butterfly-pitched annexe roof that was in poor condition.
"The triangular window styles is a great feature, adding a dynamic form and bringing easterly, morning light into the space. To install this glass, the rear façade had to be dismantled brick by brick, which then allowed a steel frame to be inserted to form the opening, before the dismantled bricks were cleaned and used to rebuild the wall." Dark grey composite decking was chosen for the new terrace, which is inset with a walk-on rooflight.
8. Create a Home Bespoke to Your Lifestyle
Such a serene, calm space in London is extraordinary, but Anastasya also enjoys the acoustic properties of the former chapel, in which music sounds incredible.
"Keeping the mezzanine and kitchen as a central box means the main space doesn't lose any of its drama, because no windows are covered," she says. "The building has retained the airy, open feel that first drew me to buy it, and makes an absolutely fabulous home."
Assistant Editor Amy began working for Homebuilding & Renovating in 2018. She has an interest in sustainable building methods and always has her eye on the latest design ideas. Amy has interviewed countless self builders, renovators and extenders about their experiences for Homebuilding & Renovating magazine. She is currently renovating a mid-century home, together with her partner, on a DIY basis, and has recently fitted her own kitchen.
Homebuilding & Renovating Newsletter
Get the latest news, reviews and product advice straight to your inbox.
Thank you for signing up to Homebuilding. You will receive a verification email shortly.
There was a problem. Please refresh the page and try again.