The 6 Best Fence Paints for Your Next Outdoor Paint Project
By Steve Jenkins published
The best fence paints are an absolute must when decorating garden boundaries. Discover 6 superb varieties to give your fence a great-looking finish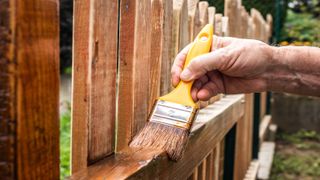 (Image credit: Getty Images)
The best fence paints will not only change the appearance of your panels, but also give them long lasting-protection from the weather. That's why they are essential to your next outdoor painting project.
You can choose from a natural green or brown hue to match the rest of your garden, add a light colour to make your small garden look bigger, or get your hands on a cool contemporary colour to add a modern twist to your fence panels.
Same as painting a wall, the best fence paints are there to keep your boundaries in pristine condition. Whatever you decide, this guide will help ensure that you choose the best fence paints to make your garden fence look better for longer.
Best Fence Paints
1. Cuprinol 5 Year Ducksback
Size: 5L, 9L | Coverage Per Litre: 6m2 | Drying Time: 2 hours | Finish: Matt | Colours: Autumn Brown, Harvest Brown, Red Cedar + 6 more
Showerproof within an hour
Wax-enriched to repel water
Non-drip
Easy to apply
Need to add second coat within two days
This offering from Cuprinol will not only make your fence look good, but also give it long-lasting protection from the weather. Easy to apply with a brush or spray gun, it is wax-enriched and will help repel any water.
Available in nine colours, Cuprinol 5 Year Ducksback has a non-drip formula, which means less mess when painting, and is showerproof within an hour. But you will need to wait for a couple of hours before adding the next coat.
You will also need to apply a minimum of two coats to fully weatherproof your fence and display the richness of the colour. Take note, you need to apply the second coat within two days of the first. If you don't, the paint will have dried completely and will simply repel a new coat. So, make sure you plan ahead to get the best finish.
---
2. Ronseal One Coat Fence Life
Best fence paint for your budget
Size: 5L, 9L, 12L | Coverage Per Litre: 6m2 | Drying Time: 1 hour | Finish: Matt | Colours: Red Cedar, Harvest Gold, Tudor Black Oak +3 more
Budget-friendly price
Easy to apply
Six colours
Dry within an hour
Might need more than two coats
If you want a budget-busting, good-quality fence paint, then this offering from Ronseal fits the bill.
A treatment for rough-sawn fences, it is easy to apply — with one of the best paint brushes or one of a paint sprayer — and is dry within one hour, adding colour and protection for up to two years. There are six colours to choose from, and as the name suggests, you only need one coat to get a good colour and finish.
However, very few fence paints work well with one coat, so to be on the safe side, you should add at least two coats for a decent finish and a truer colour match.
---
3. Johnstone's Garden Colours
Best fence paint for colour options
Size: 1L, 2.5L, 5L | Coverage Per Litre: 12m2 | Drying Time: 2 hours | Finish: Matt/Woodgrain | Colours: Spring Rosemary, Island Lake, Wild Bluebell +17 more
Good variety of shades
Fade resistant
Easy to apply
Good coverage
Whites don't give as good coverage as darker colours
Hard to get complete colour range
If you want to paint your fence a neat, contemporary colour and match it with your garden furniture, or any other outside timber, Johnstone's Garden Colours is a paint you should take a look at.
In total, there are around 20 colours to choose from, but you will need to shop around to get the complete colour range. The whites in the range don't cover quite as well as the darker colours, so you might need an extra coat if using these.
But the paint is easy to apply with a brush, gives good coverage and is dry in around two hours. You get a smooth matt finish with two coats that are fade-resistant, meaning it keeps its colour well and offers good-looking, long-lasting protection.
---
4. UK PAINT Shed and Fence Paint
Size: 20L | Coverage Per Litre: Up to 15m2 | Drying Time: 1-2 hours | Finish: Matt | Colours: Grey
Large tin covers a lot of fence
Dry in one hour
Great coverage
Easy to apply
Might not be the shade of grey you want
Not ideal for small jobs
If you have a lot of fence and contemporary shades of grey are your preferred colour choice, then you can't go far wrong with this paint. It comes in a 20-litre tin and gives your wooden fence panels a subtle yet attractive matt finish — in grey, of course.
One tin should manage two coats on both sides of at least 10 large fence panels. However, it does cover well with just one coat, so depending on your fence, it could cope with twice as many panels.
Alongside great coverage, it is dry in one to two hours — ready for a recoat soon after — and provides long-lasting protection as well. But be careful, if you need more than 20 litres — you probably won't — the manufacturer states that the shade of grey can differ from batch to batch.
---
5. Rustins Quick Dry Shed and Fence Clear
Size: 1L, 5L | Coverage Per Litre: 6-12m2 | Drying Time: 30mins | Finish: Matt | Colours: Clear
Quick drying
Good coverage
Contains fungicides and waxes
Use in paint sprayer without diluting
No colour
Not cheap
If you like the fresh, natural look of your new wooden fence and want to keep it that way, then this quick-drying product from Rustins is definitely one for your shopping list.
It's not a paint in the traditional sense, but a clear protector that provides a matt finish. To give your fence long-lasting protection, it contains fungicides and waxes. These help keep your fence looking good and stop water from penetrating the wood, fending off mould and rot.
It looks like glue but is easy to apply with a brush, or you can even use a paint sprayer straight from the tin — no need to dilute. It is eco-friendly, has a low odour and provides great coverage — up to 12 sq metres.
You will need two coats to get full protection, with the first coat being touch dry in 30 minutes. Do keep in mind, you will need to wait for two hours before you can add the second coat.
---
6. Wickes Shed & Fence Timbercare
Best eco-friendly fence paint
Size: 9L | Coverage Per Litre: 6-12m2 | Drying Time: 2-4 hours | Finish: Matt | Colours: Silver Pebble, Chestnut Brown, Sherwood Green +2 more
Eco-friendly
Large 9 litre tin
Ideal for new and previously treated timber
Budget friendly price
Limited colours
If you want a no-nonsense shed and fence paint to give your fence a makeover, then this large 9-litre stain from Wickes is a budget-friendly choice.
Ideal for new, weathered and previously treated timber, it comes available in five colours. It will also cover around 100 square metres. In simpler terms, that's around around 8-10 large fence panels at two coats per side.
It's recommended to be applied with a brush or roller rather than a paint sprayer. It is not the quickest-drying paint, taking anywhere between two to four hours before you can recoat, but it does have very low VOC levels, making it very environmentally friendly and safe for pets.
Is One Coat of Fence Paint Enough?
This very much depends on the type of fence you are painting and what type of fence paint you are using.
There are a few fence paints that can cover an entire average-sized fence with just one coat, but typically you will need at least two coats.
Make sure that you note this when working out how much paint you need. If the paint states coverage of 6m squared per litre, this will only be for one coat.
Can You Spray Paint a Fence?
Yes. If you own one of the best paint sprayers. Fence paint typically works well with a paint sprayer without having to be diluted.
It's quicker — if a little messier — than using a brush and can leave a smooth run-free finish if you are confident with a paint sprayer.
How Long Should It Take to Paint a Fence?
This depends on what painting method you are using: brush, roller or paint sprayer.
As a rough guide, a 6x6 foot fence panel should take around 20-30 minutes with a brush or roller to add one coat.
If you are using a paint sprayer, a single panel will take around 5-10 minutes to complete. But you will need to stop and refill the can regularly, adding a little extra time to the overall process.
When Is the Best Time to Paint a Fence?
To make sure that your fence paint works as well as possible, you should apply it on a dry, warm day with little wind around.
Before you start painting, check the weather forecast to make sure that there are no high winds or rain on the way.
How Many Fence Panels Does Five Litres Cover?
It does depend on the coverage of the fence paint. But if you apply one coat on both sides of a 6x6 panel, you should be able to cover anywhere between four and five panels.
Can I Paint Over Algae on a Fence?
You can, but if you want your finish to last, you will need to clean your fence first, removing as much algae as possible before painting.
Use a wire brush to remove the algae and/or use a green mould and algae remover from your local hardware store.
What Colour Should I Paint My Fence?
Personal taste is the key here, but fence paint comes in a lot of green and brown hues so they match the natural state of your garden. This in turn helps them match the colour of your home.
If the colour of your home and fence paint don't match, think about buying a clear paint instead, to maintain the natural look of your fence.
If you're developing small garden design ideas, lighter colours like a light blue or cream — or pink if you are feeling a little more daring — will make your outdoor space feel bigger.
A contemporary colour and a popular choice right now is grey. But while these colours can give a great uplift to your garden, they are usually more expensive, so keep this in mind when deciding on best fence paints.
Steve is an avid DIYer with over 20 years of experience in transforming and renovating homes. He specialises in painting and decorating, but has strong all-round building skills, having previously worked in the industry for 10 years.
Homebuilding & Renovating Newsletter
Get the latest news, reviews and product advice straight to your inbox.
Thank you for signing up to Homebuilding. You will receive a verification email shortly.
There was a problem. Please refresh the page and try again.