Best Skylight Blinds: Brilliant Ways to Shade Your Roof Windows
By Natasha Brinsmead published
Our round-up of the best skylight blinds out there should give you a few ideas when it comes to ways to keep the light out of a loft conversion or space lit by skylights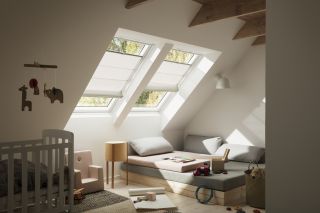 (Image credit: Velux)
Skylights draw in loads of natural light - and the best skylight blinds will ensure you can control this light when you need to.
Light coming in from above is very bright and so whether standard windows are not an option or you just want an additional source or light, skylights (also known as rooflights or roof windows) are a great idea. They are also something of a given in loft conversions and also in many barn conversions or in listed buildings, where the addition of new windows might not be allowed.
Of course, if you have skylights, you will need a way of shading them too. In kitchens or living spaces you might simply be looking for a way to keep out the sun on hot days or to create a cosy feel once night falls. However, in bedrooms, it is likely you will want blackout blinds to ensure you are not woken at the crack of dawn by a stream of light shining on your face.
(MORE: 15 ways to introduce light from above)
Which is the Best Skylight Blind for Me?
There are several types of skylight blind available. Your individual needs will determine which is best for you.
Roller blinds: As the name suggests, these blinds roll out (usually from top to bottom)
Duo blinds: These offer the choice of simple shading the light or completely blocking it out
Blackout blinds: Completely block out all light - perfect for bedrooms and nurseries
Venetian blinds: A stylish way to shade skylights — can be closed or partially opened to allow a little light in. Can be wooden, plastic or metal.
Roman Blinds: Great for a cost feel, these are pleated and often made from soft fabric.
Best Skylight Blind Overall
VELUX Original Blackout Blind
A good, no-nonsense all-rounder
Specifications
Fabric colour:
Various available
Reasons to buy
+
Easy to install
+
Full blackout effect
+
Good insulatitive properties
Reasons to avoid
-
Only compatible with certain Velux windows
Owners of VELUX skylights need look no further than the VELUX Original Blackout Blind.
This blind is quick and simple to fit and comes in a good range of fabric colours and with a white or silver frame.
What's more, the three-layered fabric used for the roller blind is dirt resistant — handy in those hard to reach areas. The silver aluminium coating on the back of the blind contributes to better insulation too, as well as protecting the room from overheating in the summer.
Best Skylight Blind for Children's Bedrooms
Bloc Blackout Skylight Blind with Silver Frame, Nightsky
Fun fabric and good insulator
Reasons to buy
+
Compatible with lots of different skylight brands
+
Fun patterned fabric
+
Good value for money
The Bloc Skylight Blackout Blind is available to suit a range of different brands of skylight, including Fakro, VELUX and Rooflite.
Not only does its built-in brush seals further ensure its light blocking abilities, but it also acts as a good insulator, minimising heat loss in winter and protecting the roof from overheating in the summer months.
The blind is available in a really good choice of fabric colours too, including this sweet Nightsky option — the perfect addition to a child's bedroom.
Best Budget Skylight Blind
Itzala Basic Blackout Blind for VELUX Roof Windows
Low-cost blind for Velux skylights
Reasons to buy
+
Low cost
+
Fits many Velux windows
A great option for those on a budget, the Itzala Basic Blackout Blind can block out almost all daylight from a room and is easy to fit - no cutting required (providing you opt for the correct size for your window).
The manufacturers state that if you have a new VELUX window with a reference code that includes a letter "K", then this blind will not be suitable. Owners of Velux skylights should also be aware that the VELUX Telescopic ZCT Rod Pole is not compatible.
Although the colour range is not as extensive as some of the other blinds, the basics are covered with a choice of blue, white, grey and beige.
Best Venetian Skylight Blind
VELUX Original Venetian Blind
Stylish take on the skylight blind
Specifications
Fabric colour:
Various available
Reasons to buy
+
Attractive
+
Ideal for kitchens and bathrooms
+
Allows light control
A really stylish alternative to the usual roller blind, the VELUX Original Venetian blind is a great option for several reasons.
Firstly, it is made from wipe clean aluminium, meaning it can be used in areas where moisture is an issue, such as bathrooms and kitchens.
Secondly, the adjustable slats make it perfect for use in rooms where you want to be able to adjust the amount and direction of incoming light - even when the skylight is open.
Finally, the Pick & Click installation system used makes it easy to fit too.
Best Travel Skylight Blind
EXTSUD Blackout Blind Curtain with Suction Cups
Perfect travel skylight blind
Perfect for holidays or trips away from home, or even for rented properties where drilling into the wall might not be an option. The Extsud Blackout Curtain can simply be packed up with you and attached to skylights or windows using the six handy suction cups included with the blind.
Even better, the fabric used for blind has a reflective silver coating on the back of it in order to offer a level of thermal insulation.
Best Remote Controlled Skylight Blind
VELUX Original Solar Blackout Blind
Remote controlled and solar powered
Specifications
Operation:
Remote control
Fabric colour:
Various available
Reasons to buy
+
Easy-to-operate wireless remote control
+
Solar powered
+
Good colour choice
A great, easy-to-operate option for those tricky spots where it would be hard to reach the blind by hand or with a pole.
The VELUX solar blackout blind, not only offers full blackout at any time of day, it is also solar powered and remote control operated via a wireless wall switch - although manual operation is also possible if necessary.
Do be aware though that the blind is only compatible only with certain models of skylight so check before buying.
Which are the Best Skylight Blinds?
When it comes to choosing the right skylight blind for you, you first need to check that the blind will be compatible with your roof windows.
In the majority of cases, you can check this by finding the model number of the skylight, usually located somewhere on the frame. Most manufacturers of skylight blinds use these codes to allow you to search for blinds that will fit your windows.
Bloc offer a good range of blinds for many different skylight brands, whilst Velux offer consistently good-quality skylight blinds.
Natasha is Homebuilding & Renovating's Associate Editor and has been a member of the team for over two decades. An experienced journalist and renovation expert, she has written for a number of homes titles. She has renovated a terrace and is at the end of the DIY renovation and extension of her Edwardian cottage. She is now looking for her next project.
Homebuilding & Renovating Newsletter
Get the latest news, reviews and product advice straight to your inbox.
Thank you for signing up to Homebuilding. You will receive a verification email shortly.
There was a problem. Please refresh the page and try again.