How we Test Products
Our buying guides and reviews will help you choose the best products for your project. Find out how we test them and what we look for when we write our reviews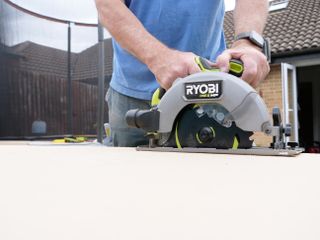 (Image credit: David Hilton)
At Homebuilding & Renovating, we know that when you build your dream home, you will need the best products to help you along the way. If you are getting hands on, this means investing in power tools that make the job easier and safer. Or, perhaps you have neared the finish line and need the best heating and extraction products to keep your home comfortable?
Whatever your need, you can trust our buying guides and reviews to find the right kit for your home.
Everything we review has been tested by our team of experts. They use the product – as intended – often for several weeks, to put it through its paces. Their aim is to give you a representation of how the product performs, how easy it is to use and, ultimately, is it worth your money?
Read more about the process below.
How do we Choose Products to Review?
Our team knows the industry and has an ear to the ground for new product releases. These may be offered by the press representatives of the company (usually free of charge) to be put to the test in a no-holds-barred review.
If we can't secure the product, we will buy it, but we are never offered money to review. Sometimes, the links you follow to buy a product are affiliated, meaning we may earn commission, but this does not influence our choices and you will always get the best price around.
It isn't just the latest products that we look for. We know some firm favourites with DIYers and professional tradespeople have earned their long service awards by being the best around. So, we make sure the products our peers highly rate are put to the test too, so we can give you our opinion on how it suits the average self builder or renovator.
About our Buying Guides
If we review a product and rate it highly, it will make its way on to our buying guides. These are a quick place to find and buy the products you need, and compare similar models in one category – be it the best cordless drills or the best hedge trimmers.
We are yet to test every product you see on these pages, but are working hard to do so.
Who Reviews our Products?
We use a team of experts in the industry and homeowners on the team to test products. We want to make sure the product is tested by the right person, so we match use to user for a review that you can rely on.
Garry is an independent product tester, bringing decades of skill and experience in multiple trades to the art of authentic, real-world reviews. A technology geek and tools addict, he dedicates a good deal of his time to acquiring knowledge and gaining new skills. Garry is also a soon-to-be Passivhaus self builder, and lives with his family in Worcestershire.
David is a renewables and ventilation installer, with over 35 years experience, and is a long-standing contributor to Homebuilding and Renovating magazine. He is a member of the Gas Safe Register, has a Masters degree in Sustainable Architecture, and is an authority in sustainable building and energy efficiency, with extensive knowledge in building fabrics, heat recovery ventilation, renewables, and also conventional heating systems. He is also a speaker at the Homebuilding & Renovating Show.
Passionate about healthy, efficient homes, he is director of Heat and Energy Ltd. He works with architects, builders, self builders and renovators, and designs and project manages the installation of ventilation and heating systems to achieve the most energy efficient and cost effective outcome for every home.
He is also passionate about testing new tools and has reviewed several drills and saws to assess their suitability for the toolboxes of self builders and renovators.
Linda Clayton is an experienced journalist, specialising in home, interiors and fitness for more than two decades. She's a fastidious product reviewer, design obsessive, serial renovator, and amateur runner. Now on her fourth renovation project (a Victorian redbrick in Devon), when not busy at her keyboard, she can usually be found stripping wallpaper, grouting tiles or cleaning up after the builders. Again.
Emma is a UK-based DIY educator and director of the social media brand ''DIY With Emma'' whose primary mission is to help more people get into DIY through sharing DIY hacks, how-tos, and follow-along projects. When she's not guiding people through home improvement tasks such as tiling a kitchen wall or fixing a leaky tap, she is testing new tools and appliances to help make these tasks easier.
Jack has worked in journalism for 11 years and is the News Editor for Homebuilding & Renovating, a role he has had since 2019. He strives to break the most relevant and beneficial stories for self builders, extenders and renovators, including the latest news on the construction materials shortage and hydrogen heating. In 2021 he appeared on BBC's The World at One to discuss the government's planning reforms.
He enjoys testing new tools and gadgets, particularly smart tech and anything that helps keep his garden looking pristine (before his two children undo all his hard work!) Having bought his first home in 2013, he has renovated every room in the house.
Steve joined the Homebuilding & Renovating team in 2022 and has 20 years of experience in transforming and renovating homes. He is an avid DIYer who specialises in painting and decorating, but has strong all-round building skills, having previously worked in the industry for 10 years.
Claire became Editor of Homebuilding & Renovating in 2016 and has been a member of the team for 14 years. An experienced homes journalist, her work has also appeared in other titles such as Real Homes and Period Living.
She has a particular interest in green homes, and interior design is a passion too; she has undertaken qualifications in this area.
After finishing a major renovation of a period cottage, she is now onto her next project: overhauling a 1930s property in the Shropshire countryside.
Michelle is Homebuilding & Renovating's Deputy Editor. With an editorial career spanning more than 18 years, Michelle spent time working on educational magazines and websites until her career took an exciting turn into the world of homes and interiors. Working on sister titles Real Homes and Period Living, she then joined the Homebuilding team in November 2018.
An avid DIYer, home improver and renovator, she's just completed her second kitchen renovation project, armed with an ever-growing knowledge of homebuilding advice and design inspo (and a Pinterest board or two, of course). She's about to embark on another bathroom refurb project.
Andy Stevens is a multiple award-winning builder who manages Surrey-based building company Eclipse Property Solutions; he specialises in new builds, extensions and loft conversions.
While he is still on the tools, he is also widely involved in the construction industry. He presents a show on Fix Radio and hosts his own building podcast Build:It, as well as being a speaker at the Homebuilding & Renovating Shows.
Andy has sat on the Board of the Federation of Master Builders (London region) and was previously Vice President. He also works with construction charities and is a strong advocate for mental health in the industry.
He is a tools enthusiast and has put together several videos for Homebuilding & Renovating's YouTube account guiding DIYers through buying the best tools for their projects.
Assistant Editor Amy began working for Homebuilding & Renovating in 2018. She has an interest in sustainable building methods and always has her eye on the latest design ideas. Amy has interviewed countless self builders, renovators and extenders about their experiences for Homebuilding & Renovating magazine.
She is no stranger to testing new tools as she is currently renovating a mid-century home, together with her partner, on a DIY basis, and has recently fitted her own kitchen.
Get the Homebuilding & Renovating Newsletter
Bring your dream home to life with expert advice, how-to guides and design inspiration, direct to your inbox.