Ultimate Guide to Roofs
By Sarah Handley published
The roof is essential when it comes to the overall look of your home – get it wrong, and it'd be very costly to rectify. Follow this guide to make the right roofing choice for your project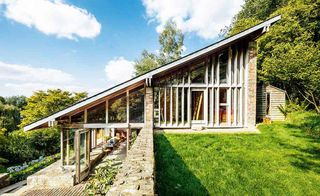 (Image credit: Simon Maxwell)
When it comes to the roof, there are variations upon variations which can make it difficult to choose the right option for your project. Follow this guide for all you need to know to make the right roofing choice for your home, whether you are building from scratch, extending or renovating.
This ultimate guide covers structure, design and costs as well as advice for those wanting to DIY or repair an existing roof.
Choosing the Structure
When it comes to the roof, you have a variety of structures to choose from, including traditional, flat, green and curved options. Follow this advice to understand the pros and cons of each structure to help you make the right decision.
When weighing up your options, ask yourself the following questions:
How much do you want to spend?
How complicated a design do you want?
Do you want to be able to use/convert the roof space at some point?
Getting the Design Right
The roof is one of the key external features of your home and if you get it wrong, the whole project will suffer. This is where pitch comes in and it will be dependent on the style of home you are building or renovating. Too steep and not only will the house look bizarre, but you'll also be paying more in materials for the privilege.
Similarly the lower the pitch, the greater the volume of water collected and discharged on the slope so you'll need to make sure your chosen covering can cope with the expected volume of water. When it comes to flat structures which are, in fact, not flat, you need to consider a very shallow pitch to allow water to fall away instead of pooling on the roof.
Pitch is also vital if you plan on converting the area created by the roof – too shallow a pitch and you won't be able to make good use of the space.
A balance between overall look and practicality is essential here.
You have further design options when it comes to the roof type:
Monopitch: Has only one sloping plane. Great for maximising space on one side, perhaps to enhance views
Duopitch: A pitched roof of two sloping planes which meet at an upper ridge with a gable either end
Hip: A pitched structure with slopes on all four sides which meet at the corners to form hips; may or may not have a ridge
Mansard: A hipped or gabled option in which each plane is doubly pitched. Popular on properties in France and the US
Planning Permission
If you want to build, for example, a new home with a steeply pitched roof that will stand taller than adjacent buildings, it's likely that you'll meet objection from the local planning department. Seek pre-application advice from your local authority to get an appraisal of your plans from a local planning officer for your best chance of a successful application.
When it comes to existing dwellings you can make many changes and improvements under your Permitted Development Rights. Adding rooflights, changing the roof covering and adding dormer windows are improvements that do not normally require planning permission and as long as certain limits and conditions are met, you can normally convert you loft under permitted development.
Always check with your Local Planning Authority to clarify whether your proposed work comes under your permitted development allowance.
The Costs
The level of design complexity when it comes to the roof will undoubtedly affect cost. The simpler the shape, the cheaper the price. If you are looking to keep costs down, then choose a roofing system that can be assembled quickly to reduce a labourer's time on site.
In some instances, it may be more economical to opt for an initially more expensive roof structure if it will allow you to easily (and relatively cheaply) convert the space into something usable down the line.
When it comes to your roof covering, again it will depend on the material you choose. Follow this guide for a cost breakdown.
How to Build a Roof
While relatively few self builders will be hands-on when it comes to this part of the project, it is essential to understand how a roof is made, especially if you are project managing the build and employing your own trades.
Choosing Roof Slates
This is not an easy choice given the variations available, and it is worthwhile asking yourself whether you want your slate to be locally-sourced, and whether you want a natural or man-made tile. There will be different cost and maintenance implications depending on your preference.
Repairs
If you are renovating, you're likely to come across a number of common problems from defective pointing, missing or broken tiles to sagging slopes. While surveys often identify defects that require urgent attention (to prevent leaking which can cause damage to the structure of the property), the need for complete re-roofing is comparatively rare.
This handy how-to explains how to spot defects, the remedial works required and the cost implications.
Sarah is Web Editor of homebuilding.co.uk. She began her career more than a decade ago, working on the editorial team of Public Sector Building magazine, before joining the wider Homebuilding & Renovating team as Social Media Editor in 2012. Since purchasing her first house in 2015, Sarah has been adding to the ever-increasing list of home improvements she needs to make; including extending over the garage, resurfacing the driveway, replacing existing flooring and revamping the kitchen. Fortunately, in her eight years on Team Homebuilding, including three as web editor, she is not short on design inspiration or top tips to tackle or project manage these tasks herself.
Homebuilding & Renovating Newsletter
Get the latest news, reviews and product advice straight to your inbox.
Thank you for signing up to Homebuilding. You will receive a verification email shortly.
There was a problem. Please refresh the page and try again.