9 of the Best Roof Design Ideas
By Daisy Jeffery published
We look at some great examples of roofs which pack wow factor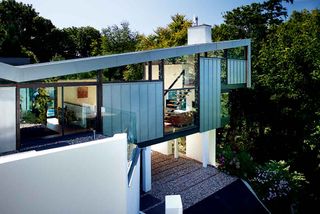 (Image credit: Nigel Rigden)
The roof needn't be purely functional — as well as a means of keeping your home warm and dry, it can be an architectural feature too. However, it is often one of the most overlooked aspects of a house, even though it is one of the first things you see.
Whether you're designing a contemporary self build or renovating a dated, traditional-style property, these examples will give you plenty of inspiration.
1. Finished in Thatch
Thanks to its cottage design with brick cladding and thatched roof, this new home looks like it's been standing centuries. Given the fire risk of thatch however, the house had to be built at least 6m away from neighbouring properties. The steep pitch with low eaves and dormer windows adds to the building's charm.
2. A Butterfly Roof
Constructed on the remnants of the structural frame of an existing 1960s design, this home is one of four such properties designed in Devon by Mervyn Seal, which were dubbed 'butterfly houses' because of their distinctive (albeit asymmetrical) wing-shaped roofs.
Kaywana Hall was designed as Seal's own residence and deliberately sited at right angles to the steep west-facing slope. Not only did this maximise the view but also ensured that one long side of the house benefitted from the southern sun.
3. A Japanese-Style Roof
With its two strong monopitch roof sections casting mighty angular shapes, this bungalow seems more Huf Haus than a 1916 bungalow hidden behind a new contemporary skin. The timber cladding and palm trees swaying outside add to the Far East feel.
4. A Bauhaus Home
Situated in an interesting settlement of a couple of dozen Bauhaus-style bungalows, this remodelled home now boasts a large roof terrace which is perfect for outdoor entertaining, including a huge party area complete with built-in speakers.
5. A Curved Zinc Hood
Topping a converted windmill, the new living space positioned on the top level of the structure has been clad with a new zinc roof, with a glazed balcony offering views out over the surrounding countryside.
6. An Origami Design
Perched over St Ouen's bay, Jersey, in an Area of Outstanding Natural Beauty, this stunning self build oozes contemporary style. Clad in white render, stone and timber, the flat roof takes on an origami design with varied slopes and pitches to cut a dynamic shape along the coastline.
7. A Curved Model
With its soft, curved roof referencing agricultural structures, you'd have never guessed this former Modernist self build had a flat roof and sat on stilts. With a little TLC, the new homeowners have done away with the stilts, building an extension underneath the existing building, and adding a two storey side extension all tied together under the new contiguous copper-finished barrel roof, designed to soften the harsh lines that Modernist homes can have.
8. Sloping in Style
Originally designed by David Levitt for Roger Rigby, a partner at Ove Arup, in 1964, Ansty Plum sits on a steep slope and features a dynamic sloping roof which perfectly mirrors the fall of the site.
9. Topped with Turf
In order to build an 'earthship' home on their Scottish site, the homeowners of this self build decided to use tyres with rammed earth for the walls and combined that approach with straw bales, an earth shelter and covered with turf. The green roof also helps to bed the new home within the surrounding landscape.
Daisy was Features Editor on Homebuilding & Renovating for more than five years and had a passion for all things design. She has since moved on to pastures new.
Homebuilding & Renovating Newsletter
Get the latest news, reviews and product advice straight to your inbox.
Thank you for signing up to Homebuilding. You will receive a verification email shortly.
There was a problem. Please refresh the page and try again.