Cheap Kitchens: How to Get One for Under £5k
By Natasha Brinsmead published
A cheap kitchen doesn't necessarily mean poor quality. We take a look at the best ways to keep costs down and achieve your dream kitchen on a budget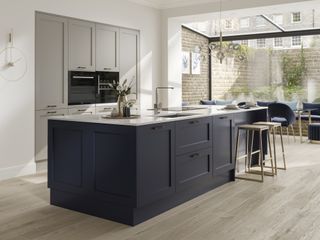 (Image credit: Howdens)
If the budget is tight, a cheap kitchen can do wonders for giving your home a new lease of life without breaking the bank.
When it comes to a kitchen design, often you get what you pay for — a budget-friendly kitchen won't hold up to a bespoke kitchen in terms of quality and durability, for example. But with a new kitchen easily reaching into the tens of thousands, there are certain things you can do when sourcing a new kitchen that can seriously cut down your overall expenditure.
From making smart buys, exploring the latest trends in kitchen makeovers and rolling up your sleeves to do some of the work yourself, we look at the tops ways you can save and bring in a new kitchen project for under £5,000.
Cheap Kitchen Units
How to Find Cheaper Kitchen Units
Visit the Homebuilding & Renovating Show
Whether you're looking for a cheap kitchen or spending serious money, the top priority in the kitchen is the same — storage, storage and more storage,
Kitchens must not only look fabulous, they should also be capable of providing all the space you need for food and kitchen equipment.
Kitchen storage tends to be made up mainly of units, drawers and shelving.
Kitchen units are made up of a 'carcass' and a door, or drawer fronts. The carcass is the part you don't see when the door is shut, comprising the sides, shelves, back and base panels and so on.
There are several ways in which kitchen units are supplied. Some are sold in one piece, already fitted with doors or drawer fronts, while others come as separate doors and carcasses, ready for you or your kitchen fitter to construct on site.
Others supply flat-packed kitchens, where you or your fitter assemble the whole thing and fix it into place.
At the cheapest end of the market lie standard, off-the-shelf kitchens, supplied flat-packed. Carcasses are usually made from melamine-faced chipboard or similar, and doors will be faced or wrapped in vinyl, PVC, laminate or melamine.
Good examples of low cost flat-pack kitchens can be found at Wickes (opens in new tab), Ikea (opens in new tab) and B&Q (opens in new tab). For as little as £400ish you can pick up complete kitchens, including carcasses, doors, handles and fixings.
While this type of flat-pack kitchen offers a very low price tag, it is important to look at the cons too. Any damage to the units will be difficult to repair, and you will need to factor in the time and costs associated with fitting it yourself.
(MORE: How to Fit a Kitchen)
It is also useful to bear in mind that a new kitchen look can be achieved by simply working with what you already have — consider just replacing the unit doors — or give your existing doors a fresh coat of paint and new handles.
Fit Cheaper Carcasses with Quality Kitchen Doors
Did you know?
Companies such as Trend Transformations (opens in new tab) offer an all-in-one kitchen makeover service, replacing kitchen doors and worktops in an existing kitchen for a budget-friendly alternative to completely refitting cabinetry.
A number of brands have sprung up in recent years which offer door upgrades for popular budget carcass ranges. While in theory you could fit new doors to an existing kitchen carcass to upgrade your space, these brands tend to focus on a handful of kitchen manufacturers for their replacement doors, ensuring they can offer standard sizes and fixings to keep prices down. Husk Kitchens (opens in new tab), for example, offer doors for specific ranges from IKEA and Howdens.
While these doors tend to be more premium products than many cheap kitchen manufacturers offer, it offers a more affordable route for renovating a kitchen. Plykea (opens in new tab) costs its birch replacement doors at between £2,000 - £5,000, depending on the size of the kitchen.
Are Unpainted Kitchen Units Cheaper?
Those after a solid timber kitchen but aiming to stick to a tight budget could consider an unpainted kitchen — a great option providing you are prepared to put in a fair amount of work in getting them ready to fit.
Companies such as Pineland (opens in new tab) will come up with a plan and supply a kitchen, assembled, yet unpainted. A 600mm unpainted base unit (carcass and door) costs in the region of £315.
To turn an unpainted kitchen into a fully finished space, bare wood units need to be treated with knotting solution, primed, sanded and given a couple of coats paint (eggshell gives a good, easy-to-clean finish). They can then be fitted. On the plus side, any knocks and scratches can be sanded out and repainted.
(MORE: Painting Kitchen Cabinets: A Step-by-Step Guide)
Explore Used Kitchens for a Cheap Alternative
Buying a used or ex-display kitchen is a great way to achieve a new kitchen for less.
Companies such as The Used Kitchen Compan (opens in new tab)y, Used Kitchen Exchange (opens in new tab) and The Used Kitchen Hub (opens in new tab) have a huge range of ex-display and second-hand kitchens available for just a fraction of their original price — often around 50-70% off their RRP.
It is also always worth asking in builders' merchants and kitchen showrooms whether they have any ex-display kitchens available. Even if they don't at the time, you can often leave your details for when they do.
Choose a Cheaper Range from your Favourite Kitchen Company
Many luxury kitchen makers have diversified their brands to cater for a wider market, without compromising on the quality you'd come to expect. These more budget-friendly sister brands usually use off-the-shelf measurements for kitchen cabinets, where the company may usually be known for its bespoke kitchen ranges.
Examples include Kin by Mowlem & Co and Brookmans by Smallbone, however, these are still likely to reach far beyond the £5,000 price bracket. However, British Standard (opens in new tab), which is a budget-friendly offshoot from luxury solid wood kitchen maker Plain English, sees prices start from £8,000 — much closer to our target, with the potential to make further savings with the rest of these economical tips.
Should I Buy a Kitchen Online?
Searching the web is a quick and easy way to find a cheap kitchen. However, without touching the kitchen and seeing it for yourself, it can be hard to assess its quality.
It is quite possible to plan and order a complete new kitchen online, but you will not know its true quality until it arrives.
Cheaper Kitchen Fixtures and Fittings
How to Score Cheap Kitchen Worktops
It is always worth shopping around for kitchen worktops as opposed to buying them as part of a fitted kitchen.
Although worktops are often included in the overall quote you get from kitchen suppliers, do check out online worktop companies, local timber merchants and stone masons — they usually offer far better prices.
If you are looking at stone worktops, composite options are usually cheaper than solid stone, and more practical too. If you're renovating a small kitchen, enquire at your local stone yard about offcuts, as you may be able to make a significant saving on small runs of worktop.
(MORE: Small Kitchen Ideas)
For the natural stone look, there are also innovative products that will help reduce the price. Maxtop Quartz (opens in new tab) has all the benefits of solid quartz worktops, however a unique honeycomb centre reduces the amount stone used, bringing down the price. Likewise, Bushboard's M-Stone (opens in new tab) is a quartz resin mix, meaning that it can be cut, routered and shaped on site, removing the need for expensive stone fabricators, which can cost into the thousands of pounds.
Another option is to mix and match. Spend more on those areas where the worktops will have the most visual impact — island tops for example — and go for something cheaper in the areas that are more hidden away.
Some timbers are priced very reasonably and providing they are properly treated and maintained should perform well.
If opting for laminate, go for a high quality option — it is a false economy to buy something that is not heat or scratch resistant as they can't be easily repaired and will require full replacement if damaged.
How to Find a Cheap Kitchen Sink
There is a huge choice of styles and materials when it comes to choosing a new kitchen sink. From ceramic Belfast sinks to sleek and simple composites that can be moulded as one piece with your worktop.
However, if you are after a high quality, low cost option you really can't go wrong with stainless steel.
There is a reason why stainless steel sinks are a staple in professional kitchens — they are stain and heat resistant and last for years and years.
If you are worried about a stainless steel sink being a bit boring (which you really shouldn't be as there are some really great designs out there) you can always dress it up with a stylish, designer tap.
How Much do Kitchen Fixings Cost?
When it comes to where to spend and where to save in the kitchen, there is most certainly one aspect of buying a new kitchen that you should not skimp on — the fixings. It is these little details that will ultimately dictate how long the kitchen lasts.
Wall hanging brackets: These attach wall cabinets to the wall. Good quality brackets should be adjustable and concealed.
Shelf adjustments: Look at the number of pre-drilled holes in the sides of the cabinets. These enable you to reposition your shelves at different heights — some of the very cheapest cabinets have less than three positions.
Hinges: Opt for the best hinges you can afford. Most kitchens come with soft-close hinges as standard, but if not, check how much more it costs to have them. Experts at Pineland say that a soft close hinge will add £20 per door and £35-£50 per drawer.
Choose adjustable hinges which allow you to tweak height and opening area of the door. Finally, choose a hinge which allows you to fully open the door and opt for a concealed hinge as opposed to surface mounted.
Adjustable legs: Base units really need height adjusting legs. These compensate for differences in floor levels and make the kitchen easier to fit.
Drawer weight limit: Check the weight limit of base unit drawers — some very cheap units will not hold the weight of heavy pots, pans and crockery.
Cheap Kitchen Appliances
Get the Best Deals on Kitchen Appliances
It sounds obvious but do shop around for your new kitchen appliances — it is surprising just how many people take the easy option of settling for those included in a complete fitted kitchen quote — this is rarely the cheapest option.
It is interesting to note that built-in appliances, such as fridge freezers and dishwashers usually cost a little less than freestanding.
Can I Fit my Own New Kitchen?
In a word, yes. It is a fairly simple job to fit a kitchen on a DIY basis — particularly if you have opted for a flat-pack kitchen.
Where it pays to call in the professionals is when it comes to fitting worktops — stone and timber in particular need cutting and joining and trying to do it yourself can result in some costly mistakes.
Whether or not you decide to fit your own kitchen really comes down to time and DIY skills. Just bear in mind that a fitter will charge you anything from £250 for fitting pre-assembled units, up to around £1,000.
A Designer Look Kitchen for Less
There are plenty of ways to ensure your budget kitchen looks like the complete opposite. Customisation and attention to detail are vital.
Knobs and handles: Just because most standard kitchen unit doors come complete with handles or knobs, you don't have to use them. Select your own separately, from sturdy wooden knobs to brushed steel cup handles for drawers.
Lighting: Consider your kitchen lighting. Little touches such as inexpensive LED strip lights concealed beneath units brings the room to life.
DIY shelving and breakfast bars: Including open shelving gives a bespoke finish, while building a simple breakfast bar with painted timber cladding is an easy yet effective job that will save money.
Freestanding kitchen furniture: Dressers, sideboards and large tables and workbenches will all add an eclectic look to your kitchen — even a standard, flat-packed kitchen can be brought to life with a vintage find such as this.
Natasha is Homebuilding & Renovating's Associate Editor and has been a member of the team for over two decades. An experienced journalist and renovation expert, she has written for a number of homes titles. She has renovated a terrace and is at the end of the DIY renovation and extension of her Edwardian cottage. She is now looking for her next project.
Homebuilding & Renovating Newsletter
Get the latest news, reviews and product advice straight to your inbox.
Thank you for signing up to Homebuilding. You will receive a verification email shortly.
There was a problem. Please refresh the page and try again.