Need a New Kitchen? Here's How to Get One for Under £5,000!
A new kitchen is usually high on many renovators wish lists — read on for our top tips on achieving your dream kitchen without breaking the bank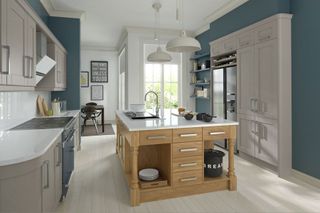 (Image credit: Mereway Kitchens)
A new kitchen is usually high priority for many people who are renovating or remodelling a house. Gone are the days when the kitchens were viewed as nothing more than functional spaces. These days they are most definitely the heart of the home.
Whilst it is frighteningly easy to spend tends of thousands on a new kitchen, there are, also plenty of ways to keep a lid on costs too.
(MORE: Get a quote for your new kitchen)
New Kitchen Units
A great kitchen will not only look fabulous, it should also include all the storage space you need — and more.
Kitchen storage tends to made up mainly of units or cupboards, along with shelving.
Kitchen units are made up of a 'carcass' and a door, or drawer fronts. The carcass is the part you don't see when the door is shut, comprising the sides, shelves, back and base panels and so on.
There are several ways in which kitchen units are supplied. Some are sold in one piece, already fitted with doors or drawer fronts, while others come as separate doors and carcasses separately, ready for you or your kitchen fitter to construct on site.
Others supply flat-packed kitchens, where you or your fitter assemble the whole thing and fix it into place.
At the cheapest end of the market lie standard, off-the-shelf kitchens, supplied flat-packed. Carcasses are usually made from melamine-faced chipboard or similar, and doors will be faced or wrapped in vinyl, PVC, laminate or melamine.
A good example of a flat-pack kitchens can be found at Wickes, Ikea and B&Q. For as little as £408, you can pick up complete kitchens, including carcass, door, handles and fixings.
While this type of flat-pack kitchen offers a very low price tag, it is important to look at the cons too. Any damage to the units will be difficult to repair, and you will need to factor in the time and costs associated with fitting it yourself.
It is also useful to bear in mind that a new kitchen look can be achieved by simply working with what you already have — consider just replacing the unit doors — or give your existing doors a fresh coat of paint and new handles.
(MORE: Get a quote for your new kitchen)
Are Unpainted Kitchen Units a Good Idea?
Those after a solid timber kitchen but conscious of sticking to a budget might like to consider an unpainted kitchen — a great option providing you are prepared to put in some elbow grease.
Companies such as Pineland will come up with a plan and supply a kitchen, assembled, yet unpainted. A 600mm unpainted base unit costs in the region of £315.
To turn an unpainted kitchen into a fully finished space, bare wood units need to be treated with knotting solution, primed, sanded and given a couple of coats paint (eggshell gives a good, easy-to-clean finish). They can then be fitted. On the plus side, any knocks and scratches can be sanded out and repainted.
(MORE: Check out the best paint for kitchen cabinets from our sister website, RealHomes.com)
Buying Ex-Display Kitchens
Buying a second hand or ex-display kitchen is a great way to achieve a new kitchen for less.
Companies such as The Used Kitchen Company and Used Kitchen Exchange have a huge range of ex-display and second-hand kitchens available for just a fraction of their original price — often around 50-70% off their RRP.
Do bear in mind that collection will be your responsibility (you may have to dismantle it yourself), as will the fitting once you get it home.
It is also always worth asking in builders' merchants and kitchen showrooms whether they have any ex-display kitchens available. Even if they don't at the time, you can often leave your details for when they do.
(MORE: Get a quote for your new kitchen)
Budget Kitchen Worktops
A new kitchen means a new worktops and a simple way to save here is simply to shop. It can be tempting to buy your worktops as part of a package from the same company your are purchasing your units from (and they will often be included in the overall quote) but online worktop companies, local timber merchants and stone masons usually offer far better prices.
If you are looking at stone worktops, composite options are usually cheaper. Another option is to mix and match.
Splash out on areas where the worktops will have the most visual impact – island tops for example – and go for something cheaper in the areas that are more hidden away. Some timbers are priced very reasonably and providing they are properly treated and maintained should perform well.
If you are choosing laminate, go for a high quality option — it is a false economy to buy something that is not heat or scratch resistant as they can't be easily repaired and will require full replacement if damaged.
(MORE: Modern kitchen design ideas)
Which New Kitchen Sink?
Whilst there are many options for those looking for a new kitchen sink, from ceramic butler sinks to composite sinks, the cheapest option is remains stainless steel.
Stainless steel kitchen sinks are stain and heat resistant and last for years and years — plus they can be picked up for a very reasonable price. There is a good reason why most commercial kitchens opt for stainless steel. You can always dress it up with a stylish, designer tap.
(MORE: Check out the best boiling and hot water taps on RealHomes.com)
What Will Kitchen Fixings Costs?
If there is one aspect of buying a new kitchen that you should not skimp on, it has to be the quality of the fixings. It is these details that will ultimately dictate how long the kitchen lasts.
Wall hanging brackets: These attach wall cabinets to the wall. Good quality brackets should be adjustable and concealed.
Shelf adjustments: Look at the number of pre-drilled holes in the sides of the cabinets. These enable you to reposition your shelves at different heights — some of the very cheapest cabinets have less than three positions.
Hinges: Opt for the best hinges you can afford. Most kitchens come with soft-close hinges as standard, but if not, check how much more it costs to have them. Experts at Pineland say that a soft close hinge will add £20 per door and £35-£50 per drawer.
Choose adjustable hinges which allow you to tweak height and opening area of the door. Finally, choose a hinge which allows you to fully open the door and opt for a concealed hinge as opposed to surface mounted.
Adjustable legs: Base units really need height adjusting legs. These compensate for differences in floor levels and make the kitchen easier to fit.
Drawer weight limit: Check the weight limit of base unit drawers — some very cheap units will not hold the weight of heavy pots, pans and crockery.
(MORE: Get a quote for your new kitchen)
Choosing New Kitchen Appliances
It sounds obvious but do shop around for your new kitchen appliances. Settling on those included in a complete fitted kitchen quote is rarely the cheapest option, despite it being easier.
Bear in mind that built-in appliances such as fridge freezers and dishwashers usually cost a little less and you save on flooring as you do not have to tile underneath them (although you should ensure you have a waterproof covering below in case of leaks).
If you're looking to update your kitchen appliances, then check out these best buys from RealHomes.com
Your Dream Kitchen for Less
If you want your £5K kitchen to look like it cost a lot more, customisation and attention to detail are crucial.
Knobs and handles: While most standard kitchens come with handles or knobs included, you don't have to use them. Select your own separately, from sturdy wooden knobs to brushed steel cup handles for drawers.
Worktops: Mixing and matching worktop materials not only looks great, but it can also save money. Using a more expensive solid stone for an island and more cost-effective timber elsewhere gives you the best of both worlds.
Lighting: Consider your kitchen lighting. Little touches such as inexpensive LED strip lights concealed beneath units brings the room to life.
DIY shelving and breakfast bars: Adding open shelving gives a bespoke finish, while building a simple breakfast bar with painted timber cladding is an easy yet effective job that will save money.
(MORE: Get a quote for your new kitchen)
Can I Fit my Own New Kitchen?
In a word, yes. It is a fairly simple job to fit a kitchen on a DIY basis — particularly if you have opted for a flat-pack kitchen.
Where it pays to call in the professionals is when it comes to fitting worktops — stone and timber in particular need cutting and joining and trying to do it yourself can result in some costly mistakes.
Whether or not you decide to fit your own kitchen really comes down to time and DIY skills. Just bear in mind that a fitter will charge you anything from £250 for fitting pre-assembled units, up to around £1,000.
Buying a New Kitchen Online
Searching the web is a quick and easy way to find a cheap kitchen. However, without touching the kitchen and seeing it for yourself, it can be hard to assess its quality.
It is quite possible to plan and order a complete new kitchen online, but you will not know its true quality until it arrives.
Get a Quote for Your New Kitchen
Homebuilding.co.uk partners with the UK's best kitchen specialists to match your requirements with their services.
Simply answer a few questions on what you need from your kitchen and we'll put you in touch with a suitable partner.
How It Works
1. Enter your details below. Tell us a bit about your project and what you are looking for, and leave some contact details.
2. We search our database. We'll match your requirements with the products and services that our partners offer.
3. Partners will contact you. Don't worry about being bombarded - only the suppliers that match your requirements will contact you.
Homebuilding & Renovating Newsletter
Get the latest news, expert advice and product inspiration straight to your inbox.
Thank you for signing up to Homebuilding. You will receive a verification email shortly.
There was a problem. Please refresh the page and try again.