Retrospective Planning: What Does the Process Involve?
By Simon Rix published
What is retrospective planning and why might you need it? Planning consultant Simon Rix explains all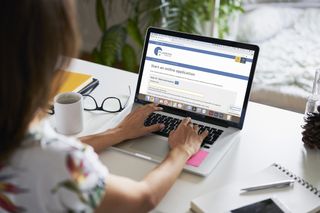 (Image credit: getty images)
A retrospective planning application is like a normal planning application except, as the name suggests, it's made after the change of use or other development in question has happened, instead of before.
It seems obvious to say that this is the wrong way around, i.e planning consent should of course be sought before the change of use or other development work is started.
Making a change without permission can prove to be very costly as it can leave you with no option but to make drastic changes to your build or may see the whole project demolished and you having to put things back to their previous state. This can also lead to other difficulties such as court appearances, fines, legal costs and bad press. So, it's better not to take the risk.
Why Would Someone Apply for Retrospective Planning?
Mistakes can happen though. For example you may have not properly implemented a condition for a planning consent you have got. Or you might have thought what you were doing was covered by permitted development rights but if you discover afterwards that you were wrong, then it might be best to apply for retrospective planning consent before your local planning authority serves an enforcement notice on you for being in breach of the planning rules.
Sometimes planning officers will helpfully invite you to apply for planning consent retrospectively, but they don't have to do so. They might go straight to an Enforcement Notice. There's no way of knowing what they'll do, so if you realise you've made an error, be proactive in sorting it out, and a retrospective application might be your best bet.
How do you Apply for Retrospective Planning?
You apply in the same way as you would for a normal planning application, except you need to tick the yes box for the question that asks, "Has the building, work or change of use already started?"
The council is legally obliged to consider any such application in the same way as if it was submitted prior to the work or change of use starting. This is good in the sense you won't be penalised, but bad in that you could easily face a refusal, after which you would have to undo what you've done or face an Enforcement Notice, which cannot legally be ignored.
You can appeal against an Enforcement Notice, but failing that, you will face court action, fines and potentially the council's bulldozers if you don't comply.
Who Can Help You put a Retrospective Planning Submission Together?
Is it wise to get a professional to help? Yes, it's generally best to get a planning consultant to help you prepare a retrospective planning application, partly because by that stage the stakes are so high. It should also be noted that, if your planning breach happened a number of years ago you might be very close to being immune from any enforcement action. You would need to be able to prove certain facts to benefit from this immunity, but it might be worth looking into this option and a planning consultant will be able to help clarify this for you.
Basically, in most cases (though not all) development becomes immune if no enforcement action has been taken within four years of either a planning breach involving "operational development" or an unauthorised change of use to a single dwellinghouse; or within 10 years for any other breach of planning control, ie any other change of use.
What Does an Application Need to Include?
A retrospective planning application will need to include all the normal documentation and details of a standard full planning application - an outline planning application will not do. You will to submit a completed application form, the correct application fee, all the nationally required documents (see www.gov.uk) and all the additional locally required documents, which can be found on your local planning authority's website, usually under "planning application validation requirements".
There can be a lot of complicated paperwork involved and if it's not done properly the council will refused to accept it so, again, a planning consultant can help smooth the path for you by ensuring everything is in order.
How Much Does it Cost?
The fees for submitting retrospective planning applications are the same as for a normal planning application for the same type of work. These fees are set nationally and depend on the project type. For example, the fee for a planning application to extend or alter a single house is £206. To build a whole new house it's £462.
How Much Does it Cost for a Planning Consultant to Help?
Some planning consultants will give you some initial advice for free. After that some charge by the hour and others on a project basis. The latter will be better value for money and you should be able to get a consultant to do the whole of a retrospective planning application for you for somewhere between £750 to £2000 depending on the complexity of the project.
How Long Does A Decision Take?
The timescales for deciding retrospective planning applications should be the same as for normal applications. The current time limit for decision making is usually eight weeks, but in reality, there is little to stop local planning authorities going over this, though they will try to keep within eight weeks if they can.
Is There a Time Limit on Retrospective Planning?
There is no particular time limit in terms of how long after the planning breach you apply, but make sure you are aware of the four and 10 year rules which could make you immune from any enforcement actions, and thus make applying for retrospective consent pointless.
If you really do qualify for immunity (best to check with a planning consultant because you don't want to get this wrong) then you will probably be well advised to apply for a Certificate of Lawful Development to confirm this.
Can Retrospective Planning be Refused?
Yes it can be refused. If what you are applying for doesn't comply with the planning rules, then you will get a no. If that happens you should, if you haven't already, double check to see if you really did need planning consent (ie that it wasn't covered by a permitted development right or immune due to the time elapsed) and if not then you don't really have any option other than to undo what you've done.
Who Approves or Declines a Retrospective Application?
Applications are decided by the same people who decide on normal planning applications. Usually these are the planning officers within your local planning authority (normally your local district and unitary council or your national park authority if your site is within such an area).
It can go to the planning or development control committee of councillors, but that generally only happens for very large applications or smaller ones which are more controversial, which may be the case for yours if you have been in breach of planning rules. It almost goes without saying, best to avoid this if at all possible.
Continue reading this article
One-off payment: £4.99 for six months full access to The Planning Hub
The Planning Hub offers in-depth guides to planning permission in England, brought to you by Homebuilding's planning experts
Instant access to planning permission information, vital to the success of your project

Independant advice from leading Homebuilding & Renovating planning experts

Discover what you need to know to get your plans approved with minimum hassle

Get to grips with complex planning rules with our easy-to-read guidance
Continue reading this article
One-off payment: £4.99 for six months full access to The Planning Hub
Simon Rix is a professional planning consultant. He was a council officer and later an elected councillor before setting up Planix.UK Planning Consultants Ltd.
Homebuilding & Renovating Newsletter
Get the latest news, reviews and product advice straight to your inbox.
Thank you for signing up to Homebuilding. You will receive a verification email shortly.
There was a problem. Please refresh the page and try again.