New PD Right Commences, Despite Quality Concerns
Changes to PD rights have taken effect which the government says will deliver more homes in town centres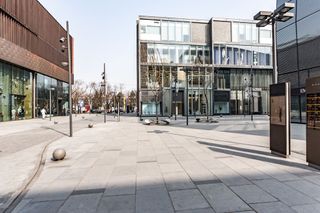 (Image credit: Getty)
New Permitted Development (PD) rights have taken effect which will make it easier to turn commercial premises into homes. 
From 1 August, a new class MA ('Mercantile to Abode') now allows the conversion of any empty Class E commercial premises, such as offices, restaurants, shops and gyms into new homes without planning permission.
The government has defended the new right and said homes delivered through PD rights continue to make an important contribution to housing delivery.
But MPs had urged the government to delay publishing the new rights and have called for a review of PD rights within the wider planning system. 
The critical report from the Housing, Communities and Local Government (HCLG) Select Committee last week also raised serious concerns about the government's attempts to streamline PD rights in recent years. 
New PD Rights Mired in Controversy
This new PD right is the most recent of several during the last year, which the government hopes will accelerate housing delivery in England, allowing more types of property to be turned into housing.
In 2020, new rights enabled developers to transform boarded up, unused buildings into homes without full planning permission, and permitted upwards extensions of housing blocks from August.
Significantly for extenders, a fast-track for two-storey extensions on homes was introduced from September 2020. The update was welcomed for helping homeowners looking to utilise more space for growing families, but criticism of the new right led to a failed legal challenge from Rights:Community:Action (RCA) in November to reverse it.
(MORE: Building an Extension)
The new 'town centre' rights, which will be managed through prior approval, will allow most commercial premises to be converted to homes without planning permission. But while prior approval is in place to protect the character of local areas, concerns remain. 
The new rights have drawn criticism from several fronts, including the National Trust and the Local Government Association (LGA), which have both warned it could lead to a spate of low-quality homes being built.
The National Trust says it fears low-quality homes will replace these shops from the high street and says the reforms "will have a significant impact on the quality of the built environment and the sustainability of rural communities in particular."
And British Property Federation fears the new rights will result in local planning authorities losing planning control.
But housing minister Christopher Pincher has defended the plans. Speaking at Inside Housing and Homes England's Development Summit in July, he said: "[The new rights] can help revitalise some of those urban spaces – some of those urban high streets which otherwise wouldn't be able to sustain business because there aren't enough people using them."
Quality Concerns Aren't New
The new HCLG Select Committee report said it had serious concerns at the poor quality of some of the homes produced, and highlighted how poor-quality homes were often used to house people in temporary accommodation who do not have the option of living elsewhere.
These concerns over quality have plagued the government's attempts to streamline PD rights in the past 12 months.
A BBC Panorama investigation in February 2020 condemned the quality of some homes which had been converted from office blocks. And last summer, a government commissioned review of the system concluded that the quality of housing built under PD was worse 'in relation to a number of factors widely linked to the health, wellbeing and quality of life'.
Concerns also remain from charities such as Shelter and the LGA over the lack of developer contributions to affordable housing. 
LGA housing spokesperson Cllr David Renard, giving evidence in May to the HCLG Select Committee inquiry on PD rights, said: "We have long had concerns over the substandard housing created from Permitted Development conversions, and the lack of any requirement for developers to provide affordable homes or supporting infrastructure."
To assuage pressure from campaigners, housing secretary Robert Jenrick announced that from April 2021, all new homes built under PD must meet minimum space standards. This begins at 37m² of floorspace for a new one bed flat with a shower room (39m² with a bathroom).
This was welcomed by the HCLG Select Committee, but to further address quality concerns it has urged the government to force developers to meet higher standards, such as requirements for windows, and for councils to be able to prevent homes being built on "inappropriate locations" such as industrial estates and business parks.
"All new homes delivered through PDR must be truly fit for purpose and suitably located. A flat on an industrial estate is totally unsuitable for young children," the report says.
PD Rights 'Contradict' Planning Reforms
In the aforementioned HCLG Select Committee inquiry earlier this year, MPs said they would consider further changes to PD outlined in the Planning for the Future white paper, published as part of last summer's planning reforms.
And the committee states that the government's PD plans do not align with their strategy for planning development. 
Committee chair Clive Betts said: "While we understand the intention behind the recent PDR changes, these extensions appear to contradict the increased focus on plan-led development and local democratic involvement, and fatally undermine the role of local authorities in shaping their communities, public spaces and buildings.
"The reality of the government's recent changes to PDR is a regime which has become so complicated it is little different from the planning system yet without the benefit of local controls or democratic involvement."
The committee also referenced July's changes to the National Planning Policy Framework, stating that it welcomed the clarification that Article 4 directions (which remove PD rights) may be applied so councils can "prevent the loss of the essential core of a primary shopping area". 
But it also called for an amendment to the revision so that councils should not have to wait one year before being able to apply a direction without also being liable to pay compensation to developers.
Jack is News Editor of Homebuilding & Renovating and strives to break the most relevant and beneficial stories for self builders and renovators. Having bought his first home in 2013, he and his wife have renovated almost every room and recently finished a garden renovation. Jack reports on all of the latest news that could affect your project.
Homebuilding & Renovating Newsletter
Get the latest news, reviews and product advice straight to your inbox.
Thank you for signing up to Homebuilding. You will receive a verification email shortly.
There was a problem. Please refresh the page and try again.