Government Under Pressure Over New PD Rights
Changes to PD rights will take effect from August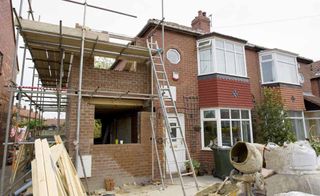 (Image credit: Getty Images)
The government is facing criticism over its plans for new Permitted Development (PD) rights due to take effect this year.
The National Trust and the Local Government Association (LGA) have both spoken out against the new rights, warning it could lead to a spate of low-quality homes being built.
Concerns focus around the expansion of Class E, which will allow the conversion of commercial premises, such as offices, restaurants, shops and gyms into new homes without planning permission. 
The National Trust says it fears low-quality homes will replace these shops from the high street and said the reforms "will have a significant impact on the quality of the built environment and the sustainability of rural communities in particular."
Meanwhile, the LGA this week called on the government to scrap Permitted Development rights to help strengthen local planning systems.
LGA housing spokesperson Cllr David Renard, giving evidence on Monday to the Housing, Communities and Local Government (HCLG) Select Committee inquiry on PD rights, said: "We have long had concerns over the substandard housing created from Permitted Development conversions, and the lack of any requirement for developers to provide affordable homes or supporting infrastructure."
What's Changing?
The government has introduced several relaxations of PD rights this past year, which it hopes will accelerate housing delivery in England, allowing more types of property to be turned into housing.
New rights last summer enabled developers to transform boarded up, unused buildings into homes without full planning permission, permitted upwards extensions of housing blocks from August, and included a fast-track for two-storey extensions on homes from September.
The most recent proposals came earlier this year, when housing secretary Robert Jenrick unveiled planning rules to enable developers to change the use of any empty Class E building into housing without planning consent.
The proposal was first made before Christmas, and while the government has not yet responded to a public consultation which ended on 29 January, regulations effecting the changes came into force on 21 April.
Applications will be managed through prior approval, with the first prior approval applications allowed to be submitted from 1 August.
Commercial buildings will need to have been vacant for three months before they can be converted, and a size limit of 1,500 square metres will apply.
Mr Jenrick said the measures will help high streets to adapt and thrive. But they have been opposed by groups including the Royal Town Planning Institute (RTIP) and the Royal Institute of British Architects (RIBA), the Chartered Institute of Building, and the Royal Institution of Chartered Surveyors, which sent a joint letter to the government earlier this year outlining their concerns.
"This announcement fails to consider the public good and demonstrates a lack of any forethought for those who will be affected. This is not only a failure to level up but a threat to our local communities," the letter said. 
Concerns Over Quality 
Concerns over quality have plagued the government's attempts to streamline PD rights in the past 12 months.
A BBC Panorama investigation in February condemned the quality of some homes which had been converted from office blocks. And last summer, a government commissioned review of the system concluded that the quality of housing built under PD was worse 'in relation to a number of factors widely linked to the health, wellbeing and quality of life'.
Moreover, fears that the new proposals would lead to low-quality housing led to a failed legal challenge to prevent the motion from becoming law. And concerns remain from charities such as Shelter over the lack of developer contributions to affordable housing, and from the British Property Federation (BPF) which says the new rights have resulted in local planning authorities losing planning control.
Pressure from campaigners was a key factor in Mr Jenrick announcing that all new homes built under PD must meet minimum space standards. 
As of 6 April, all new homes in England delivered through PD will now have to meet the Nationally Described Space Standard. This begins at 37m² of floorspace for a new one bed flat with a shower room (39m² with a bathroom).
The move was first announced by Mr Jenrick in October, under pressure from campaigners, to stop the minority of developers abusing the system. But for some this isn't enough.
Paul Testa from Paul Testa Architecture and contributor to Homebuilding & Renovating magazine, said: "Whilst I recognise the need for new homes, those that have been produced under PD conversion rights so far have varied hugely in quality. Many of which, it could be argued, aren't fit for human habitation. 
"The government has gone some way to strengthen rules regarding what will be allowed under PD, but I don't see this proposed new right [for commercial premises] as a positive step."
Inquiry Launched
In March, an inquiry was launched by MPs into the PD rights rolled out last summer by the government, and the HCLG is now calling for evidence for its investigation.
Launching the inquiry, Clive Betts MP, HCLG chair, said: "The government has indicated its intention to use Permitted Development rights to allow greater flexibility in how buildings are used, removing the need for planning approval for switching use between offices, shops and housing under certain circumstances.
"We have launched this inquiry to understand the implications of this approach. Does it provide sufficient scope for local authorities to set out a coherent plan that addresses local needs? Fundamentally, do they enable the economic and societal recovery we need.'
The inquiry will also consider further changes to PD outlined in the Planning for the Future white paper, published as part of last summer's planning reforms.
Homebuilding & Renovating Newsletter
Get the latest news, reviews and product advice straight to your inbox.
Thank you for signing up to Homebuilding. You will receive a verification email shortly.
There was a problem. Please refresh the page and try again.