New Permitted Development Rights Proposal Sparks Fears Over Quality
Experts warn that the government's proposed new Permitted Development rights need to ensure high-quality homes are built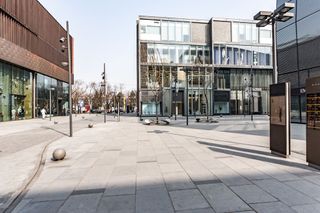 (Image credit: Getty)
Proposals for new Permitted Development rights have been questioned as fears grow over the quality of homes which would be built. 
The government has proposed a new PD right which would allow most commercial premises, such as offices, restaurants, shops and gyms to be converted to homes without planning permission. It is also intended to apply in Conservation Areas.
Under Permitted Development classes, this would allow the change of use, or mix of uses, from the commercial, business and service use class (Class E) to residential use (Class C3).  
There would be no size limit on the buildings that can benefit from the government's town centre-residential use PD right, although the impacts of which would be managed through prior approval. 
The government hopes this will accelerate housing delivery in England, and has launched a public consultation over the proposal, which will run until 28 January 2021.
But industry experts are fearful of the implications from streamlining Permitted Development rights, and have urged the government to be cautious.  
New Permitted Development Rights Must Not Affect Quality
In October, following criticism of the quality of homes built using Permitted Development, the government announced that all new homes built under PD must meet minimum space standards - as any new homes must do under the new proposed new PD right - but some believe the government needs to do more to ensure higher-quality builds under PD. 
Paul Testa from Paul Testa Architecture and contributor to Homebuilding & Renovating magazine, said: "Whilst I recognise the need for new homes, those that have been produced under PD conversion rights so far have varied hugely in quality. Many of which, it could be argued, aren't fit for human habitation. 
"The government has gone some way to strengthen rules regarding what will be allowed under PD, but I don't see this proposed new right as a positive step."
Concerns over quality have plagued the government's attempts to streamline PD rights this year. In February, BBC Panorama investigated and condemned the quality of some homes which had been converted from office blocks. Then in the summer planning reforms, when Downing Street proposed to make it easier to demolish certain vacant buildings and replace them with new homes, fears over low-quality housing led to a failed legal challenge to prevent the motion from becoming law.
The ill-feeling towards cutting PD red tape exacerbated following a government commissioned review of the system published in the summer, which found Permitted Development had created "worse quality residential environments than planning permission conversions in relation to a number of factors widely linked to the health, wellbeing and quality of life of future occupiers".
Fears over Permitted Development Relaxation
Ian Rock, a chartered surveyor and director of Rightsurvey.co.uk, said of the proposed new right: "I worry about too much relaxation of the rules, because it can lead to shortcuts. When you relax PD rights, there can be hidden problems in builds, such as poor ventilation, damp and mould."
Rock cites a report from Levitt Burnstein in 2019 which calls for the government to end PD rights for office to residential conversions, where they state the need for developers to act to the highest standards when building new homes. 
"When developers fail to set their own red lines, the planning system must be allowed to step in. PDR is specifically intended to prevent that from happening," the report says.  
Potential Mortgage Problems
Another prospective issue with turning commercial buildings into homes is that aspiring homeowners may find it difficult to get mortgages. 
"A lot of lenders are wary of converted office buildings," said Rock. "Mortgage lenders are risk-averse, and will have important questions about location. If a surveyor thinks that the building is an isolated development on former industrial estates - which mostly happens with conversions - lenders can get cold feet."
Local Authorities Left in Dark
Testa adds that another questionable aspect of the proposed town centre-residential use PD right is that local authorities will have their powers reduced to ensure the delivery of high-quality, affordable housing.
"The extension of this to other building uses such as gyms, restaurants, creches etc is still worrying and removes local authorities' ability to adequately and actively plan for sustainable development," said Testa. 
The government said of the proposal: "This right will provide much needed new homes across the country, giving clarity and planning certainty, and attract footfall to high streets that new residents will bring."  
Homebuilding & Renovating Newsletter
Get the latest news, expert advice and product inspiration straight to your inbox.
Thank you for signing up to Homebuilding. You will receive a verification email shortly.
There was a problem. Please refresh the page and try again.