New Planning Reforms Could Ease Rules on Barn Conversions
By Jack Woodfield published
Boris Johnson has announced new planning reforms could which make it easier to get planning permission in rural communities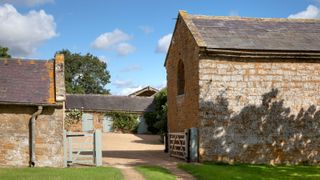 (Image credit: Getty Images)
New planning reforms could make it easier to convert disused farm buildings into residential homes, prime minister Boris Johnson has announced.
JOIN THE PLANNING HUB
The Planning Hub (opens in new tab) is an online resource that will help you understand how to get to grips with complex planning rules. Join today for access to easy-to-read guides which will provide you with key information to help you secure planning permission.
Mr Johnson announced the forthcoming changes to the planning system during a 'levelling up' speech in Blackpool, where he spoke of the need to see more of the right homes built in the right places.
The new reforms could make it easier for converters to get planning permission in rural communities. Defra minister George Eustice says that for too long it had been difficult for farmers and landowners to gain planning permission when trying to diversify.
The reforms will "sensitively make use of existing planning rights, for example by making it easier to turn disused agricultural buildings into homes for local first-time buyers, and to support farmers in growing and diversifying their businesses," Mr Johnson said.
No further details have as yet been announced, but the new measures are expected to be extended to designated landscapes, including National Parks and Areas of Outstanding Natural Beauty (AONBs).
Mark Tufnell, president of the Country Land and Business Association, said the reforms will be "a step in the right direction", adding the reforms "will create new jobs, encourage more people to live and work in rural areas, and allow rural businesses to grow for the benefit of communities across the country".
Mr Eustice added: "We are on the side of rural communities. The prime minister has announced we will make it easier to convert disused agricultural buildings into homes for local people – something that rural communities and businesses have been calling for."
Which New Planning Reforms are Coming?
The government published the Levelling Up and Regeneration Bill (opens in new tab) in May which will establish reforms such as enabling local leaders to force landlords to rent out commercial properties.
This legislation, which was first proposed in the levelling up white paper published in February, also proposes 'street votes' designed to give local people the power to set their own development rules in suburban areas.
The Bill builds on the government's 'Planning for the Future' white paper of summer 2020 and could reshape how the planning system works.
The following reforms are included within the Bill:
Street referendums on developments
'Street votes' would give local people the power to set their own development rules in suburban areas. Under the plan, 20% of residents or 10 homeowners, whichever figure is higher, could ask their local council to hold a referendum on a design code for their street.
The code could be used to determine the size, height and style of new homes and allow homeowners to add extensions. The code would need the support of 60% of residents, which would lead to automatic planning permission for new homes and extensions.
Marc von Grundherr, director of Benham and Reeves, said of the proposal: "The problem with announcements around planning reform, whilst it is badly needed, is that injecting more democracy on a local level is likely to clog up the system rather than improve it."
Scrapping Section 106
First proposed in 2020, the government remains committed to the replacement of Section 106 - a legal agreement between an applicant seeking planning permission and the local planning authority - with a community infrastructure levy.
Section 106 was used to complete the development of 24,487 homes in 2020/21, and is a major supply source of affordable housing. But the government says the new levy will give local councils more control as well as the ability to determine how and where any levies are spent within their local area.
It isn't clear, however, whether this levy will be nationally or locally set.
Claire Fallows, partner at Charles Russell Speechlys, said of the proposed levy: "The new infrastructure levy is the latest in a very long line of attempts to squeeze a bigger share of the development value created when planning permission is granted for the public good.
"However, the crux of the change as reported is that authorities will be left to provide community infrastructure themselves from the monies collected, including affordable housing, and with the power to borrow against future revenue. But the question here will be: is the new world likely to be superior to the old in what it gives communities?"
New housing targets
Legally binding housing targets for councils had been proposed by former housing secretary Robert Jenrick, but this is expected to be replaced with new methods of assessing local housing needs.
One such measure is likely to affect areas that are constrained by greenbelt land or areas of natural beauty, which will no longer be expected to reach "unrealistic" new housing targets providing their local plan is "well evidenced and drawn up in good faith".
The government fell short of its housebuilding targets by 120,000 homes in 2021.
A digital planning system
While not specifically addressed in the Levelling Up and Regeneration Bill, the government is keen to move the document-based planning system to a digital one. This is designed to improve the speed and efficiency of application decisions, and allow residents to be more engaged in the development of their local area.
At the moment, only 3% of local people engage with consultations on planning applications, according to the government.
In 2021, the government announced that 10 councils would test the use of digital tools (opens in new tab) in the planning process.
Brownfield site investment
Housing minister Michael Gove has said the government will invest in urban regeneration to put new homes on "neglected" brownfield sites, which was addressed in the Levelling Up white paper published in February.
Which Reforms Have Been Shelved?
The Levelling Up and Regeneration Bill marks a significant government rethink on planning following controversial proposals announced in 2020 by Mr Jenrick.
These included the introduction of a zonal planning system, which would have classified land for either growth, renewal or protection. The proposal led to fierce criticism from MPs who feared that this proposal would silence communities left unable to prevent housing developments in their areas, and was reportedly scrapped once Mr Gove became housing secretary in 2021.
Another previously suggested reform of contention which hasn't been included within the Levelling Up and Regeneration Bill is a mandatory target for local authorities to build 300,000 homes per year.
These proposals were reportedly blamed internally for the Conservatives' shock defeat in the Chesham and Amersham by-election in June 2021.
Why Have New Reforms Been Proposed?
The last significant update to the planning system occurred in 1947 and the government has previously said it wants to cut the planning system red tape, due to the current speed of housing development in England.
Under the current rules, it takes an average of five years for a standard housing development to go through the planning system.
The government has also said that the forthcoming reforms will make the planning system more accessible to residents and help more young people get on the property ladder.
New Reforms to Reward High-Quality Design
In 2021, the government published planning reforms to strengthen requirements on design quality and to give local authorities power to reject housing schemes which do not meet the required quality.
Self builders could also find it easier to secure planning permission if their builds are well designed and use high-quality materials.
The National Planning Policy Framework
The National Planning Policy Framework (NPPF) was first published in 2012, and the 2021 revision made beauty a central theme of the NPFF. It set out the expectation for local authorities to produce and action their own design codes, and emphasised the approval of practical, sustainable designs while rejecting poor-quality designs.
The NPFF also now states that streets should be lined with trees to help improve biodiversity and access to nature through design.
The National Model Design Code
The National Model Design Code (opens in new tab) (NMDC), new in 2021, provided a 10-point checklist of design principles to enable local authorities to create their own local design requirements.
Local communities have been encouraged to get involved in the decision-making process through digital tools, social media and face-to-face workshops to help local authorities deliver beautiful, green homes.
The code also includes references to custom and self build, with accompanying guidance underlying how design codes can encourage self build and custom build developments.
Furthermore, the government announced the Office for Place (opens in new tab), in a bid to drive up design standards and to be used to test and pilot the NMDC, involving more than 20 local councils and communities.
Jack has worked in journalism for 11 years and is the News Editor for Homebuilding & Renovating, a role he has had since 2019. He strives to break the most relevant and beneficial stories for self builders, extenders and renovators, including the latest news on the construction materials shortage and hydrogen heating. In 2021 he appeared on BBC's The World at One to discuss the government's planning reforms.
He enjoys testing new tools and gadgets, and having bought his first home in 2013, he has renovated every room and recently finished a garden renovation.
Homebuilding & Renovating Newsletter
Get the latest news, reviews and product advice straight to your inbox.
Thank you for signing up to Homebuilding. You will receive a verification email shortly.
There was a problem. Please refresh the page and try again.