Building Regulations Part M: Accessibility for Self Builds
By Paul Hymers published
Building Regulations Part M sets out standards for accessibility for a new build. Expert Paul Hymers explains this document and lays out what you need to know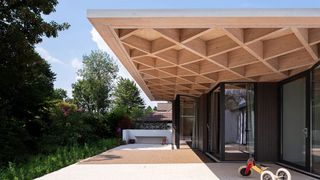 (Image credit: Andy Matthews c/o Tigg Coll Architects)
With one in five of the UK population classed as living with a disability, Buildings Regulations Part M is an important of our building control measures. After all, that equates to over 14 million of us who currently have some sort of disability and that number is growing as we live longer. Our own homes need to be suitable for us to carry on living in them as independently as we can for as long as we can.
This part of Building Regulations has been in the spotlight in recent years, as back in 2020 then Housing Minister Robert Jenrick launched a consultation to evaluate how home's in the UK could be better designed to be more adaptable and accessible — with the goal of creating more lifetime homes in the future.
In this guide, author and building control officer Paul Hymers explains what you need to know about Building Regulations Part M as a self builder.
What is Building Regulations Part M?
Building Regulations Part M focuses on access and use of a building, in regards to the ability to move around the building easily. This applies not only to wheelchair users and people with limited mobility, but also people who regularly use prams and other wheeled devices. It can be found in Approved Documents M (opens in new tab).
The access requirements for new homes were initially introduced to the Building Regulations over 20 years ago, but in 2015 the guidance was been split into two separate volumes. The first, Volume 1, applies to new dwellings and has within it three separate categories, with growing scope of the sort of accessibility issues that need to be considered.
What are the Categories of Building Regulations Part M?
There are three categories under Building Regulations Part M, under which your build will have to meet certain requirements.
They are:
M4 (1) Category 1: Visitable dwellings
M4 (2) Category 2: Accessible and adaptable dwellings
M4 (3) Category 3: Wheelchair user dwellings
Who Decides Which Category Will Apply?
Although M4 (2) and (3) are euphemistically referred to as 'optional standards' It is in effect the local planning authority (LPA) who decide whether they will apply to your project or not.
Some councils may choose to apply this by local planning policy as percentages, by geography or demography. This approach to the application of requirements through the planning system represented something of a departure from the usual theme of applying them solely by the work definition of the project.
If they don't choose to apply either of the 'optional' higher categories, by default it is mandatory to meet the first of these, M4 (1).
Even if you are only required to meet the visitable standard, it is worth considering how you can improve on it and make your self build project a life-long home.
M4 (1) Category 1: Visitable dwellings
What Does Compliance with Category 1 Visitable Dwellings M4 (1) Mean?
It means that reasonable provision should be made not only to gain access to but also the use of the dwelling and its facilities. It doesn't apply to extensions or to any areas that are used solely for inspection, repair or maintenance such as plant rooms or attic spaces.
It is the least onerous of the set, applying to create access to the entrance level only but as with all of them it begins at the curtilage of the site (although this could extend beyond your individual plot if you were part of a larger building development) and covers the approach to the building's main entrance, the front door. It means a 900mm wide minimum width to any path, steps or ramp and that width must exist alongside a driveway for access aside a parked car. Ideally the path should be level but if it does form a slope or a ramp, gradients up to a maximum of 1:12 apply if it isn't more than 5m long.
If I Have a Ramped Approach do I Need Handrails?
It isn't necessary to have handrails to ramps in Category 1, to the relief of most architects. If the site is steeply sloping and needs steps, these too are acceptable but they do need a handrail you can grip on one side and an easy going pitch with individual risers between 75mm and 150mm high and goings of at least 280mm
The entrance door should have a clear opening width of 775mm (most do by default) and an accessible threshold. Those PVC-u front doors which had a raised sill were great for keeping water out but not at all accessible. We have grown use to access thresholds now, but it still pays to have these served by a drainage gap or channel if not sheltered by a roof overhang or canopy.
What Access if Required Inside?
For this category, the entrance hall/corridor width is an issue but one that is tied to the width of the internal doors. Effectively, internal doors to all the habitable rooms on the entrance level should be at least 750mm clear opening width (between doorstops) which makes it impossible to use standard 762mm (30 inch) doors with doorstops.
The next standard door size up being 826 mm (or 838mm) means that your entrance hall/corridor only needs to be 900mm wide. It can be reduced to 750mm wide for radiator obstructions up to 2m long.
Do I Need a Cloakroom WC?
Part M has always required a WC on the access storey and it is this requirement that has meant every 21st century new-build home has a cloakroom WC of given minimum proportions.
However, these proportions are not generous and have baffled everybody that was obliged to think of them as accessible. At least between 850mm or 900mm wide, a space of 750mm has to exist between the front face of the pan and the opposing wall (or radiator) and that's it.
Pedestal basins are best avoided in favour of smaller wall hung ones. The door needs to open out and the scale means that wheelchair users are meant to transfer from the doorway onto the loo with the door remaining open. Keep in mind that these regulations are meant to be for visitors...
Heights for Plugs, Sockets and Controls
It has always been the case that rooms on other floors do not need to be accessible, but services and controls should be within the access zone of 450mm and 1200mm above floor level.
This might be the most useful of all the requirements because it is often early on in our latter years that we struggle to reach the floor or high up. Having plugs at 450mm and light switches no more than 1200mm above the soles of our feet makes a huge difference to how long we might independently live in our homes.
One of the last additions to be made was for electrical consumer units to be added to the list of fittings that should be accessible (between 1350-1450 mm above finished floor level), so these can no longer be tucked away or placed up high out of sight.
M4 (2) Category 2: Accessible and Adaptable Dwellings
What are the additional measures of Category 2?
A grade up from the M4 (1) standard, the aim here is to create a home that has more potential for wheelchair users and greater scope for adaptation in future.
The focus on approach to the dwelling is aimed at level or ramped access, but if that just isn't possible to achieve at the front door because of site gradients, a side or rear entrance door can be adopted instead as the accessible entrance. The doorway should also be free from local obstructions such as those formed from garden landscaping. Gates along the route need a clear opening of at least 850mm and a nib to the leading edge of at least 300mm, so they can't have the latch up against a perpendicular wall or fence that would make it difficult to reach. The surface of the parking area too needs to be suitable, so no loose gravel driveways that are the equivalent of tank traps for wheelchairs.
Inside the layout for hallway and door widths is much the same as M4 (1) but with the addition again of the minimum 300mm nib to cornered recesses and the leading edge of doorways.
The entrance storey should be level throughout and step free but the stairs between floors should be at least 850mm wide - otherwise these can follow the standard geometry (in Part K) for dwellings.
This standard reaches into the rooms themselves, with at least 1200mm of clear space required in front of kitchen units and appliances and window glazing starting below 850mm of floor level so wheelchair users can see out.
Bedrooms need to be sized with at least a 750mm wide access route from the door to the window and at least one double bedroom with 750mm or more to the sides and bottom of the bed, and in at least one of the single bedrooms to one side of the bed. So the floor plans need to show bedroom furniture layouts and clear space dimensions.
What Provisions do I Need to Build in to Bath and Cloak Rooms ?
In bathrooms the walls and any ductwork need to be strong enough for grab rails in future, so lining stud partitions with 18mm thick plywood or OSB before plasterboarding is essential.
As for the cloakroom WC at access level, in three bedroom plus sized homes, this facility needs to be bigger to include a level access shower provision. (Example internal minimum sizes of 1450 mm wide by 1800mm depth for this room are given in the Approved Document M1)
M4 (3) Category 3: Wheelchair User Dwellings
What are the Additional Measures of Category 3?
This is the standard that deals comprehensively with wheelchair user access inside dwellings. To do this the floor plans need to be marked up with furniture a scale of a least 1:100 but ideally 1:50.
The Approved document Appendix D has a furniture schedule of standardised sizes for this purpose, so there's no provision for a minimalist's contemporary lifestyle to be represented here with just an inflatable armchair and somewhere to plug in your smartphone.
Aside from the furniture, clear access zones (turning circles) typically of 1500mm diameter need to be present, but the level of detail required in this category goes beyond most architectural plans and includes the recess depth of letter cages (150mm) and a requirement for built-in storage areas based on bedroom quantity.
Where headroom is restricted between 900mm and 1500mm high, 50% of the area can be used, but, if it's less than 900mm headroom, it can't count towards the storage areas. They are not onerous in any case — a typical 4 bed house needing only three square metres.
Do I Need to Install a Lift?
Homes in this category do not have to have a wheelchair lift installed but they do need to have potential for one to be easily installed (without structural alteration).
Kitchen layout plans are essential with minimum worktop lengths and height adjustable or lowerable sections with open leg room below (not base cupboards) as well as accessible taps and fittings.
Bedrooms become larger with 1m wide free space around a double bed and 1.2 m x 1.2 m square turning areas beyond the door swing and in the corner of the room and strengthened ceilings capable of supporting hoists for bed transfer.
It goes without saying that in the M4 (3) category a wheelchair user can actually go inside the cloakroom WC and close the door behind them so they are sized to be at least 2.2 m deep by 1650mm wide internally.
So this is accessible home that should see independent living possible for regular wheelchair users. Not only does it require a considerable attention to planning and detail in the design inside but it also extends outside, to requiring private garden, terrace or balcony space that is accessible for everyone and at every stage in life.
Paul is a building control officer and has written eight books on home improvements and building homes.
Homebuilding & Renovating Newsletter
Get the latest news, reviews and product advice straight to your inbox.
Thank you for signing up to Homebuilding. You will receive a verification email shortly.
There was a problem. Please refresh the page and try again.