Eco Insulation: 8 Sustainable Options for Insulating Your Home
Eco insulation holds up against manmade materials in making your home more energy efficient, and it's sustainable too. Here are your options for insulating a green home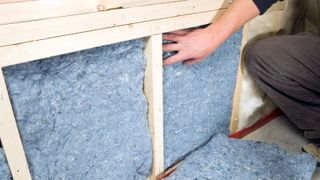 (Image credit: getty images)
Specifying eco insulation for your home is a double victory for a green home. Not only will you reduce your energy bills and carbon emissions by creating a house with a better thermal envelope, but you'll be doing it using materials that have low embodied carbon, are sustainably produced and are recyclable or compostable, meaning that they won't end up in landfill.
Insulating a wall, floor or roof with eco insulation also has benefits for the people living in the house, as well as the planet. Eco insulation should preserve indoor air quality, meaning no toxic chemicals leeching into your home, as well as being easy to work with, unlike some manmade insulation materials like fibreglass.
The best eco insulation can also go toe-to-toe with synthetic insulation materials in terms of their thermal properties, while also bringing some helpful qualities of their own that can help your home be a more comfortable, healthier place to live.
From insulation made from natural products to the best innovations in recycling, here's our top material suggestions when it comes to choosing an eco insulation.
What is the Best Eco Insulation?
There are by in large two main categories of eco insulation. The first is natural insulation — these insulators don't require manmade chemicals in their formation, therefore are less likely to release toxins into your home. They also are more likely to be biodegradable at the end of their life and have a smaller carbon footprint.
However, it's worth noting from the outset that natural insulation has limitations — it should not be used in brick and block constructions, nor block and cavity builds or below the damp proof course.
The second type of eco insulation is recycled insulation. This makes use of existing manmade materials, both removing the need for new manmade materials to be made and virgin resources being consumed, but also stopping these recyclable materials from ending up in landfill.
1. Sheep's Wool
Sheep's wool is not only a sustainable natural resource, but it has some characteristics that make it a brilliant material for producing internal wall insulation.
"Sheep's wool is one of the most breathable natural fibres you can use," says Mark Lynn, MD Eden Renewable Innovations Ltd — makers of products such as Thermafleece. "This means that the insulation is extremely efficient at absorbing and releasing moisture whilst still remaining dry to the touch."
Sheep's wool insulation is produced in insulation in a sheet form, which has largely the same application and uses as mineral wool insulation in the home, barring the previously stated limitations of natural insulation. The thermal conductivity is also comparable, but sheep's wool also has some extra added benefits.
"The keratin that wool is made from can react and neutralise indoor air pollutants such as formaldehyde helping improve indoor air quality," adds Mark.
2. Recycled Insulation
While there are several types of insulation that are made from recycled materials, when we talk about recycled insulation, we're largely referring to insulation made from recycled PET made from plastic bottles.
But with natural insulation options available often with better thermal efficiency, is there a reason we should specify recycled insulation? "While natural fibres are renewable, their supply is not infinite," explains Mark, "so we also need lower impact alternatives to use where the benefits of using natural fibres are less significant."
"In a world where the demand for insulation of all types is rapidly increasing, we need to make use of all resources that lower the overall environmental burden that insulation represents."
Recycled insulation may also represent a cost saving exercise for your project, but compared to natural and manmade insulation that uses virgin materials as the cost of recycling materials is very often lower.
3. Straw Bale
Straw bale has a long history as a construction material, but it's a material that's still developing in its uses to this day. Straw bales work to insulate much in the same way as sheep's wool, with air pockets in the material creating a thermal break.
There are several ways that straw bales can be used to build a house or extension, providing the insulation. "First, there's the load bearing method, where the straw acts as structure, insulation and surface for plaster," explains Barbara Jones of Straw Works, an expert in building with straw bales. This type of construction is specialist and doesn't require a frame.
"Next, is the infill or timber frame method, where the straw is only used as insulation and a surface for plaster."
There are also hybrid constructions that make use of both ways of building, and you can also now find pre-fabricated panels that use straw as an insulating material.
4. Hemp Insulation
Hemp insulation may be slightly more expensive than the alternatives for insulating your home, but with thermal conductivity that goes toe-to-toe and impeccable sustainable credentials, you might find it worth the expensive.
"Hemp can be grown on low-quality land and requires minimum use of pesticides to produce economic crop yields," says Mark Flynn.
"Technical fibres can be obtained from the main hemp plant stalks and can be used in quilted insulation but are particularly suited a fibre component in materials such as hempcrete or hemp lime plaster providing enhanced insulation performance in the elements within which it is used."
5. Cork
Cork is an interesting option for insulating the walls and floors of your home. It has excellent thermal properties and is resistant to issues such as dampness, while being a fast-growing, naturally occurring material that adds to its sustainability factor. It also has an incredibly low whole life carbon impact.
However, when it comes to cork, you can't always take its sustainability at face value, says sustainable building expert Tim Pullen. "There are question marks over the use of cork as the over-harvesting of bark has significantly reduced the number of cork trees in the world."
He suggests that cork doesn't perform any better than wood fibre, which may have more indisputable sustainability credentials.
There are also expanded cork insulation systems that can be used for external wall insulation, while it's a material that continues to be developed in use for house building.
6. Wood Fibre and Wool
"There is possibly more development invested in wood fibre insulation than any other insulator," says Tim Pullen. "There are products available for any and every application, including waterproof boards for roof sarking."
Wood fibre insulation is available in several forms, including wool-like rolls, semi-rigid boards or rigid boards — the latter of which offers some interesting applications for housebuilding when it comes to natural insulation.
"Rigid wood fibre insulation can be installed against solid walls without the need for a timber frame to support the insulation," says Mark Flynn from Eden Renewable Innovations Ltd. "It can also be installed over rafters without the need for supporting timbers. In both of these applications, thermal bridging is reduced because a continuous layer of insulation can be installed."
7. Cellulose
Cellulose is recycled newspaper treated with (usually) boric acid to prevent insect, fungus and rodent attack. It is supplied either loose or damp blown into timber-frame wall panels.
This type of insulation tends to be used in timber frame constructions where the insulation can be blown into cavities under air pressure.
"Because the installation cost is high in relation to the insulation material, cellulose tends to be most economic when used in larger properties or developments in timber frames with above average depths," explains Mark.
8. Cotton
Cotton insulation is recycled clothing, often denim. As with cellulose, it is treated to prevent insect, rodent and fungus attack and is available loose or in rolls.
Cotton insulation tends to be relatively affordable and it has a low carbon impact as recycling the denim isn't energy intensive. Denim insulation such as Inno-Therm is made from 85% recycled denim, fixed with a polymer binder. It's estimated that three pairs of recycled jeans are required for every square metre of denim insulation.
While it's K-value isn't quite as low as mineral wool when it comes to thermal conductivity, it's still an effective choice with great thermal properties.
Get the Homebuilding & Renovating Newsletter
Bring your dream home to life with expert advice, how-to guides and design inspiration, direct to your inbox.
Hugh is Deputy Editor of sister title Livingetc.com and former Digital Editor of homebuilding.co.uk. He has worked on a range of home, design and property magazines, including Grand Designs, Essential Kitchens, Bathrooms, Bedrooms and Good Homes. Hugh has developed a passion for modern architecture and green homes, and moonlights as an interior designer, having designed and managed projects ranging from single rooms to whole house renovations and large extensions. He's currently renovating his own Victorian terrace in Essex, DIYing as much of the work as possible. He's recently finished his kitchen renovation, which involved knocking through walls, and landscaping a courtyard garden, and is currently working on a bathroom renovation.