Types of Plaster: Which is The Best Plaster For Your Walls?
There are many different types of plaster, each with their own pros and cons — here we take a look at the main options for your internal walls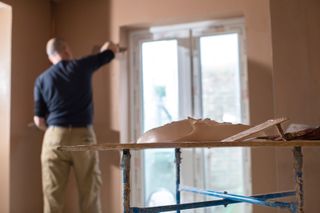 (Image credit: Getty)
If you are in the final stages of a self build or renovation project then it is highly likely that you will be thinking about the different types of plaster on offer.
Plastering walls is a job that is usually best left to the professionals but that doesn't mean you shouldn't do your research when it comes to which type of plaster will be best for your home. Some will be more suited to certain types of property than others and it really does pay to get it right.
As well as checking that the type of plaster you are using is suitable for the type of house you have, it is also interesting to note that some plaster types are better than others for particular wall structures and applications.
Here, we take a look at the types of plaster you are most likely to across and explain which works best where.
Lime Plaster vs Gypsum Plaster
Before getting into the many different types of plaster on offer, it is important to take a quick look at the differences between more traditional plasters and the modern mixes that are commonly used today.
Lime plaster is made up of a mixture of lime, sand and water, often with added fibres such as animal hair to strengthen the mix and to ensure a good bind with the walls. It has been used for thousands of years and, unlike many modern cement plasters, is breathable.
For this reason, it is highly suitable for period properties where it can help prevent damp issues and condensation.
Lime plaster is also flexible so can cope well with movement in buildings — plus, it has a beautiful soft appearance that does justice to the character of older properties.
Gypsum plaster, on the other hand, is now the most commonly used type of plaster. It is made with partially or completely dehydrated gypsum and is often combined with hardeners.
It is less flexible than lime and nowhere near as breathable which can make it unsuitable for period renovation projects. However, it is ideal for creating a smooth finish in modern homes and extensions, it is easy to find professional plasterers who are skilled at using it and it dries far quicker than lime.
Gypsum plasters cost from around £8 per 25kg bag.
It is hard to put an exact cost on lime plaster as it comes in so many different guises, including pre-mixed and one-coat formulas. The materials required for each layer also vary.
Cement Plaster
Unlike lime and gypsum plaster, cement plaster is made from sand, cement and water — usually mixed up on site. Its quick setting times and lower cost make it a popular option, but it is important to note that it is harder to achieve a smooth surface with cement plaster than with gypsum. For this reason a gypsum plaster will commonly be applied on top.
The fact that cement plaster is not as breathable or flexible as lime make it unsuitable for period homes.
A 25kg bag of cement to make up plaster costs from £6.
Clay Plaster
Thanks to a renewed interest in traditional and natural types of plaster in recent years, clay plaster is currently seen as very on trend in all kinds of property — old and new alike.
Clay plaster uses natural clay as the primary binding element before being combined with aggregates and natural fibres.
Although it is a great option, resulting in a beautiful matt finish that can be left unpainted (often they come coloured), clay plaster is not suitable for areas that will regularly be exposed to water such as showers or behind sinks.
Clay plasters to start from around £15 per 25kg bag.
Venetian Plaster
Another traditional type of plaster, like clay and lime, Venetian plaster is a hugely popular finish for internal walls right now.
It is made from fired limestone and water, with no aggregates in the mix. It is finished with a primer and a wax coat and has a beautiful, natural appearance.
On the downside, Venetian plaster doesn't come cheap — it costs from £5 to £20 a metre and applying it per metre can be up to £150 per metre.
Tadelakt Plaster
A form of lime plaster, tadelakt is also sometimes called Moroccan plaster and gives a beautiful, natural, rustic finish that suits both traditional and contemporary interior schemes.
One of its main benefits is that it is waterproof and highly durable, making it perfect for all kinds of applications, including wet rooms and kitchens.
Marmorino Plaster
Another lime-based plaster, Marmorino is made from lime putty, primarily slaked lime, and ground marble.
It can be applied in a number of ways to product a variety of effects, from matt to glossy and even to look like natural stone or polished marble.
Types of Gypsum Plaster Explained
Along with all the different materials that go into making the various types of plaster explored above, you will also notice, when shopping around for gypsum-based plaster, a number of terms relating to how they should be used.
The most common of these are:
Browning plaster: This is used as an undercoat, designed to be applied to the wall before a finish coat (skim coat). It is ideal for use on absorbent surfaces such as bricks.
Bonding plaster: This is similar to browning plaster and is used before a final coat is applied. However, it tends to be more popular as it doesn't rely on an absorbent surface and has amazing sticking ability.
Thistle plaster: This brand name from British Gypsum but has become shorthand for a finish coat and can be used on plasterboard, or as part of a two-coat system.
Carlite plaster: Also used as a finishing coat and suitable for a wide range of substructures, this type of plaster takes longer to set than Thistle.
Hardwall plaster: Another plaster used as an undercoat, it is best used for masonry backgrounds in sound condition.
One-coat plasters: These can be used as both an undercoat and a final finish. They tend to be thicker than other types of plaster and are best used for smaller repair jobs as opposed to entire walls. (Unlike the gypsum-based one-coat plasters, there are now one or two lime-based plasters on the market designed to cut down on the longer curing times usually associated with lime. These are still breathable but have a few added ingredients such as chalk and sand.)
Get the Homebuilding & Renovating Newsletter
Bring your dream home to life with expert advice, how-to guides and design inspiration, direct to your inbox.
Natasha is Homebuilding & Renovating's Associate Content Editor and has been a member of the team for over two decades. An experienced journalist and renovation expert, she has written for a number of homes titles. Over the years Natasha has renovated and carried out a side extension to a Victorian terrace. She is currently living in the rural Edwardian cottage she renovated and extended on a largely DIY basis, living on site for the duration of the project. She is now looking for her next project — something which is proving far harder than she thought it would be.