Painting Over Mould: How and When you Should do it
By Steve Jenkins published
Painting over mould can help restore your home to looking its best, but how do you do it? And what prep do you need to do? Our expert explains all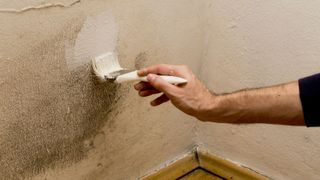 (Image credit: getty images)
While painting over mould will temporarily hide its ugliness, it won't resolve the issue by itself. Mould will continue to grow unless properly treated and eventually reappear, bringing the same problems as before.
If you've got mould growing on your walls or ceilings you need to be dealing with it as quickly as possible. Mould is a health hazard, it produces irritants that can cause allergic reactions when inhaled, especially in vulnerable people.
However, painting over mould is the same as painting a wall ordinarily, and you need to take steps to ensure your paint job holds up and the mould doesn't return. Here, our expert decorator explains the best practice for painting over mould.
How Should you Treat Mould Before Painting?
Mould needs to be treated before any paint touches the wall or ceiling. There are a few products on the market that you can use to get rid of mould such as No Nonsense Mould & Mildew Cleaner, Ronseal 3 in 1 Mould Killer and Zinsser Mould Killer & Remover. But, these only get rid of mould temporarily if the underlying issue isn't dealt with.
Alternatively, you can make your own mould remover with two parts bleach and ten parts water. This is ideal for getting rid of surface mould. Put in a spray bottle and spray onto the wall. Wipe with kitchen roll and use it only once and throw it away. But be careful, as it's not good for your health to breath in too many bleach fumes. Make sure to wear a mask and rubber gloves. If you want a more effective DIY mould killer, mix water and vinegar and spray onto the wall.
If the wall finish has been damaged by mould or moisture, you'll need to ensure clean, dry and free from anything that will interfere with the adhesion of the materials to be applied. "Remove loose and failing material by scraping or brushing with a stiff bristle brush to a sound edge," says the Zinsser technical team. "Feather sound edges with a fine grade abrasive paper. Remove all visible signs of organic growth and treat the areas with Zinsser Mould Killer in accordance with the manufacturer's instructions. Allow to dry."
If you have wallpaper on the walls it is best to remove first before spraying and cleaning.
What Causes Mould on the Walls?
However, to ensure that mould really doesn't return, you need to address the cause. This may be something like a leak, or it may be a high level of humidity - moisture in the air - indoors, something that can generally be sorted by looking at your home ventilation.
Damp is a potential cause of mould too, for which there are many causes. Look into how to treat damp for more advice on this.
Once the cause of the problem has been dealt with, then it's time to start painting.
How to Paint over Mould
Once you have cleaned off any mould and allowed the area to dry, remove any flakes of paints that may still be hanging around. You need a clean, dry, flake-free surface before you start.
1. Apply Mould Resistant Paint
Start by applying your mould resistant paint (see below) with a brush. Make sure that you apply a good thick but even coat to cover the stains and leave to dry. If another coat is needed apply as before and let it dry as per the manufacturer's instructions.
2. Add a Coat of Oil-based Paint
Once the mould resistant paint is fully dry apply a coat of oil-based paint like Dulux Trade White Undercoat or any oil based paint that you might already have with a brush and leave to dry. This helps create a water-resistant layer that will help even more to keep mould at bay.
3. Apply Your top Coat
Finally apply your top coat - typically emulsion - with a brush or roller. Ideally a roller will get a better more even finish. If putting up wallpaper, leave the wallpaper to dry out completely for 24 hours - then paint your walls or ceiling with your paint of choice.
What is the Best Anti-mould Paint?
Once you have eliminated the cause of the mould and given it a good clean and let the area dry out you need to find a good anti-mould paint to help prevent any mould reappearing. Polycell One Coat Damp Seal from Amazon (opens in new tab) and Zinsser Perma White Mould Resistant Paint from Amazon (opens in new tab) are good options. They resist moisture and steam and deter mould growth. They're tough and washable but only available in white.
An alternative option is to purchase an anti-mould additive that you can mix in with your everyday paint to give mould resistant capabilities. This Kair Anti-Mould Additive from Amazon (opens in new tab) is a good choice. One 50ml pot converts any 2.5 litre tin of emulsion or gloss into a mould-resistant paint. Great if you can't find an anti-mould paint in the colour you want.
Steve is an avid DIYer with over 20 years of experience in transforming and renovating homes. He specialises in painting and decorating, but has strong all-round building skills, having previously worked in the industry for 10 years.
Homebuilding & Renovating Newsletter
Get the latest news, reviews and product advice straight to your inbox.
Thank you for signing up to Homebuilding. You will receive a verification email shortly.
There was a problem. Please refresh the page and try again.