7 Housing Market Predictions for 2022
By Jack Woodfield published
From house prices to building materials, we glean expert insight as we make these housing market predictions for the new year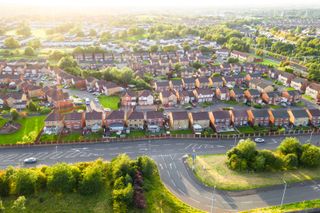 (Image credit: Getty Images)
2021 has been a mixed year for the housing industry, with the market buoyed by seemingly never-ending increases to house prices while a shortage (and rise in cost) of building materials has hit construction firms as well as self builders and renovators.
The Omicron variant adds another level of uncertainty heading into the new year, with ministers at the time of writing refusing to rule out a post-Christmas circuit breaker to ease the spread of the virus.
However, with Help to Build and new Building Regulations taking effect next year, there's plenty of self build news to keep abreast of, while the Boiler Upgrade Scheme launching in April will be a milestone initiative for those renovating their home or improving its energy efficiency.
Featuring expert insight, here's our seven housing market predictions for 2022.
1. House Prices Will Keep Rising
House prices surged to record highs in 2021, even in the second half of the year following the end of the stamp duty holiday. And while some believe the market could yet cool in 2022, the combination of stronger buyer demand coupled with a shortage of available properties means that the market could remain healthy for a while to come.
Zoopla predicts that house prices will increase by 3% in 2022, and while it predicts mortgage rates will rise modestly, this is more likely to impact sales volumes than house prices.
Rightmove also expects prices to increase next year, but by around 5%. It added in December that available housing stock for sale hit the lowest level per estate agency branch ever recorded by the property website.
2. The Building Materials Shortage Will Continue
The construction materials shortage has majorly impacted the construction industry this year, as well as those working on self build, extension or renovation projects. Prices have soared, to make matters worse, and the problems won't be ending anytime soon.
The Construction Leadership Council (CLC) said in December that it "anticipates the return of pressure on supply chains to deliver products as construction activity remains strong next year, with longer lead times and further price increases anticipated."
Bricks and blocks will continue to remain in short supply, and demand for roof tiles will continue to return long lead times (around 24 weeks, on average).
Timber supplies had looked to be easing over the past few months, but these are now expected to remain uneven going into 2022, the CLC has said. This projection has been echoed by the Timber Trade Federation, which warns that some timber products will remain under pressure well into 2022. One reason for this is the challenges in securing HGV drivers to transport goods from port to warehouses and building sites.
3. Interest in Heat Pumps Will Soar
The heat pumps revolution will continue in 2022. The Boiler Upgrade Scheme will afford homeowners with grants of up to £5,000 or £6,000 from April to have heat pumps installed, with the government actively working with industry to lower the cost of installation.
There was a 6,700% increase in heat pump training enquiries reported on the day after the Boiler Upgrade Scheme was announced, and the government will continue to step up its efforts to train new installers to meet its aim of installing 600,000 heat pumps in homes per year by 2028.
In a recent Homebuilding & Renovating poll, 43% of respondents said they either owned or would invest in owning a heat pump, while 28% said they were considering investing in one.
4. Hydrogen Heating Trials Will Continue to Advance
Hydrogen heating will not be used to heat our homes until 2026, at the very earliest, the government confirmed in its Heat and Buildings Strategy. But the government's Hydrogen Strategy published in August laid out plans for up to 35% of the UK's energy consumption to come from hydrogen by 2035.
Several trials are ongoing testing the safety and efficacy of hydrogen boilers, and progress is expected to significantly advance in 2022. One of these is an SGN trial in Fife which will see 300 homes in Fife connected to a 100% hydrogen gas network by the end of 2022.
5. Help to Build Will Supercharge Self Build
After months of expectation, the Help to Build prospectus was published in December and revealed more about how the equity loan scheme will work for self and custom builders.
We don't yet have a confirmed launch date (although you can register your interest now to find out more), but we expect the scheme to be a milestone in the development of self build in the UK.
Andrew Baddeley-Chappell, CEO of the National Custom and Self Build Association, says of Help to Build: "It will mean that more people can have the new home they actually want including those with smaller deposits, sound plans and big hopes. The greater choice enabled by this scheme will lead to more affordable and better homes that are more wanted and more sustainable.
"This scheme addresses a key constraint for many custom and self-builders and should in turn empower landowners, enablers and local authorities to ensure that sufficient permissioned land is made available to meet the demand and to build back better."
6. The Planning Bill may not Actually be Stripped Back
The government first unveiled new planning reforms in its summer 2020 white paper, but months of criticism has led to the much-anticipated Planning Bill being pushed into 2022.
Following Michael Gove's appointment as housing secretary in September, it was reported that the Bill would be watered down and remove controversial policies such as a zonal planning system and mandatory housebuilding targets for local authorities.
But Marie Chadwick, policy leader for supply at the National Housing Federation, has described the zoning system as "pretty welcome", adding that while it means people will understand what to expect in their local areas, "there is a lot more to do, for the government to flesh out the detail behind it."
Former housing secretary Robert Jenrick was reportedly dismissed for being unable to convince Conservatory MPs of the benefits of the zonal planning system, so don't be surprised if this policy comes back into focus in 2022.
7. Energy Prices Will Continue to Rise
The crisis over energy price rises this year has led to 25 energy providers collapsing since the end of the summer, affecting more than four million households. And energy bills could rise by as much as £600 to £1,865 next year for a typical dual fuel customer, according to Cornwall Insight.
Investment bank Investec thinks prices will rise even higher, with the energy price cap - set to be reviewed by Ofgem in April - will have to be lifted to £1,995-a-year per household.
If you're on a fixed tariff then you shouldn't be affected by next April's likely increase. However if you're approaching the end of your contract, then your energy supplier may not be able to offer you a cheaper deal due to the current crisis.
Jack has worked in journalism for 11 years and is the News Editor for Homebuilding & Renovating, a role he has had since 2019. He strives to break the most relevant and beneficial stories for self builders, extenders and renovators, including the latest news on the construction materials shortage and hydrogen heating. In 2021 he appeared on BBC's The World at One to discuss the government's planning reforms.
He enjoys testing new tools and gadgets, and having bought his first home in 2013, he has renovated every room and recently finished a garden renovation.
Homebuilding & Renovating Newsletter
Get the latest news, reviews and product advice straight to your inbox.
Thank you for signing up to Homebuilding. You will receive a verification email shortly.
There was a problem. Please refresh the page and try again.