Mortgage Rate Rises: Experts Offer Advice for Self Builders and Renovators
By Jack Woodfield published
Ahead of looming mortgage rate rises, those planning on renovations or self builds will have to be savvy when shopping for mortgages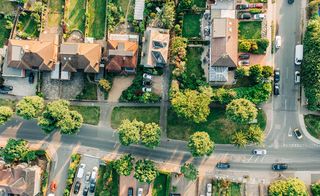 (Image credit: Getty Images)
Mortgage rate rises are expected over the winter which could impact millions of homeowners, as well as those planning to take out self build mortgages or renovation mortgages.
The reason for the expected rises is due to the growing prospect of interest rates increasing later this year — and the cost of mortgages would be one of the biggest knock-on effects.
Interest rates are currently pegged at 0.1%, but the rate of inflation for September stood at 3.1% (the government's target was 2%), and it is being widely reported that the Bank of England could increase interest rates to curb rising inflation.
Should interest rates increase, it would have a large impact on the whole economy and especially on the housing market. And there's already uncertainty within the market following the end of the stamp duty holiday, which fuelled rapid growth in activity and pushed up house prices.
Here's the latest on how mortgage rate rises could affect you, as well as who could be impacted.
Who'd be Impacted by Mortgage Rate Rises?
Mortgage rates are heading for the biggest surge since 2008, The Mirror reported this month, and homeowners on tracker deals may see an immediate change to their monthly payments. This is because their rates are directly pegged to interest rates.
An increase in interest rates would also affect homeowners paying a standard variable rate (SVR), as lenders would adjust their borrowing rates.
Those on fixed rates won't be affected until their deal ends, when they would revert onto their lender's SVR rate, but they may then find it harder to access cheaper deals.
The Telegraph reported this month that markets expect a 0.5 percentage-point climb on a new two-year fixed rate mortgage by the end of the next year. This could add an additional £50 per month to the cost of paying off a typical £200,000 mortgage.
How Will Renovators be Affected?
Interest rate rises could affect those renovating a house in a couple of different ways. Those who've taken out a loan to fund their project could find that a rise means the project will cost more to complete. And renovators who intend to live in or keep and rent out a property may experience problems due to the cost of refinancing as mortgage prices surge.
However, renovators purchasing properties with the intention to flip shouldn't be too affected, according to Holly Andrews, managing director of KSI Finance. "The demand for housing still massively outweighs the supply and a rise in mortgage rates shouldn't affect this too noticeably as those who can still afford to move/purchase properties to rent out will still do so."
As for renovation mortgages, it is likely that those on tracker or variable mortgages will be affected if interest rates rise. But as with conventional mortgages, those on fixed-rate deals will be unaffected.
For aspiring renovators, Andrews has this advice: "If you're looking to apply for a renovation mortgage now, then it's important that you shop around to find the best rates and terms. Most importantly, you need to look at your options in terms of fixed interest rates. If you can secure a fixed rate loan while mortgage rates are still low then this will stop you from being affected if and when mortgage rates increase.
"If interest and mortgage rates do rise as projected, then we don't expect them to drop again any time soon; and definitely not to the 0.1% that they are at now. So if renovators can secure loans and mortgages at the current rates then this should definitely be a priority."
What About Self Builders?
Self builders will also have to be aware of any changes to interest rates, but David Lownds, head of marketing & business development at Hanley Economic Building Society, expects that mortgage rates will remain low. This is because "lenders have lots of liquidity due to the pandemic and therefore they need to make a return on this liquidity," he said.
As for self build mortgages, they are a relatively short-term funding option that operate differently to conventional mortgages. Self build mortgages offer stage payments, based on the cost of each stage of work, rather than the level of available funds being dependent on a lender's valuation during the build.
And while interest rates are a key element of the cost of a mortgage, many products in the market have associated fees which also need to be considered.
"At Hanley Economic, for instance, our average project takes 19 months to complete and after receiving the final completion certificate we offer a lower rate of interest as our risk reduces accordingly, without financial penalty to the customer — therefore any rate increase to self build mortgages should be viewed in this context," says Lownds.
Lownds too stresses the benefits of seeking mortgage advice at the earliest point in a project, so aspiring self builders can access the most appropriate self build mortgage for their projects.
When Might Interest Rates Rise?
The Bank of England will hold its final two interest rate meetings on 4 November and 16 December, where it will consider factors such as the rate of inflation, economic growth and the employment rate.
Inflation is being driven up by worldwide supply shortages, including the construction materials shortage, while the UK employment rate stood at an estimated 75.2% in September, 0.5 percentage points higher than between February-April.
Plus, energy price rises are set to hit millions of homes this winter, and a shortage of cheaper fixed rate energy tariffs will prove problematic for those shopping for a better deal.
These factors could all contribute to rising interest rates, and The Times reports that predicted rate increases could begin with a rise of 0.15 percentage points in December, which would take the base rate to 0.25%.
Jack has worked in journalism for 11 years and is the News Editor for Homebuilding & Renovating, a role he has had since 2019. He strives to break the most relevant and beneficial stories for self builders, extenders and renovators, including the latest news on the construction materials shortage and hydrogen heating. In 2021 he appeared on BBC's The World at One to discuss the government's planning reforms.
He enjoys testing new tools and gadgets, and having bought his first home in 2013, he has renovated every room and recently finished a garden renovation.
Homebuilding & Renovating Newsletter
Get the latest news, reviews and product advice straight to your inbox.
Thank you for signing up to Homebuilding. You will receive a verification email shortly.
There was a problem. Please refresh the page and try again.