Nutrient Neutrality Concerns Leave Self Builders in Planning Limbo
Concerns over nutrient neutrality in UK rivers means thousands of self builds are stuck in the planning process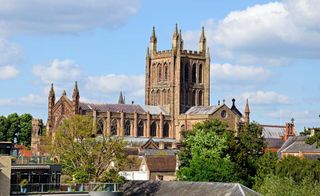 (Image credit: Getty Images)
Problems with 'nutrient neutrality' in UK rivers mean thousands of self build projects are currently stuck in planning limbo, and the situation is getting worse.
Pollution in rivers is affecting self builders in several areas of the UK, who are facing planning delays and obstacles while councils strive to restore nutrient neutrality in the rivers. 
Affected counties include Herefordshire, Powys and Somerset, with concerns essentially shutting down housing development in some areas, even for self builders who already have planning permission to build on their plots. 
Thousands of self build projects across the UK are affected, according to Herefordshire's Construction Industry Lobby Group (HCILG), which sent a letter this month lobbying MPs and councillors to develop new plans to help resolve the issue. 
If you're in the midst of planning a self build in a rural area, here's what you need to know.  
What is Nutrient Neutrality?
Nutrient neutrality generally refers to the balance of nitrogen and phosphorus found in river water. Excess nutrients typically come from sources including farming waste and discharge from sewage treatment works, but they also come from homebuilding, and this can increase levels of phosphate entering the watercourse.
If these nutrient levels are too high, then an area might be deemed by Natural England to be unsuitable to build on because it can cause seasonal algae bloom, which restricts the growth, distribution and variety of food and oxygen for native bird species and marine life. This is especially pertinent in Special Areas of Conservation (SACs), which are protected by European Habitats Directives. 
In 2019, Natural England advised some councils with failing SACs not to approve housing schemes which were not able to demonstrate nutrient neutrality.
Who's Been Affected?
In June, BBC Countryfile revealed that more than 30,000 homes in eight English rural counties are on hold, and this number is set to grow. 
Self building in Herefordshire has been restricted for almost two years, even for those with planning permission, because they can't get drainage planning conditions approved.
The council imposed a moratorium on housing development in 2019, covering around 40% of the county, because of phosphate contamination in the River Lugg, and this has resulted in around 1,650 unbuilt houses being caught up in applications. The HCILG estimates that up to 1,000 of the frozen applications are self and custom build plots. 
Herefordshire Council wrote to the government in June to ask for support in lifting the moratorium, and in the HCILG's letter to MPs this month they called for the development of a new Nutrient Management Plan to end the two-year housing moratorium.
The issue is also affecting Powys which borders the River Wye, an SAC habitat which is a tributary of the River Lugg. The density of poultry farms in the Welsh county has been linked to the deterioration of rivers in Wales, including the Wye, and in January planning permission was revoked for a 111,000-bird poultry unit following opposition from campaigners.
Elsewhere, nutrient pollution in the River Solent has led to Hampshire, Somerset and Kent all since being placed under some planning restrictions. And in June Cornwall Council announced a temporary pause on development in the River Camel SAC due to growing phosphate levels. 
What Can Self Builders do?
If you've bought a self build plot with planning permission but cannot build, Herefordshire Council has this advice: "Take advice from a reputable consultancy on what alternative drainage measures could be put in place or what alternative proposal could be put forward to mitigate the expected impact from the phosphates from their development."
If you haven't yet purchased your plot, Craig Alexander, a chartered architect at Oakwrights, says: "Research your plot very carefully before purchasing. Even if a site has planning permission, there can be hold-ups discharging reserved matters, planning conditions or amending designs.
"Research on-site mitigation measures, for example, if it can be demonstrated that your site will be 'neutral' for impacts on the relevant compound."
Jack is News Editor of Homebuilding & Renovating and strives to break the most relevant and beneficial stories for self builders and renovators. Having bought his first home in 2013, he and his wife have renovated almost every room and recently finished a garden renovation. Jack reports on all of the latest news that could affect your project.
Homebuilding & Renovating Newsletter
Get the latest news, reviews and product advice straight to your inbox.
Thank you for signing up to Homebuilding. You will receive a verification email shortly.
There was a problem. Please refresh the page and try again.