Nutrient Neutrality: 'Positive' Government Response Welcomed by MPs
By Jack Woodfield published
Thousands of self build projects remain in limbo due to nutrient neutrality, as the government sets it stall for tackling the backlog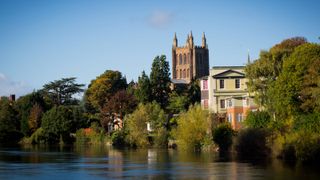 (Image credit: Getty Images)
The government has responded to nutrient neutrality concerns by rejecting calls to impose tougher sanctions on developments that pollute the country's rivers.
Growing fears over river pollution in the UK led the Environmental Audit Committee (EAC) to warn in January that a "chemical cocktail of sewage, agricultural waste and plastic" was impacting our rivers.
A salient impact of this pollution is that it has stalled proposals for homebuilding in many areas across the UK, including Herefordshire, Powys and Somerset. Thousands of self build projects are estimated to be stuck in planning limbo due to pollution in rivers, leading to planning delays and obstacles while councils strive to restore nutrient neutrality in rivers. And the solutions to progress a project can be costly.
One of the EAC's recommendations in its January report was for tougher rules to be imposed on developments that pollute nearby water bodies through sewage, wastewater or run-off from construction sites. The government rejected this recommendation, but it did call for stricter rules on planned housing schemes that risk increasing river pollution, and announced new targets for water companies to eliminate the harm any sewage discharge causes to the environment.
Philip Dunne MP, EAC Chairman, said of the government's response: "The government response to our report is broadly positive, and I welcome moves to significantly improve the amount and analysis of monitoring, to hold water companies to account and better understand the dangerous chemical cocktail coursing through our waterways."
What is Nutrient Neutrality?
Nutrient neutrality is the demonstration of zero additional nutrient contribution to rivers, estuaries and wetlands - in other words showing that a proposed development won't add to the current nutrient load, or may even reduce it.
Excess nutrients typically come from agriculture and sewage treatment works, and while they can come from private treatment plants, the aforementioned report from the Environmental Audit Committee (opens in new tab) earlier this year did not identify homebuilding as a major contributor.
If these nutrient levels are too high, then an area might be deemed by Natural England to be unsuitable for development because excess nutrients can cause seasonal algae bloom, which restricts the growth, distribution and variety of food and oxygen for the complex network of river ecology. This is especially pertinent in Special Areas of Conservation (SACs), which are protected by European Habitats Directives.
In 2019, Natural England advised some councils with failing SACs to prevent housing schemes which were not able to demonstrate nutrient neutrality. Since then housebuilding in some catchment regions has been on hold due to high nutrients in the soil and water.
And in March, Natural England advised another 42 local authorities that development in some catchments cannot go ahead unless they are nutrient neutral – meaning an estimated 120,000 homes are now being delayed across 74 local authorities because of the issue, according to the Home Builders Federation.
Who's Been Affected?
Failure to evidence nutrient neutrality has led to moratoria on new homebuilding in areas including Herefordshire's River Wye and the Lugg, the Solent region, South Somerset and Hampshire.
Herefordshire Council imposed a moratorium on housing development in 2019, covering around 40% of the county, because of phosphate contamination in the River Lugg catchment, and this has resulted in around 1,650 unbuilt houses being caught by the ban. The Herefordshire Construction Industry Lobby Group (HCILG) estimates that around half of the frozen applications are potential self and custom build plots.
The issue has also affected Powys which borders Herefordshire, but is also part of the Wye SAC. In both Powys and Herefordshire the density and number of intensive poultry farms in the catchment has been linked to the deterioration of rivers including the Wye.
Elsewhere, nutrient pollution in the River Solent has led to Somerset (which has around 11,000 homes delayed in a backlog), Hampshire (around 16,000) and Kent all since being placed under planning restrictions.
What Can Self Builders do?
Concerns over nutrient neutrality has left self builders "virtually powerless" when it comes to building their home, says Merry Albright, creative director of Border Oak and co-chair of the Herefordshire Construction Industry Lobby Group (HCILG).
Even self builders who already have planning permission to build on their plots aren't able to break ground in areas where housing development has been shut down.
"For those who've already bought their plots, they're stuck - especially if the planning permission has run out, and it's not a given that they're going to get planning permission again," said Albright.
Self building in Herefordshire has been restricted for two and a half years, and even some schemes with planning permission have been impacted because drainage proposals or changes to an approved scheme must show nutrient neutrality using a very tough set of criteria - or by applying a complex set of calculations and offering mitigation or betterment (which is very hard to do on small schemes).
One solution that has been introduced in regions such as South Hampshire and the Isle of Wight is a "nitrogen credit" scheme, where homebuilders can offset their nutrient footprint by purchasing credits created by the formation of new wetlands, meadows or woodlands to stop nitrates leaching from farmland or from sewage treatment plants.
Herefordshire Council phosphate credit proposal for 🏠 just publishedConstructed wetland tertiary treatment on rural waste water plants to provide 'neutrality' + 20% set aside for river restoration£14,000 per kg of P offset = approx £10.3k per rural dwelling + fees & calcs etcMay 20, 2022
And this month Herefordshire Council published its phosphate credit proposal (opens in new tab) for homebuilding, an innovative Integrated Wetlands credit plan which will be available to self builders and could benefit those who've already purchased a plot and submitted an application.
However, the combined cost of the credits (£14,000 + VAT per kilogram of offset required per year) together with the required phosphate assessment, legal work, nutrient consultant specialist and draining engineer specialist could add up to around £10,000 per rural dwelling, according to Albright.
Albright said of the proposal: "The wetlands are an exciting nature based solution for a really complex issue and Herefordshire Council are to be applauded for working with local stakeholders including developers and landowners to try and find a way forward.
"I'm a little worried about the cost of the offsetting credits and the remaining technical hurdles that the team at Herefordshire Council need to overcome to meet Natural England's expectations of certainty but appreciate the huge amount of complex work that has been put in to finding a way to enable house building to resume after a crippling hiatus that has had a huge impact upon the county and communities."
An alternative approach self builders can take is to provide neutrality by buying and taking land out of intensive agricultural production, but this will be more expensive.
What if I am Looking for a Plot?
Albright states that being aware of the issues that might impact self builders is imperative if you're looking to build as the nutrient issue could well impact more regions soon.
"My advice would be to seek guidance from the local authority, planning agents, architects and construction companies working in your chosen area to see if there are ecology restrictions," Albright said.
If you've bought a self build plot with planning permission but cannot build, Herefordshire Council has this advice: "Take advice from a reputable consultancy on what alternative drainage measures could be put in place or what alternative proposal could be put forward to mitigate the expected impact from the phosphates from their development."
What Happens Next?
The government said in its response to the EAC that it will focus on reducing pollution at source to ensure that building sites can be recovered 'as a priority'. However it is unclear how this will be actioned. It will also support sustainable development in catchment areas.
MInisters added that planners "should understand risks to the water environment when considering granting permissions, but care should be taken in balancing the role of different public bodies in managing pollution risks".
Mr Dunne MP said of the response: "Improving water quality in our rivers is not an easy task and will not be solved overnight. In 2021, sewage poured into our waterways over 370,000 times: this is simply unacceptable. But the government has clearly been listening and ministers have shown a determination to engage constructively with the committee's recommendations.
"The Committee will continue to hold the Government, its arms-length bodies and the water companies to account as they implement these plans to improve the water quality in England's rivers."
Jack has worked in journalism for 11 years and is the News Editor for Homebuilding & Renovating, a role he has had since 2019. He strives to break the most relevant and beneficial stories for self builders, extenders and renovators, including the latest news on the construction materials shortage and hydrogen heating. In 2021 he appeared on BBC's The World at One to discuss the government's planning reforms.
He enjoys testing new tools and gadgets, and having bought his first home in 2013, he has renovated every room and recently finished a garden renovation.
Homebuilding & Renovating Newsletter
Get the latest news, reviews and product advice straight to your inbox.
Thank you for signing up to Homebuilding. You will receive a verification email shortly.
There was a problem. Please refresh the page and try again.