Nutrient Neutrality Challenge Means Self Builders Are 'Virtually Powerless'
By Jack Woodfield published
Nutrient neutrality concerns continue to impact self builders in several areas of the UK, who may have to pay thousands of pounds before building work starts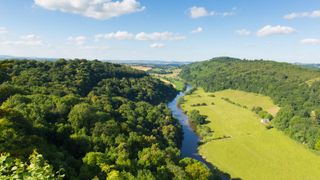 (Image credit: Getty Imags)
Concerns over 'nutrient neutrality' in certain areas of the UK has left self builders "virtually powerless" when it comes to building their home, the director of a bespoke builder has said.
Thousands of self build projects are estimated to be stuck in planning limbo due to pollution in rivers, leading to planning delays and obstacles while councils strive to restore nutrient neutrality in rivers. And the solutions to progress a project can be costly.
Herefordshire, Powys and Somerset are among the affected counties where concerns have essentially shut down housing development in some areas, even for self builders who already have planning permission to build on their plots.
"Self and custom builders are virtually powerless," said Merry Albright, creative director of Border Oak and co-chair of the Herefordshire Construction Industry Lobby Group (HCILG). "For those who've already bought their plots, they're stuck - especially if the planning permission has run out, and it's not a given that they're going to get planning permission again."
What is Nutrient Neutrality?
Nutrient neutrality is the demonstration of zero additional nutrient contribution - in other words showing that a proposal won't add to the current nutrient load, or may even reduce it.
Excess nutrients typically come from agriculture and sewage treatment works, and while they can come from private treatment plants, a report from the Environmental Audit Committee earlier this month did not identify homebuilding as a major contributor.
If these nutrient levels are too high, then an area might be deemed by Natural England to be unsuitable for development because excess nutrients can cause seasonal algae bloom, which restricts the growth, distribution and variety of food and oxygen for the complex network of river ecology. This is especially pertinent in Special Areas of Conservation (SACs), which are protected by European Habitats Directives.
In 2019, Natural England advised some councils with failing SACs to prevent housing schemes which were not able to demonstrate nutrient neutrality. Since then housebuilding in some catchment regions has been on hold due to high nutrients in the soil and water.
It is believed that an estimated 40,000 homes are now delayed across 35 local authorities in England, the Construction Leadership Council said in a letter to housing secretary Michael Gove in November, and thousands of self build projects across the UK are believed to be affected.
Who's Been Affected?
Self building in Herefordshire has been restricted for almost two and a half years. Even some schemes with planning permission have been impacted, because drainage proposals or changes to an approved scheme must show nutrient neutrality using a very tough set of criteria - or by applying a complex set of calculations and offering mitigation or betterment (which is very hard to do on small schemes).
Herefordshire Council imposed a moratorium on housing development in 2019, covering around 40% of the county, because of phosphate contamination in the River Lugg catchment, and this has resulted in around 1,650 unbuilt houses being caught by the ban. The HCILG estimates that around half of the of the frozen applications are potential self and custom build plots.
The issue has also affected Powys which borders Herefordshire, but is also part of the Wye SAC. In both Powys and Herefordshire the density and number of intensive poultry farms in the catchment has been linked to the deterioration of rivers including the Wye.
Elsewhere, nutrient pollution in the River Solent has led to Somerset (which has around 11,000 homes delayed in a backlog), Hampshire (around 16,000) and Kent all since being placed under planning restrictions.
What Can Self Builders do?
One solution that has been introduced in regions such as South Hampshire and the Isle of Wight is a "nitrogen credit" scheme, where homebuilders can offset their nutrient footprint by purchasing credits created by the formation of new wetlands, meadows or woodlands to stop nitrates leaching from farmland or from sewage treatment plants.
Herefordshire Council will be bringing forward its own innovative Integrated Wetlands credit plan later this year, the credits from which will be available to self builders and could benefit those who've already purchased a plot and submitted an application.
However, the cost of the credits is not yet known and together with the required phosphate assessment, legal work, nutrient consultant specialist and draining engineer specialist could add up to £8-10,000 per dwelling, Albright says.
An alternative approach is to provide neutrality by buying and taking land out of intensive agricultural production, but this will be more expensive.
If you've bought a self build plot with planning permission but cannot build, Herefordshire Council has this advice: "Take advice from a reputable consultancy on what alternative drainage measures could be put in place or what alternative proposal could be put forward to mitigate the expected impact from the phosphates from their development."
What if I am Looking for a Plot?
Albright states that being aware of the issues that might impact self builders is imperative if you're looking to build as the nutrient issue could well impact more regions soon.
"My advice would be to seek guidance from the local authority, planning agents, architects and construction companies working in your chosen area to see if there are ecology restrictions," Albright said.
Jack is News Editor for Homebuilding & Renovating, and strives to break the most relevant and beneficial stories for self builders, extenders and renovators, including the latest news on the construction materials shortage and planning reforms. Having bought his first home in 2013, he and his wife have renovated almost every room and recently finished a garden renovation.
Homebuilding & Renovating Newsletter
Get the latest news, reviews and product advice straight to your inbox.
Thank you for signing up to Homebuilding. You will receive a verification email shortly.
There was a problem. Please refresh the page and try again.