What is a Brownfield Site?
An unloved brownfield site could be the perfect spot for your self build, as long as you understand what you're taking on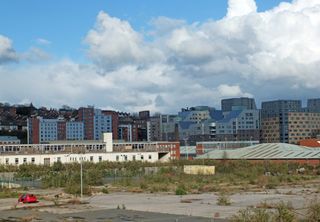 (Image credit: getty images)
Much of the land that was once used for industry in this country now lies redundant. Planners call it brownfield land and everyone is keen to see it brought back to life.
As it's usually located in urban plots, it's ideal for housing, so planners look very favourably on brownfield redevelopment proposals.
What Doesn't Count as a Brownfield Site
Many self build plot sites are not classified as brownfield, including:
garden plots
replacement dwellings
conversions of agricultural barns or other buildings
Challenges of a Brownfield Site
Potential self builders are often very interested in small brownfield sites. However, there are some challenges:
Developers are wary of brownfield sites because they are much trickier to build on.
Builders don't like risks and brownfield sites are almost always risky sites because you can't be sure what you are going to find.
They can also be logistically very taxing, involving thousands of heavy goods vehicles squeezing through crowded streets to get to sites which can themselves be challenging in the extreme.
While the planners might look very favourably at brownfield development in principle, there are lots of complex planning details to satisfy, and neighbours to appease.
Development Potential
Brownfield Site Funding
A £75m Brownfield Land Release Fund (BLRF) launched on 19 April, 2021, which includes a £25m Self and Custom Land Release Fund. 
This only directly impacts local authorities, but will support the delivery of more plots for anyone wishing to self build.
When assessing the development potential of a brownfield site, the list of unknowns is likely to be longer than normal. As such, any lender looking at a brownfield scheme is going to do so through gritted teeth.
Once the site is cleaned up and the planning issues have been resolved, brownfield development resembles other forms of housebuilding. However, there are many hurdles to be cleared before you reach that stage. And because the early stage risk is so large, very few brownfield sites will reach the market in an oven-ready state.
Contamination Issues
It is likely that the land will be contaminated. Sometimes the reason is obvious. If you buy a disused petrol filling station, there will probably be benzene and other petro-chemicals on site. In other instances, the contamination risk may be unclear.
Dealing with contaminated land requires professional risk assessments and this takes time and money. There are also likely to be conditions attached to any planning permission for the site. You have to satisfy the council that the site is fit for development before you start work.
You will have no idea what lies under the ground until a survey is carried out, and this is the main risk that frightens potential developers and lenders.
While the assessment process is slow and expensive in its own right, usually costing several thousand pounds, the problems thrown up by a survey can only be guessed at.
You can take an educated guess, but no one developing a site likes to be faced with costs out of their control.
Demolition
It is likely that a brownfield site will have existing structures such as old garages on it, and this will bring its own challenges:
The structure itself may be in a poor condition and it may be difficult to take down without endangering neighbours and passers-by.
Planners are likely to want to see evidence that these issues have been properly addressed and will require noise and dust mitigation strategies.
Most competent demolition contractors can supply the required paperwork, but it may be a planning condition that all these matters have been attended to before work can start on site.
Asbestos is another hazard commonly encountered in demolition.
Any substantial demolition will require an asbestos survey to identify the type and risk of asbestos present.
Anything that tends to form a dust or powder is highly hazardous and needs ultra-careful handling.
Asbestos cement roofing sheets are a relatively low hazard (as the asbestos is bound into the cement), provided competence can be shown that the sheets can be removed without forming any dust.
Removing asbestos cement sheets doesn't require a dedicated asbestos contractor but it does have to go to a licensed tip and it does have to have a professionally managed system in place for its removal from site.
Traffic Management Plans
Planners often demand traffic management plans to minimise the disruption caused by undertaking a building project in urban areas with restricted access.
This may have a big impact on how a new home can be built:
Can lorries crane off deliveries or is everything going to have to be unloaded by hand?
Can you get a big crane on site?
Can the road be closed off at some point?
Is there an alternative route available?
Do you need to dig up the road?
Are traffic lights needed at some point?
Is there parking for contractors' vans?
You will need to familiarise yourself with the rules and regulations of your local highways department. The easiest way to do this is to meet the council's Street Works team and discuss the type of work you are organising.
There are protocols with attached costs for every activity, such as on-street skip permits, temporary traffic lights and road closures. Many activities can be arranged at short notice but a road closure requires 12 weeks' notice and the permit costs around £1,000. This means that you will need to plan events surrounding such a move meticulously.
Party Wall Act
The Party Wall Act places rights and responsibilities on people developing property that is close to neighbouring properties. It is not specific to brownfield sites, but it may play a significant role in building out small urban sites.
The Act can often make development a much smoother process because it sets out a way of handling neighbour-to-neighbour relations. Regardless of what the law says, it usually pays to work with neighbours from day one and be upfront about what you are trying to achieve and what this involves.
Mark is the author of the ever-popular Housebuilder's Bible and an experienced builder. He's just finished his latest self build.
Homebuilding & Renovating Newsletter
Get the latest news, reviews and product advice straight to your inbox.
Thank you for signing up to Homebuilding. You will receive a verification email shortly.
There was a problem. Please refresh the page and try again.