Energy Saving Tips: Our 8-Point Plan to Lower Your Bills
By Jack Woodfield published
These energy saving tips will help you assess all your options for lowering your heating bills amid the escalating energy crisis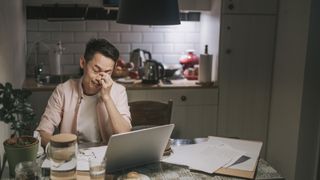 (Image credit: Getty Images)
Finding energy-saving tips ways to reduce the cost of heating our homes has arguably never been so important, with the energy crisis set to continue throughout 2022.
On 3 February, the energy regulator Ofgem confirmed that average energy bills will increase by £693 from April, a rise of 54%. And further energy price rises are expected in October this year.
Rising bills are putting the squeeze on millions of homeowners, especially those already struggling with their energy costs and those who live in energy inefficient homes. Having a plan to help pay for your bills is essential.
We've put together this eight-point plan to hopefully steer you in the right direction.
1. Address your bill payments immediately
This might sound like an obvious point, but if you haven't already, make sure you ring up your energy supplier to confirm what your payments will be for the next few months, and confirm when your fixed tariff ends (if that's the tariff you're on).
You can also ring your supplier to enquire about switching to a new energy deal to lower your bills, or move to another provider instead. Just be sure to analyse each company's exit fees, and opt for one that won't charge the earth if you want to leave.
2. Check if you're entitled to financial assistance
It's worth checking any benefits you may be entitled to, either through your individual wage or total household income. Living alone, for example, is one way you can claim financial assistance.
Nick Drewe, from online discounts platform WeThrift, says: "If you didn't already know, living alone allows you to take advantage of a 25% discount on your council tax bill, saving you hundreds of pounds a year, making a particular difference when prices go up."
You can also claim tax relief of £6 per week if you have had to work from home during the pandemic. And fuel poverty grants are available such as the Warm Home Discount Scheme and Winter Fuel Payment.
3. Immediately restrict heat loss in your home
There are several ways heat loss in a house happens, including through your roof, windows, floor and walls. This can cost homeowners an average of £55 extra per year on their bills, according to MyJobQuote.
Matthew Jenkins, heating expert from MyJobQuote, says: "Before putting the heating on, firstly identify ways in which the heating can easily escape. The most common ways for draughts to escape is through gaps in poorly glazed windows and doors. However, heat can also escape through unused chimneys, unused vents and uninsulated walls."
Cost-effective measures such as adding draught proofing can be a cheap and quick way to help your home retain heat; it can also improve your home's thermal efficiency.
You can add draught proofing around doors, windows, floorboards, which can save you around £30 a year, while draught proofing an unused chimney can save you roughly £20 a year, according to the Energy Saving Trust (EST).
4. Check your boiler is working efficiently
Making simple changes to your boiler can help you save on your energy bills, particularly if you own an older boiler.
In 2020, a campaign called #KillaKilowatt encouraged homeowners to drop the temperature flow on their boilers to 60°C - most factory-made boilers have the temperature flow set around 75°C - which will essentially help your boiler to achieve higher efficiency.
It does this because at 60°C your boiler is more readily able to condense water vapour and recover latent heat from this vapourisation, which would otherwise have been lost up the flue.
You can also check your boiler pressure to make sure it's between 1-2 bars, the ideal pressure for a boiler. "Both low and high pressure can mean problems with heating your home efficiently, resulting in cold spots across the home and costing more money than necessary," says Jenkins.
Additionally, learning how to bleeding a radiator can help to release air trapped in your central heating system, making your radiators more efficient and prevent cold spots being created.
5. Try these quick tips to improve your energy efficiency
The greater-value improvements generally come from making long-term investments in your energy efficiency (which we'll cover later in this article), but there are some quick, affordable improvements you can make now which will have a positive impact. For example:
Swap to LED light bulbs - this could save an average of £100.03 in two years, according to the EST
Use smart plugs - homeowners waste around £80 a year through leaving appliances on standby, the EST says, but using smart plugs and switching appliances off through your phone (even when you're not at home) can help you prevent this wastage.
6. Install heating controls
Most heating controls can be easily integrated into your home without replacing your boiler, and let you control the temperature in each room. Many offer energy-saving functions as well.
Energy efficiency expert Tim Pullen, writing in the December 2021 issue of Homebuilding & Renovating magazine, explains: "Arguably one of the best things we can do is to upgrade our heating control system so that rooms are heated at the time and to the temperature we want, and not wasted on rooms we are not currently using."
Most heating controls cost between £200 and £250, although some prices include installation and some don't. In terms of cost-saving, Nest says its thermostat can save a semi-detached home 3-5,000kWh per year (£135-225), based on use of the various setbacks and 'away' settings that Nest provides.
7. Consider investing in long-term measures
"Long-term measures will help to reduce your reliance on any kind of fuel, which will help you get onto the path of a long-term retrofit, even if it's just small steps at a time," says Paul Testa, founder of Paul Testa Architecture and contributor to Homebuilding & Renovating,
Making sure your home has efficient insulation is a good starting point. Insulating floors, insulating your loft and insulating your roof can all improve your home's energy efficiency.
Replacing your heating system with a low-carbon heating system, such as heat pumps or a biomass boiler can make a big difference too over time. However you may initially need to improve your home's thermal efficiency and upgrade your electricity in order for a heat pump to work efficiently.
You can also make the following improvements to your home:
Install solar panels
Install secondary glazing
Install an MVHR system
8. Check if you're eligible for home improvement grants
Finally, if you're considering making some long-term improvements to your home, check to see whether you're eligible for any government grants.
There are insulation grants and heat pump grants that some homeowners can apply for, as well as the Renewable Heat Incentive (which closes for new applications in March) and the forthcoming Boiler Upgrade Scheme which launches in April.
Jack has worked in journalism for 11 years and is the News Editor for Homebuilding & Renovating, a role he has had since 2019. He strives to break the most relevant and beneficial stories for self builders, extenders and renovators, including the latest news on the construction materials shortage and hydrogen heating. In 2021 he appeared on BBC's The World at One to discuss the government's planning reforms.
He enjoys testing new tools and gadgets, and having bought his first home in 2013, he has renovated every room and recently finished a garden renovation.
Homebuilding & Renovating Newsletter
Get the latest news, reviews and product advice straight to your inbox.
Thank you for signing up to Homebuilding. You will receive a verification email shortly.
There was a problem. Please refresh the page and try again.