Shades of Grey Paint: Experts Share Their Top Picks
By Luke Arthur Wells published
Top interior designers share their favourite shades of grey paint to inspire your next renovation or DIY project, plus tips for how to decorate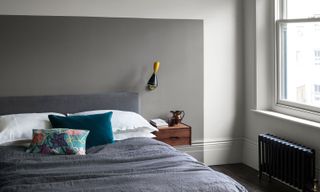 (Image credit: Paint & Paper Library)
With so many shades of grey paint to choose from, it can feel a little overwhelming to try and find the one that looks right in your room. Grey has been a popular colour in interiors for a long time, and though it's taken a bit of a dip in recent years as warmer neutrals have come into fashion.
However, grey is predicted to be making a comeback as an interior design trend for 2022, so you can expect to see plenty of walls painted in this versatile shade over the next year.
If you're painting a wall and have yet to find the right shade of grey, don't fear. To help you find the right shade for your space, we asked five interior designers to give us the inside scoop on their favourite shade of grey paint, plus advice for when and where to use it in the home.
1. Little Greene's Portland Stone
Portland Stone from Little Green is Brighton-based interior designer Barbara Ramani, of Barbara Ramani Interiors, go-to grey for a small living room idea. This colour was originally created as a match to Portland Stone, and used to paint the exterior of Victorian homes.
"A warm grey with hints of yellow and brown, it sits within the green family and works beautifully alongside other shades such as Brunswick Green and Sage Green," says Barbara.
"Its putty, earthy tones will give warmth and depth for north-facing living room," she suggests. "Add natural woods and stones for a neutral, minimal layered scheme."
Portland Stone is available in a tonal palette from Little Greene, including the basic Portland Stone shade, as well as a Light, Pale and Dark version of the paint.
2. Vintage by Graphenstone
If colour isn't the only important thing to you when choosing a paint for a room, then interior designer and broadcaster Micaela Sharp's suggestion of eco paint Graphenstone might be right up your street. Her favourite grey from the range is Vintage.
"It's a soft cooling grey, but, most importantly, it's a sustainable and environmentally-friendly paint and actually absorbs CO2. Graphenstone is a multi-award winning paint and is certified gold Cradle to Cradle."
Other benefits of this paint include that its virtually odourless, chemical-free and creates an ultra-matt finish.
3. Paint & Paper's Library Slate
For interior designer Julia Alexander, Slate from Paint & Paper Library offers the versatility needed to create a well-rounded colour scheme.
"It has a whole graduated range of tones from an off-white to charcoal, which makes it super versatile and means you can use lighter or darker tones from the same family in the room when painting a ceiling and walls," she says. "I love it in a living area with warm woods."
There are five separate shades within Pint & Paper Library's Slate family, from I to V, lightest to darkest.
4. Valspar's Silver Thistle Down
A brand like Valspar at B&Q offers an almost limitless selection of grey tones, especially when you factor in their colour matching service. But it's easy to get colour fatigue trying to sort between slightly differing tones, so we asked Omar Bhatti, creative director and founder of Space Shack, for his top pick.
"Silver Thistle Down has been a staple grey colour which has worked perfectly in many of my projects," he tells us, "whether in a living room, hallway or bathroom — the tone just seems to work in all areas."
This classic, warm grey is a great choice for a wall panelling idea — working in both a traditional and more contemporary scheme.
5. Farrow & Ball's Purbeck Stone
Farrow & Ball couldn't not feature in our list of the best grey paints, and for interior designer Janet Hanson of Studio Hanson, Purbeck Stone, a very warm grey, is one of her favourite shades of grey paint.
"Whilst interior design trends are moving away from the stronger steely greys, some of the more nuanced greys can work really well as a modern, neutral backdrop," she explains.
"I'm currently painting my own hall panelling Farrow & Ball's Purbeck Stone to add warmth and depth to a dark space and create a foil for some very bright and colourful art."
How do I Decorate my Home With Grey?
Grey is a neutral with colder, blue tones to it, and even on the warmer end of the scale it can do with some warming up. Combining grey with naturally warm-toned materials such as wood or rattan is a good place to start in making a grey interior scheme feel more cosy.
As a tonal neutral, grey has an affinity to mix with almost every colour: greens, reds, yellows, pinks, blues all make a good accent for a grey scheme. However, be wary that darker grey and black can both create an unnatural contrast when mixed with an equally bold shade of colour. This may work for some schemes, but it's at odds with the trend for calming, restful interior house design ideas we're seeing at the moment.
If decorating with an all-grey palette, play around with tonal shades of grey, white and black and don't forget to add texture into your design to give it some interest. Tactile textiles, wall panelling, rugs and artwork can all be used to stop a grey scheme falling flat.
Luke Arthur Wells is an award-winning interiors blogger and stylist. His blog has been one of Vuelio's top 10 interior blogs for four years running, and he recently won the Best Creative Skill category at the Amara Interior Blog Awards. Luke has worked with some of the UK's biggest brands, from John Lewis and Made to Farrow & Ball and B&Q. He's a big DIYer, and loves coming up with creative woodwork projects for his home, a Victorian terrace renovation in Essex.
Homebuilding & Renovating Newsletter
Get the latest news, reviews and product advice straight to your inbox.
Thank you for signing up to Homebuilding. You will receive a verification email shortly.
There was a problem. Please refresh the page and try again.