Eco Paints: A Guide to Healthier Home Decorating
By Hugh Metcalf published
Eco paint is not only good for the environment, it's a way to create a healthier home. Here's what you need to know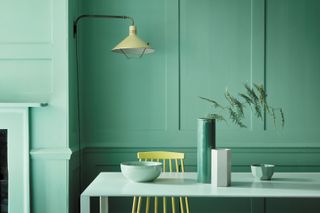 (Image credit: Little Greene)
Eco paint is a subjective term rather than a fixed set of characteristics. While some brands will describe their paint as environmentally-friendly due to low levels of potentially harmful fumes, others will go further — ensuring natural ingredients, recyclable materials, low-waste processes and a low carbon footprint.
However they're categorised, for those looking to paint a room, eco paint not only offers an ethical choice but a healthier one for those living in the home.
We asked the experts to bust the jargon surrounding paint so you can make an informed choice on your purchases while decorating, plus take a look at the best eco paints on the market today.
What is Eco Paint?
In general, the term eco paint is used to describe a paint that emits only a very low level of harmful chemicals known as Volatile Organic Compounds (or VOCs).
Benefits of Low VOC Paints
As well as being better for your health and the environment, low-VOC paint tends to be virtually odourless, quick to dry and easy to apply.
The VOC contents of paints are regulated by the Volatile Organic Compounds VOC in Paints, Varnishes and Vehicle Refinishing Products Regulations 2012:1715. They require that the VOC content of products, in their intended, ready-for-use state, will not exceed the VOC limits applicable to the relevant product category,
This means limits on VOC levels differ for water-based and solvent-based paints, as well as for different uses and finishes. The lowest levels are required for interior matt emulsion paint at less than 30g per litre. Water-based paints of this nature will now have low-VOC formulas of less than 0.2% as a standard.
Due to a levelling of the playing field in terms of VOC levels in paint, some brands with levels lower than the legal limit coined the terms Zero VOC or VOC Free for their paint.
However, while often negligible in quantity, there are no paints completely free from these compounds. in 2013, paint manufacturers throughout Europe agreed not to use these terms going forward.
What are VOCs?
VOCs (or Volatile Organic Compounds) are chemical compounds that are found in a variety of manmade products, as well as occurring naturally. These compounds are potentially damaging to your health, the environment and contribute to global warming.
In paint, VOCs are not only released during the painting process, but also during the months and years following, reducing indoor air quality and potentially contributing to health issues.
VOCs have been linked to issues such as nausea, headaches, dizziness, vomiting and irritation of the nose, throat and eyes. Links have also been made to certain cancers, neurological issues and internal organ damage, specifically in the case of painters and decorators who once risked prolonged exposure to higher levels of these chemicals.
The use of low-VOC, eco paint is particularly important in nurseries and children's rooms, as children are particularly at risk from VOCs, with studies linking exposure to these chemical compounds to developmental issues.
What Labelling Systems Exist for Eco Paints?
Alongside looking at the label for low VOC content, there are a range of different accreditations for paint which demonstrate their eco credentials.
Accreditations such as EU Ecolabel, AgBB and A++ are all useful logos to look out for. Eurofins Indoor Air Comfort Gold is one to look for and to achieve this the paints will have to pass some of the most stringent tests in the Industry.
"Manufacturers are now looking further than just the ingredients alone, measuring the whole life cycle impact the product has on the planet," says Ben Sturges, Operations Director at Graphenstone. "The 'gold standard' in sustainability is Cradle to Cradle® a holistic framework, where every aspect of the products are tested and evaluated."
Core values of this holistic approach including social ethics, material health, product re-usability, and water and energy conservation, are scrutinized and manufacturers have to continually improve their standards to keep their certifications.
What are the Differences Between Acrylic and Natural Eco Paints?
Acrylic paint contains man made plastics and petrochemicals, while natural paints rely more on products found in nature such as limestone, clay and chalk.
"Natural is often used as shorthand hand for 'healthy, wholesome and eco'. However many traditional, natural ingredients in paint can also be hazardous," says Cathryn Sanders, Creative & Marketing Manager of Earthborn Paints. "When people ask for 'natural' they usually mean healthy and eco friendly, and those are the criteria we use at Earthborn when formulating our paints."
All paints contain some synthetic chemicals as a requisite, for example water-based paints require a preservative to keep them 'fresh'. However, the ingredient make up of your paint will affect the application, appearance and overall eco friendliness.
The use of acrylic, vinyl and oil in paint helps to add durability to your finish, however, it also creates a barrier on the surface of the painted wall which reduces breathability.
"This impervious skin traps in moisture, which can lead to problems such as damp and mould," explains Ben Sturges. "Allergens (such as mould spores) can have an adverse effect on health, and occupants of damp or mouldy buildings are at increased risk of experiencing respiratory problems and infections."
Paints made using natural materials are sometimes characterised as 'breathable' for this reason, yet the lack of plastic content can make these finishes less hardwearing.
What Does Breathability Mean in Regards to Eco Paint?
The terms breathable or breathability are often used in the conversation surrounding eco paint, however, there's some ambiguity in their use.
"Some brands talk about breathability referring to a very low/minimal VOC level," explains Phil Robinson, founder of eco painting and decorating company Paint the Town Green. "However, within the industry breathable can also refer to a paint being micro-porous meaning that the substrates being painted onto can breath and the paint is vapour permeable."
The latter meaning is usually applied to natural paints, including lime, clay and mineral based paints, which are often used either on lime plaster or where damp proofing work has taken place.
What Else Adds to a Paint's Eco Credentials?
While the idea of eco paint may focus on low levels of VOCs, there are other considerations that help reduce a paint's environmental footprint.
These include:
Carbon footprint of transportation,
The amount and conscious disposal of waste generated
Responsible sourcing of ingredients
Powering of factory
Sustainable and recyclable packaging
Paint samples also play a role in the creation of waste and potentially non-recyclable materials. Modern mail-order brands such as COAT and Lick offer eco friendly peel and stick paint swatches as an alternative.
What is the Most Eco Friendly Paint?
Eco paint pioneers
Specialist eco paint manufacturers may be harder to find, but offer exceptional eco credentials. Try Auro, Lakeland, Graphenstone and eicó as a start.
Terms such as natural, organic, eco friendly and green are widely used by paint companies, so it can be difficult to work out which brands are greener than others.
Always pay attention to the ingredients of paint when buying to ensure a more eco friendly choice, but the list below outlines the eco credentials of some of the most popular paint companies in the UK:
Earthborn's Claypaint is one of the most popular eco paints on the market. All Earthborn's paints are water based and free from oils, with Claypaint being totally free from acrylics and vinyl. It carries a range of titanium dioxide free colours, avoid known allergens and keep the levels of preservatives within its paints to an absolute minimum.
Earthborn's tins are made from 70% recyclable materials and are 100% recyclable. Even their colour cards are fully recyclable.
Little Greene's water-based paints carry the industry's lowest eco-rating. Its oil-based paints have been reformulated using sustainable vegetable oils, while its tins are made from 50% recycled metal, and can be recycled again. All paints are made in the UK.
The entirety of Farrow & Ball's paint range is water-based with low or minimal VOC content. The paint cans are infinitely recyclable too. There is zero dry waste from its Dorset manufacturing plant, while 97% of liquid waste is recycled.
Crown
Crown's Breatheasy formula is Asthma and Allergy Friendly Certified with low VOC content and 99% solvent free. Crown also is the first paint manufacturer to have a packaging made from 100% recycled plastic.
Hugh is Digital Editor of homebuilding.co.uk and has worked on a range of home, design and property magazines, including Grand Designs, Essential Kitchens, Bathrooms, Bedrooms and Good Homes. Hugh has developed a passion for modern architecture and green homes, and moonlights as an interior designer, having designed and managed projects ranging from single rooms to whole house renovations and large extensions. He's currently renovating a Victorian terrace in Essex, DIYing as much of the work as possible. His current project is a kitchen renovation which involves knocking through walls and landscaping a courtyard garden.
Homebuilding & Renovating Newsletter
Get the latest news, reviews and product advice straight to your inbox.
Thank you for signing up to Homebuilding. You will receive a verification email shortly.
There was a problem. Please refresh the page and try again.