12 Amazing Self Builds Featuring Structural Insulated Panels
By Sarah Handley published
Get inspired by these self build designs possible when building with SIPs (structural insulated panels)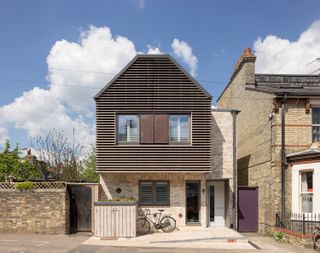 (Image credit: Matthew Smith)
A popular choice for self-builders due to their inherent strength and energy-efficiency, structural insulated panels (commonly known as SIPs) can be utilised for houses of all different shapes, sizes and styles.
Made by sandwiching insulation between two sheets of oriented strand board (OSB), they offer great U Values and excellent airtightness while offering quick construction times.
Take a look below at some of out favourite projects that have been built using SIPs, including build costs and information on the project.
1. A Cantilevered Self Build in Scotland
A Kingspan TEK Building System (supplied by SIPS@Clays) was chosen for the shell of this cantilevered home due to its composite structure ideal for bearing weight.
The self build features double-height interior spaces and came in at just £500 of the original budget thanks to the fast build times
Location: Stirling, Scotland
Build cost: Unknown
2. A Low-cost Passivhaus Built with SIPs
Homeowner Elizabeth Sharpe chose SIPs to build her Passivhaus which also features both quadruple and triple glazing, high levels of airtightness and mechanical ventilation with heat recovery system.
Location: London
Build cost: £245,000
3. A Traditional Oak Farmhouse on Greenbelt Countryside
Ali and Jon Goodwin built their new farmhouse (by Border Oak) to be a working expansion of their family farm in Herefordshire.
They chose to adapt on of Border Oak's Manor House designs as a complete package build.
(MORE: Self Build Routes)
Location: Herefordshire
Build cost: 450,000
4. An Urban Home on a Tight Plot
Due to the small plot size close to the Cambridge city centre, Mark and Mandy Brinkley chose SIPs for their new home.
An off-site construction by Potton reduced the traffic on site.
Location: Cambridge
Build cost: £410,000
5. A Contemporary Kit Home Built on a Budget
Caber House's pre-designed Type C kit home was perfect for Paula Harte's tight budget.
After working with Architeco for a few tweaks to get the design perfect for her lifestyle, Paula now resides in the modern and efficient home.
Location: Elgin, Scotland
Build cost: £220,000
6. An Energy-efficient Barn Style Home
Homeowner Colin Amor chose to build his barn-style home using SIPs to make his home as airtight and energy efficient as possible.
Location: Stirling, Scotland
Build cost: £474,000 (£1,185/m²)
7. Contemporary-style Oak Frame Home
After struggling to find a suitable home when wanting to downsize, Sue Crowe opted for self build. Her contemporary oak frame home features structural insulated panels which were erected quickly and offered remarkable U-values at a reasonable cost.
Location: Suffolk
Build cost: £301,000 (£1,881/m²)
8. Characterful Oak Frame Cottage
Rebecca and Matthew Stenson's oak frame self build has been clad using SIPs and finished externally with a traditional lime render, proving that an understated cottage style can be achieved on a modest budget.
(MORE: House Rendering)
Location: Cambridgeshire
Build cost: £200,000 (£909/m²)
9. An Unusual SIPs Home
Isobel Heyworth's self-designed home has been constructed using SIPs and is considered a benchmark for new houses in her Manchester suburb.
Location: Manchester
Build cost: Undisclosed
10. A South-facing Cornish Self Build
Beccy and Steve Kestin have built an energy-efficient home, choosing SIPs for their fast construction time and airtightness. Despite its extensive use of glazing, the property is superbly insulated thanks to the SIPs.
Location: Cornwall
Build cost: £360,000 (£1,333/m²)
11. Timber Clad Oak Frame Home
First-time self builders Caroline and Julian Owen encased the walls of their oak frame self build in SIPs to satisfy their desire for an energy-efficient home.
Location: Cambridgeshire
Build cost: £941,000 (£2,476/m²)
12. Striking Riverside Self Build
Stephen Yeomans has incorporate SIPs into his head-turner of a self build. The panels were used for the roof and first floor walls, which were then wrapped in an expanded corten steel mesh.
Location: Lewes, East Sussex
Build cost: £850,000
Sarah is Web Editor of homebuilding.co.uk. She began her career more than a decade ago, working on the editorial team of Public Sector Building magazine, before joining the wider Homebuilding & Renovating team as Social Media Editor in 2012. Since purchasing her first house in 2015, Sarah has been adding to the ever-increasing list of home improvements she needs to make; including extending over the garage, resurfacing the driveway, replacing existing flooring and revamping the kitchen. Fortunately, in her eight years on Team Homebuilding, including three as web editor, she is not short on design inspiration or top tips to tackle or project manage these tasks herself.
Homebuilding & Renovating Newsletter
Get the latest news, reviews and product advice straight to your inbox.
Thank you for signing up to Homebuilding. You will receive a verification email shortly.
There was a problem. Please refresh the page and try again.