New Build Garden Ideas: 8 Beautiful Ways to Finish a Project
By Amy Reeves published
New build garden ideas will create the ultimate first impression for visitors — make sure you consider the landscaping early on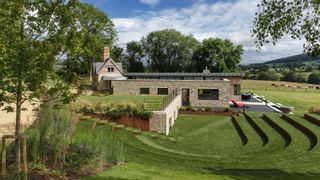 (Image credit: Simon Maxwell)
New build garden ideas need to be considered alongside the design stages of a self-build or extension project. Many homeowners make the mistake of leaving landscaping until the end and feel disappointed when the outside doesn't match their newly-built dream home.
Garden designs are as varied as the home we build, so it is important to take inspiration for your home design to inform materials, shapes and zones for your outdoor area.
New Build Garden Ideas: Where to Start
"You don't need a vast plot — just a few simple rules to make sure the design intent of the house is followed through from the very first moment you set foot within its boundaries," explains landscape designer Paul Hervey Brookes.
"Unlike gardens and spaces that have evolved over time, gardens and landscape surrounding a contemporary new house or extension should be constructed at the same time and follow the same design principles and detailing.
"Many new-build contemporary houses use one or two key materials. The key for the outside spaces is fairly simple: materials used outside should always reflect what has been used on the build. the garden doesn't have to slavishly follow the build materials, but can be done with a light touch; in fact when that is done excessively it looks rather stale.
"If you have built an oak frame home, use this material in the hard landscaping. If you've used slate on the roof, then grey porcelain paving mirroring the colour, or broken slate-covered borders, could subtly link the house and garden."
1. Make a New Build Garden Look Good with Zones
Even if your plot is on the small side, a good landscape design always begins with zones customised to how you will interact with the garden. Think about patio ideas, a space for vegetable growing, a lawn, raised and ground-level beds and trees. Obviously depending on your plot this will mean only a couple of these elements can be included.
Also think about the entryways into the house — is the kitchen the most natural place to enter from the garden — if so, will a deck or seating area be best placed nearby?
This self-build has beautifully embraced their sloping site and used it to zone the spaces. One, for a traditional turfed garden, another for a contemporary rockery and the last for raised rose beds.
2. Encourage Wildlife in a New Garden
After the diggers, tradespeople and scaffolding have disappeared, there may be very little wildlife left on the plot. It is important that we all encourage biodiversity in our gardens so plan your landscaping to compensate for a the previously disruptive build time.
"Even the smallest plot can house a small tree such as a crab apple — Malus Transitoria is particularly good with interesting foliage, blossom and tiny, pearly-like orange fruits in Autumn which small garden birds adore," says Paul Hervey Brookes.
"If you have more space then trees such as Hornbeam (Carpinus), some oaks (Quercus) and the birch family (Betula) can make wonderful additions. These medium-sized trees are an excellent habitat for birds and nearly 1,000 types of invertebrates, so planting just two will not only attract insects more likely to deal with the greenfly on your tomatoes than pesticides, but will also increase the quality of the air in your garden enormously."
3. Get the Front Garden Looking Good
The front garden is the first thing visitors see on their approach to a house so take the time to create a welcoming entrance.
Quick wins could include brightly-planted pots, hanging baskets and fast-growing plants. Longer-term front garden ideas could also include laying seed or turf for a lawn, planting trees that will establish an entry point and hedges that will boost privacy from the road.
While this self-build's front garden hasn't yet been completed, the simple formal garden style with quadrants of turf lined by hedges will give a pop of greenery even if the homeowners moved in over winter.
4. Choose Plants Wisely When Starting From Scratch
New build gardens are gifted with the opportunity of a blank slate. Very few plots come with established flora — if they even survive the building process. Take time to research the soil's PH and adapting the acid levels before buying plants.
"Studies by the Royal Horticultural Society have shown that native is not always best," explains Paul Hervey Brookes. "The rule of thumb is to select plants not only for their garden-worthy characteristics, but more importantly for their food source benefit.
"Big, open simple-structured flowers are best to give pollinators a fighting chance. Happily, this also means you are choosing hardy perennials which not only come back year on ear but also tend to be in flower for longer periods of time."
5. Work to a Landscaping Budget
"Planting gardens always seems expensive; I often think this is because many people make costly mistakes," says Paul Hervey Brookes." Well-planted gardens should be lower maintenance in terms of weeding and provide some form of interest year round, both for you and as a habitat for small birds and insects which are so vital to us.
"If you are unsure, the most cost-effective route is to have a designer or good gardener come round for a consultation. Most garden designers don't necessarily expect that you will want the whole garden designing. You may wish to design in stages, and if you are clear it's a consultation on specific hey will give you a charge for that element. A consultation day can cost from £300 to £1,000, depending on the designer, and will prove very helpful to you.
"I would anticipate mixed planting to cost, approximately, up to £100/m2. If budget is a real concern, befriending a gardening neighbour or join a gardening club and get involved with seed growing, cuttings and potted up 'extras."
6. Extend Living Spaces Outside
When building a home, why stop with the inside? Create fun and functional entertaining space outside with a combined kitchen dining space.
Outdoor kitchen ideas can be as big or small as you require — from a built-in barbecue to a full plumbed in sink and worktop set-up. The main thing to think about with spaces such as these is the route around the cooking area. Just as in a normal kitchen, you don't want accidents happening so be sure to plan enough space for kids to run around and helpers to to-and-fro from inside.
Including garden lighting ideas is also essential in these designs — a torch just won't cut it when cooking at dusk! As always, think task and ambient lighting by preparation areas, and accent lighting along pathways.
7. Create Character in a New Garden
Starting with a nondescript piece of land is often uninspiring, but they key to a new garden design is to create destinations in different areas.
This could be a bench at the bottom of a narrow lawn, or a pond in a secluded area. Make the most of every space by giving it direction or purpose.
Materials in a new garden will also give well-considered charm to spaces. Think about reclaimed wooden sleepers around raised beds, brick retaining wall ideas and outbuildings such as sheds, greenhouses and summer houses.
8. Build a Patio in the Best Position
Although we tend to position our patio ideas directly adjacent to the back of the house, this is often not the most suitable place.
Let the best views and house's orientation to the sun dictate the best position for an outdoor seating area. East-facing patios are perfect for grabbing a coffee in the morning, and ones to the west are great for evening sun (although be aware of wind). South-facing patios are most popular, but if you don't like full sun or being excessively hot, be sure to include patio cover ideas for shelter.
Or, for a more contemporary garden style, place the patio or decking area in the centre of the lawn.
Assistant Editor Amy began working for Homebuilding & Renovating in 2018. She has an interest in sustainable building methods and always has her eye on the latest design ideas. Amy has interviewed countless self builders, renovators and extenders about their experiences for Homebuilding & Renovating magazine. She is currently renovating a mid-century home, together with her partner, on a DIY basis, and has recently fitted her own kitchen.
Homebuilding & Renovating Newsletter
Get the latest news, reviews and product advice straight to your inbox.
Thank you for signing up to Homebuilding. You will receive a verification email shortly.
There was a problem. Please refresh the page and try again.