19 modern garden ideas: How to create a stylish outdoor space
Modern garden ideas need not be reserved for those with contemporary houses — they work just as well as a contrast for more traditional homes. Take a look at our round up of inspirational spaces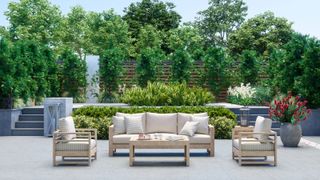 (Image credit: Getty)
Modern garden ideas don't have to be colourless and stark — in fact many of the best schemes really embrace the natural materials and scenery that surrounds them.
While the first thing that tends to spring to mind for many people on the hunt for garden landscaping ideas with a more contemporary twist tends to be vast areas of monochromatic patio, a limited colour palette of plants and the odd piece of unrecognisable garden art, there is absolutely no reason to feel in any way restricted when it comes to creating a modern open air space.
In fact, some of the best design ideas embrace colour, texture and nature yet still manage to look fresh and individual — and our collection of ideas is here to prove the point.
Modern garden ideas
You may well be wondering just how modern garden ideas are any different to classic garden schemes.
"What makes a successful modern garden rather than a classic or traditional style is all in the planning and the use of a strong, structural layout," says Thea Pitcher of Outdoor Creations. "This doesn't have to mean all straight lines and symmetry — circles and other geometric shapes also work very well as do asymmetrical designs. Avoid meandering paths and irregular shapes, which are more traditional in style."
In many ways, Japanese garden ideas follow many of the same design principles, embracing the contrast between dark and light, including water features, incorporating a focal point and so on.
"It's also important to choose the right materials — smooth paving gives an obvious modern look, however using more than one type of surfacing really looks great. Particularly with other textures, such as clay pavers or decking." continues Thea.
1. Capture the sun in a courtyard
Courtyard garden ideas work well in all kinds of schemes, rustic, traditional and contemporary alike.
Not only do courtyards create a nice sense of privacy, but they can also be designed to capture the best of the sun and provide a little shelter from the elements too. Observe how the sun moves around the space and how light will fall on all the spaces within and use planting to soften the boundaries of the space.
When it comes to the design of your courtyard, it can be a good idea to take inspiration from the design of your home. Here, the pale shades and simple form of the house is echoed in the furniture choices and light-coloured decking, while the bold, eye-catching plant choices stand up well to the strong lines.
2. Include a striking outdoor fireplace
An outdoor fireplace not only makes the garden a pleasure to spend time even when temperatures fall, but it can also provide a really striking focal point.
While the best outdoor log burners can do a great job of keeping things warm and cosy, an eye-catching freestanding structure can become a garden feature in its own right and a fixture around which to base the rest of the garden design.
This beautiful outdoor seating area, with furniture from Bridgman, is defined by a tall, hole-in-the-wall style fireplace that not only serves to keep diners warm once the sun has gone to bed, but also acts as a boundary to separate the space from the rest of the garden.
3. Incorporate a natural pond into your scheme
Incorporating water into your garden design is a fantastic idea for many reasons. Not only does it encourage all kinds of wildlife into your outdoor space, but it can also be a very soothing, calming element that can create interesting reflections and relaxing trickling sounds too.
Ponds in contemporary spaces look great when combined with bridges, plenty of planting and a seating area featuring modern, sleek furniture as can be seen in this great example.
4. Build a sleek raised deck for seating
Building some raised decking ideas into your modern garden scheme is a great way to break up the space or to overcome the issues caused by a sloping site. It is also a brilliant way of creating a seamless transition between inside and out, almost extending your interior spaces when the doors between the two are flung open wide.
Do be sure to keep your raised deck in proportion with the rest of the landscaping scheme.
"Make sure you carefully plan how much of your garden you want to cover with decking," say the experts at Garden Buildings Direct. "Too little and you won't have enough space to fit furniture and planters on. But too much and you can lose the natural feel of the garden — leaving no space for wildlife to flourish."
Here, the deck sits beautifully alongside the contemporary home it leads off from, while the materials used echo those used as cladding.
5. Use clipped hedges for structure
Although topiary and formal hedges are usually thought of as being best suited to traditional gardens, they actually work really well in more contemporary spaces too — particularly when used as garden edging ideas.
Good plant choices for modern garden edging include clipped box, as has been used here, lavender, bay and grasses. The ball-shape that the box has been trimmed into here makes a nice change from the usual straight lines used.
6. Cover fences with eye catching climbers
Crisp, sleek fencing can be a great way to create zones or boundaries in a modern garden scheme — but you need to ensure it doesn't look too monotonous or sterile if used over large areas.
The best garden fence ideas for contemporary spaces tend to be hit-and-miss fencing, single or double slatted fence panels or Venetian fencing.
With your fences constructed, think about how you will bring colour and interest to the space that they surround. A great way of doing this is to grow climbing plants up them or to place pots planted with species such as bamboo, grasses and delicate Acers, at the base.
7. Choose a paving material with a difference
When it comes to your garden paving ideas, steer clear of rustic options such as riven flagstones and turn your attention to materials with a difference. Pale porcelain, striking blue/black honed slate, granite and and pale limestone are all fantastic choices for those after a fresh, unfussy look to their patio.
Here, a very eye-catching finish has been chosen — Inlay Terrazzo effect slabs from Tile Mountain which are made from porcelain and have a matt finish.
8. Build a contemporary garden shelter
Including some patio cover ideas into your garden scheme is a great way to ensure that you end up with a space that can be used in all weathers and, with any luck, for more of the year.
When it comes to modern gardens, choose a structure that complements the rest of the space in its size and form. Structures featuring louvred roofs or those fitted with modern canvass both tend to work well.
Here, the Renson Camargue Louvered Canopy by Garden House Design has been used to finish off the patio in style. Made from aluminium, it is equipped with an automatic watertight bladed roof system that can be adjusted for shade or ventilation. Should the heavens open, concealed guide water channels drain the water towards the columns.
9. Let your lighting do the talking
Your garden lighting ideas will play a huge role in the final look of your garden — as well as the way in which you can use the space.
Not only is your outdoor lighting scheme central to enjoying your garden in the summer months, where the right choices mean you can sit out until after dark, but it can also enhance the pleasure you get from it in the winter months, when viewing the space from the comfort of your home.
When it comes to modern garden schemes it really does pay to get a little creative with your lighting ideas, whether that means choosing a selection of eye-catching fittings that draw the eye to the various zones with the space, or turning the lights themselves into a focal point.
The Kettle To Go 36 Battery Lamp from Lime Lace, shown here, can be hung from trees, popped on the ground or mounted on a spike or tripod. The built-in battery lasts up to five hours at full power and longer if the light is turned down, plus the battery is easily charged via the included USB cable.
10. Provide guests with an intimate al fresco dining spot
The patio ideas you choose for your garden can utterly transform the space, allowing you an area from which to entertain guests, settle down with a good book or simply retreat to enjoy the view over the rest of your garden.
Make sure you get the very most use out of yours by equipping it with everything you need to stay comfortable no matter what the weather. This fantastic contemporary patio area has been kitted out with an outdoor fireplace, cosy seating, a dining space and is protected from the elements by a louvred modern pergola from Garden House Design.
11. Play with contrasting colour
Creating bold contrasts in both form and colour works particularly well in contemporary gardens, really drawing the natural elements out visually and creating balance.
In this stunning modern garden, the pale shades of the raised decking area and the items used to furnish it sit in juxtaposition to the lush green of the rest of the space beyond and below. Locating a crisp channel of water between the two is the perfect way to link them in a very organic way.
12. Maximise space with raised seating
Those after small garden design ideas take note. Introducing raised beds that also incorporate bench seating, as has been done here, fulfils several functions in one— providing a spot in which to relax, somewhere to plant greenery and creating a sense of there being multiple levels within the space.
Finishing raised beds in crisp white render and sticking to just one or two pale shades means that even though this is a compact garden, it feels interesting, light and airy.
13. Choose architectural plants
"Along with a crisp, geometric layout, contemporary gardens need plants that fit with a strong, architecturally-driven style," according to the RHS.
Your choice of planting will play a large part in the final look of your space and choosing varieties that are almost sculptural in appearance can really cement a garden's contemporary credentials.
Good choices include bamboo, grasses, ferns, Euphorbia, Crocosmia and beautiful Alliums, as have been used here. Take note of the pleasing variety in heights that has been created between the ground cover, mid-height Alliums and taller trees.
"A modern garden should be bold and afraid to do things differently — borders filled with plants really soften it, but stick to a limited colour palette and repeat the planting," advises Thea Pitcher. "This will ensure the planting is cohesive, looks contemporary and not busy, jumbled or cottage garden like."
14. Create an outdoor living room
Aim to make your garden feel like a space in which to relax and kick back — just as you would try to do with your living room. This way you will get the very most use out of it and look forward to inviting guests over to enjoy the space.
The best ways to do this are to ensure you include great garden lighting, comfy outdoor furniture and include a good mix of textures that foster a sense of warmth and comfort.
Here, the warm cladding used on the house creates a cosy backdrop, while the soft rattan furniture, from Kettler, and floor standing lamps give the space an indoor/outdoor feel.
15. Use your driveway to hint at what lies beyond
Very often, the garden begins at the entranceway to the house — namely the driveway. It is really nice to give an idea of what to expect when it comes to the rest of the outdoor spaces when thinking through your driveway ideas — just as you might when designing your entrance hall.
Your driveway will also play a huge role in the overall kerb appeal of your home so it pays to give it the attention it deserves.
Lighting is one of the best ways to define a driveway and here, striking solar powered, spherical stake lights, from Annabel James, line the approach to the house. They can also be suspended.
16. Construct a stylish outdoor kitchen
Outdoor kitchen ideas are enjoying huge popularity at the moment, transforming gardens into spaces that can be enjoyed for all kinds of activities. They are particularly well-suited to those looking for modern garden ideas where they open up the possibility for incorporating sleek outdoor cooking appliances, contemporary pergolas and interesting materials for work surfaces and paving.
"The space will require water, drainage, power, lighting and, most likely, internet connectivity, so creating an outdoor kitchen that is connected to the main house may prove easier and more cost-effective than creating a 'satellite' that isn't in such close proximity," says Duncan Aird, Founder of Outdoor Kitchen Expert.
This gorgeous outdoor kitchen has Mediterranean vibes thanks to the warm shade, Tuscan Red, from Little Greene Paint & Paper, used on the wall the oven sits on.
17. Highlight rustic features with modern furniture
Even the gardens of traditional homes which might feature period elements, such as old walls and charming winding pathways can benefit from an injection of a little contemporary style — in fact the contrast between old and new can often work brilliantly well.
Set sleek modern pieces of outdoor furniture against rustic old walls, as has been done here using products from Go Modern Furniture, and finish the look off with a large outdoor rug to add a sense of warmth.
18. Soften sharp edges with lush planting
Crisp, straight lines add a pleasing, minimalist and fuss-free look to modern gardens and if you are mulling over long garden ideas and viewing your pathways as a way to connect the various zones within the space it is worthwhile bearing this in mind.
To avoid the overall look being too harsh, intersperse your pathways with a softer planting scheme and vary heights with some raised beds that follow the same lines as the pathway.
Here, Buscot Limestone with an etched finish, from Artisans of Devizes, has been used for the pathways and combined with a selection of Mediterranean-inspired shrubs.
19. Stick to a small selection of plant species
"Trees and large shrubs are the equivalent of your home's features — pick ones you like which will give interest at different times of the year," says Thea Pitcher, who designed this gorgeous garden, with an intimate sunken patio area.
"Plants are the outdoor equivalent of your cushions/soft furnishings/decorations," continues Thea. "You wouldn't have 20 different types or colours of cushions in a room, so don't do the same with plants.
"Visually it's much more impactful and cohesive to have four different types of plants and five of each than 20 different plants with one of each."
Get the Homebuilding & Renovating Newsletter
Bring your dream home to life with expert advice, how-to guides and design inspiration, direct to your inbox.
Natasha is Homebuilding & Renovating's Associate Content Editor and has been a member of the team for over two decades. An experienced journalist and renovation expert, she has written for a number of homes titles. Over the years Natasha has renovated and carried out a side extension to a Victorian terrace. She is currently living in the rural Edwardian cottage she renovated and extended on a largely DIY basis, living on site for the duration of the project. She is now looking for her next project — something which is proving far harder than she thought it would be.