10 Great Contemporary Self Builds
By Claire Lloyd published
Getting contemporary design right is all about the context — as these contemporary self builds go to show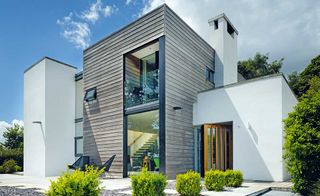 (Image credit: Nigel Rigden)
Contemporary self builds come in many shapes, sizes and guises. While some new homes take their cue from modernist forms (think flat roofs, larges areas of glazing and white render), many of today's crop of contemporary new builds embrace contextualism.
"Contextualism is all about an architecture that is a response to its surroundings and respects the locality. Contextualism is all about the site," explains architect Darren Bray.
Often, this means a design which sits comfortably on its plot, embraces local materials and elements of vernacular architecture, but reinvents them in new and exciting ways.
This selection highlights the wide variety of contemporary self builds being built across the UK.
1. The Contemporary Treehouse
This contemporary self build, designed by architect owner Jake Edgley, was built on brownfield plot in south London. The rear courtyard was designed around a 100-year-old pear tree on site.
Build cost: £2,000/m²
Location: Dulwich, London
2. A Brick-Clad Contemporary Self Build
Architect/owners Annelies and Peter Tompkins replaced a 1960s bungalow with a brick-clad self build. The new house uses a local brick, carefully laid in a bond which matches the vernacular style — and ties in with the neighbouring Arts and Crafts house.
Build cost: £335,000
Location: Berkshire
3. An Industrial-Style Riverside Home
This contemporary build, with its striking Cor-ten (weathered steel)-clad first floor, pays homage to the industrial buildings which once stood on site.
Build cost: £850,000
Location: Lewes
4. A Single-Storey Self Build
One couple built this single-storey home in the garden to their former Victorian house, for their retirement. A significant slope and the desire not to negatively impact on their former home was critical — the new house sits lower on the site, but makes the most of spectacular valley views.
Build cost: £327,900
Location: Derbyshire
5. Reinventing the White Box
Ben Warren's contemporary self build, designed by Stan Bolt: Architect, has taken the concept of the white rendered box and reinvented it. The result is a home that combines different materials and breaks away from the box-like form with varying levels of scale and mass.
Build Cost: £300,000 (£1,382/m²)
Location: East Devon
6. A Contemporary Oak Frame Self Build
Large expanses of glass and a predominately open plan ground floor give this oak frame self build a contemporary edge.
Build cost: £490,000
Location: Hertfordshire
7. A Low-Maintenance Contemporary Home
Concrete and timber cladding – not to mention that gravity-defying cantilever – combine to create a minimalist-inspired home. The large chimney breast 'anchors' the building to its site, while the roof overhangs create shading in the summer.
Build cost: £3,660/m²
Location: Dorset
8. Traditional Materials Meet Contemporary Design
This well-insulated, airtight home was constructed in SIPs, but features natural clay tiles, brick and timber cladding as a nod to the vernacular.
Build cost: £495,000
Location: Hampshire
9. A Contemporary Self Build on a Restricted Corner Plot
This striking new build on a corner plot in Bristol replaces a row of derelict garages. The contemporary self build has been designed in three parts in order to maximise privacy and minimise overlooking.
Build cost: £300,000
Location: Bristol
10. Embracing Organic Architecture
This contemporary Scottish self build, with dynamic roof planes, features natural materials which help it sit comfortably within its setting. The interiors take their cue from mid-century modern design.
Build cost: £500,000
Location: Argyll & Bute
Claire is Editor of Homebuilding & Renovating and has been a member of the team for over 13 years. An experienced homes journalist, her work has also appeared in Real Homes and Period Living magazines. She has a particular interest in green homes, and interior design is also a passion; she has undertaken qualifications in this area. Claire has recently finished her renovation project — and is now onto the next.
Homebuilding & Renovating Newsletter
Get the latest news, reviews and product advice straight to your inbox.
Thank you for signing up to Homebuilding. You will receive a verification email shortly.
There was a problem. Please refresh the page and try again.