Burning Wet Wood: Understanding the New Rules
By Jack Woodfield published
The rules on burning wet wood changed on 1 May - this is what homeowners need to know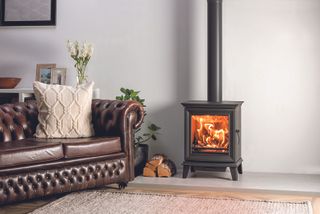 (Image credit: Stovax)
The rules on burning wet wood and purchasing house coal changed on 1 May in England, and will affect homeowners with multi-fuel and log burning stoves.
Stoves can provide warmth and character to a home - and they have not been banned - but when certain types of fuel are burnt on them they can emit small particles of air pollution which can enter the body's lungs and blood.
The new legislation had originally been intended to begin in February, but the government pushed the deadline back to ensure retailers could sell their stocks and to give homeowners more time to use up their existing stock.
With the new rules now in place, this FAQ will guide you through what you need to know.
(MORE: Best outdoor log burners)
What are the New Rules on Burning Wet Wood?
On 1 May, the Air Quality (Domestic Solid Fuels Standards) (England) Regulations 2020 came into force, as part of the Clean Air Strategy. This will phase out the sale of wet wood by 2022 and the sale of house coal by 2023.
Wet wood typically describes wood with a high moisture content, which can be anywhere from 20-60%, depending on if the tree has been recently felled and whether it has been seasoned.
Retailers are now only able to sell wood in volumes of below two cubic metres when it has a moisture content of no more than 20%. This wood must include the Ready to Burn mark, identified in the regulations, which is now mandatory.
Under the new legislation, local authorities can issue fixed penalty notices to retailers which sell wood under this volume which isn't Ready to Burn approved.
Large-scale sales of wet wood (over two cubic metres) for domestic use are still available from certain retailers, but must be sold with advice on drying out the wood.
What About House Coal?
You can still burn house coal, but coal merchants and retailers are now subject to new rules. And, of course, it is recommended where possible to burn more energy-efficient fuels instead (more on this below).
If you are unsure about which house coal you can purchase, it is recommended to ask your retailer. You can find a list of approved coal merchants here and the full guidance on house coal sales can be found on the government's website
All sales of traditional house coal will be banned in England from 1 May 2023, and the government has advised retailers to suggest alternative manufactured solid fuel for homeowners to switch to.
Why is This Happening?
Air pollution is a significant environmental risk to public health, and burning at home is a major contributor to this.
Wet wood and coal are two of the most polluting fuels, and emit a type of pollutant called fine particulate matter (PM2.5), which is easily inhaled and absorbed by the body, and can damage your lungs and other organs. These fuels can also damage your stove, and it is generally an inefficient way of heating your home or garden.
Michael Coke, senior development engineer at Stovax, says: "This is a very positive step forwards for the clean air requirements of the UK. House coal is full of impurities that are not burned, and instead produce corrosive exhaust gases, including sulphur which when combined with condensation makes sulphur dioxide (acid). This corrodes the flue, and contributes to acid rain.
"Both wet wood and house coal also produce large amounts of tar. This quickly clogs the flue, and greatly reduces the efficient running of any appliance."
(MORE: 12 log burner ideas to create a cosy home)
Will There be a Ban on Log Burners?
The new legislation does not require homeowners to replace their current stove, however for those who are eco-conscious, you may wish to update older stoves to a more efficient modern model, such as one that is EcoDesign Ready. Such appliances are more fuel efficient and produce less harmful emissions.
Can I Still Burn My Leftover Fuel?
Yes, you can still burn any remaining house coal, as well as any leftover wood you own, which you can season yourself before use (more on this below).
However, rather than burn your existing fuel, Stephen Talbot of Logs Direct says: "It is just as beneficial for the homeowner as well as the environment to start burning the correct fuel as soon as possible."
Plus, buying dry wood is generally a better option for homeowners who do not have the space to season wood of their own.
(MORE: Stylish Log Store Ideas)
What Alternatives Can I Use?
Homeowners will be encouraged to use cleaner alternatives including dry wood and manufactured solid fuels. These alternatives produce less smoke and pollution, and are more cost-effective to burn.
Wood briquettes, made from compressed dry sawdust and/or wood chips, is one example of a manufactured solid fuel. Dry wood, meanwhile, is not only beneficial from an energy efficiency perspective, but it leads to less wear and tear to your log burner and your chimney.
For appropriate wood fuel, look for the Woodsure 'Ready to Burn' logo, which guarantees the moisture content of the wood fuel is less than 20% whether it has been kiln dried, or naturally seasoned.
For house coal alternatives, meanwhile, there is a helpful list of authorised smokeless fuels on the DEFRA website.
How do I Properly Dry Wet Wood?
The most efficient and environmentally-friendly way to dry wood is to naturally season it. This means storing your wood to prevent it becoming damaged or wet, but also having it exposed to allow the sun's warmth and air to circulate around pre-split wood.
Depending on the density of the wood, it can take between 1-3 years to season from fresh.
You can tell if your wood is ready for burning as radial cracks and bark will come off easily. Use a moisture meter to test the wood: first calibrate the meter, then split the wood and measure a freshly split surface to get the best reading.
Will These Rules Only Apply in England?
Yes, although similar proposals to reduce the burning of wet wood and coal are reportedly being considered in Wales and Scotland.
I Live in a Smoke Control Area; Does This Affect Me?
There are regulations that apply to burning in Smoke Control Areas, and you could be committing an offence if smoke is released from the chimney of your home.
You can read more about the rules here.
Jack has worked in journalism for 11 years and is the News Editor for Homebuilding & Renovating, a role he has had since 2019. He strives to break the most relevant and beneficial stories for self builders, extenders and renovators, including the latest news on the construction materials shortage and hydrogen heating. In 2021 he appeared on BBC's The World at One to discuss the government's planning reforms.
He enjoys testing new tools and gadgets, and having bought his first home in 2013, he has renovated every room and recently finished a garden renovation.
Homebuilding & Renovating Newsletter
Get the latest news, reviews and product advice straight to your inbox.
Thank you for signing up to Homebuilding. You will receive a verification email shortly.
There was a problem. Please refresh the page and try again.