Buying Reclaimed Wood Flooring: What You Need to Know
By Natasha Brinsmead published
Reclaimed wood flooring can be a beautiful addition to a home. We take a look at where to buy it, how much it will cost and potential problems to be aware of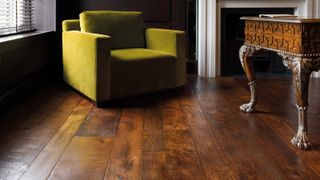 (Image credit: Woodworks by Ted Todd)
Reclaimed wood flooring is a striking and very beautiful choice for all kinds of homes, including those with contemporary interior design schemes, where its character and warmth can be even more pronounced against a sleek, minimalist backdrop.
That said, as with all types of flooring, it is important to purchase reclaimed wooden flooring from a reputable source, to select the right style for your home and to be aware of the common mistakes people make when specifying this kind of floor.
Our guide explains exactly what a reclaimed wood floor is, where you can buy one from and how much it is likely to cost you to ensure that you choose the right product for your home.
What is Reclaimed Wood Flooring?
When looking at the types of wood flooring around, many people consider reclaimed wood as an alternative to new solid or engineered flooring, whether that is because they are after a sustainable alternative or because they are drawn by the history and character that these floors offer.
As the name suggests, reclaimed wood flooring is made from wood that has already been used for another purpose or lifted from another property where it was perhaps redundant. It is also sometimes called recycled wood flooring and may have been, in a previous life, anything from a piece of furniture to a building or even a boat or trailer.
"The wood is salvaged from the reclamation site, be it a historical building, warehouse or colonial home, before being transformed into a reclaimed floor," explains Robert Walsh, founder of Woodworks (opens in new tab) and the Ted Todd Group (opens in new tab).
In order to turn old wood into floorboards, nails are removed and the boards are then sawn, sanded and profiled into floorboards that are suitable for 21st-century standards. Depending on the supplier, they are usually available with tongue and groove edges that make laying easy and come in a range of finishes, from waxed to scrubbed.
Where Can You Buy Reclaimed Wood Flooring?
There are several well-known suppliers specialising in reclaimed wood flooring, including Woodworks by Ted Todd (opens in new tab), The Main Company (opens in new tab), Havwoods (opens in new tab) and Lawson's Yard (opens in new tab). All these suppliers will tell you exactly where the wood has been sourced from, its condition, how it should be installed and whether or not it can be laid over underfloor heating.
It is also possible to buy reclaimed wood flooring from salvage yards. In this case, boards or parquet blocks or will often have always been used as flooring and are commonly sold in their reclaimed state, ready to be restored. This is obviously a cheaper option although work will be required to get them up to scratch as boards often feature cracks, painted sections and nails.
Reclamation yards also often stock resawn boards — perhaps made from roof joists or similar. These can be purchased in their raw state, ready to be finished at home and may not always come with tongue and groove edges.
There are many benefits to reclaimed wood flooring, not least the character it will bring to your home. However, it is vital that you know exactly what you are buying before parting with any money, Ask your supplier:
How will the boards be supplied? Ready for installation or in their reclaimed state?
How should they be fitted? Do they have tongue and groove edges or will they need nailing into place?
Can they be fitted over underfloor heating? Some can, some can't.
What condition are they in? If buying from a reclamation yard, aim to visit to inspect the boards.
Where was the wood sourced from?
Is Reclaimed Wood Flooring a Good Option?
There are many reasons why reclaimed wood flooring is a brilliant choice, with its unique character being amongst the most obvious.
"Reclaimed wood flooring (or antique flooring when over 100 years old) is incredibly hard-wearing, as only the best materials would do in historical projects, with the age of the wood meaning it is less likely to move than newer timber, therefore providing longevity and preventing the need to repurchase in a few years' time," explains Robert Walsh.
"With all this in mind, the history that reclaimed wood provides creates a desirable, unique look that is almost impossible to replicate in new floors — every piece will tell a different story and make your project truly unique."
Reclaimed wood flooring is also a very sustainable choice. "Using reclaimed woods massively reduces the number of trees that need to be harvested to make new wood flooring," says Robert Walsh. "By using the reclaimed and recycled wood, we are able to reduce future deforestation, trap more carbon in our projects and increase the lifecycle of one of the most durable building materials available to 100 years or even more."
Can Reclaimed Wood Flooring Be Laid Over Underfloor Heating?
Some reclaimed wood flooring can be used over underfloor heating, while other types are unsuitable. Your supplier will be able to advise you so do check before ploughing ahead with installation.
How Much Does Reclaimed Wood Flooring Cost?
This very much depends on the condition of the flooring and the state in which it is delivered in.
You can expect to pay around £40/m2 for boards in the state they were reclaimed in from a salvage yard but up to £350/m2 or more for antique hardwoods such as oak that have been finished to a very high standard.
For reclaimed and restored softwood flooring, expect prices of around between £70-£150/m2.
Natasha is Homebuilding & Renovating's Associate Editor and has been a member of the team for over two decades. An experienced journalist and renovation expert, she has written for a number of homes titles. She has renovated a terrace and is at the end of the DIY renovation and extension of her Edwardian cottage. She is now looking for her next project.
Homebuilding & Renovating Newsletter
Get the latest news, reviews and product advice straight to your inbox.
Thank you for signing up to Homebuilding. You will receive a verification email shortly.
There was a problem. Please refresh the page and try again.