14 Creative Homes Built on Brownfield Sites
By Amy Reeves published
These brilliant self builds have all made use of disused or derelict plots, from urban infills to industrial sites, for amazing new builds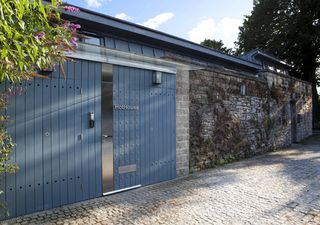 (Image credit: Lu Jeffery)
Brownfield sites, which may have previously been used for industry or commercial use, can be attractive propositions for self builders, as long as they are savvy about what could lie beneath the surface.
Around 60% of people in the UK would like to see derelict land converted into modern, efficient homes and 77% said that when brownfield sites are regenerated they bring a sense of freshness to an area, according to Roman Capital. As plots are in short supply and the government failing to meet their housing targets, many self-builders are turning to the forgotten and rundown sites in usually urban built-up areas.
Former garages, car parks and industrial sites are being repurposed for modern, efficient housing and frequently challenging and compact plots can inspire ingenious space-saving solutions — scroll down to see our favourite brownfield homes.
1. A Passivhaus Built on a Former Garage Plot
After spending four happy decades living in a five-storey Grade-II listed Georgian house, Elizabeth Sharp decided to self build on the site of her old home's garage.
The new house is built to Passivhaus standards and was built for just £250k. The small stature (110m2) and simple form of the design helped to keep costs on budget.
2. A Challenging Build on a Sloping Brownfield Site
Image 1 of 4
Image 2 of 4
Image 3 of 4
Image 4 of 4
At first, this brownfield site used as garages for commercial vehicles appeared an unpromising build plot to Lu and Ralph Selby — it was overlooked by close neighbours and on a steep slope. However, the location was perfect for the couple, so with Mansel Architects in tow, they went about creating the design for a futureproof home.
Once again, the tightness of the plot in relation to neighbours meant that building a two-storey house up was out of the question, and that excavating for a basement storey and courtyard garden was again the solution.
(MORE: How to Create a New Basement)
The only issue with this was a existing listed garden wall from the days when the site housed a 'hot house' - an early type of greenhouse - for a large Georgian property nearby, which needed to be protected during the build. This meant lifting over diggers for the excavation by crane.
3. From Car Park to Modern Home
Previously a small car parking space, this small home is spread over two storeys, with the bedrooms and bathrooms at ground floor level in order to give a more private feel and a large, open-plan living space at first floor level, accessed by a sweeping flight of external steps.
4. Making use of an end of Terrace Plot
Image 1 of 2
Image 2 of 2
Created as a speculative design for a developer that had come into this end of terrace plot in Dulwich, 31/44 Architect's Red House design is an interesting addition to this otherwise rather ordinary street.
The three-bedroom, three-storey house is on the site where a garage once stood, and takes the idea of a red brick build to the extreme, with a highly pigmented design that creates a modern façade, especially when combined with a decorative relief used around the entrance and contrasting black aluminium windows.
(MORE: Amazing Design Ideas for Urban Homes)
5. A Contemporary Family Home on a Tiny Site
This two-storey. three-bed home was built on the site of a former garage and workshop in a conservation area.
Measuring only 11m by 8m, the tight plot was excavated in order to create the striking home, which is screened off from the busy road by vertical corten louvres.
Floor-to-ceiling glazing, two discrete sunken courtyards and a basement level for the bedrooms make this home a fabulous example of smart urban design.
(MORE: Finding a Plot)
6. Risking it all on a Small London Plot
Image 1 of 3
Image 2 of 3
Image 3 of 3
When Melanie Schubert and her partner bought this small London brownfield plot, housing a tiny garage, they did so without any planning permission in place. It was a big risk, but after some discussion with the planning department about their grand plans for the space, planning permission was eventually granted for their self build home.
The couple built on 100% of the plot, once again digging down for more space in a basement level, but this meant that site access was tricky and there wasn't space on the plot to store materials.
A brick house was required by the planning department, but large wooden shutters that span the large glazing on the ground level allow for privacy when required, or views out onto the neighbourhood when open.
7. An Efficient and Unique Urban Home
Looking for somewhere unique to live with a high level of sustainability and a limited budget, Harry Lovell was disheartened by the London market and turned to self-build.
On a small brownfield garage plot, once rumoured to house a Mayor of Southwark's Rolls Royce, he and Turner Works designed a built this 80m2 timber-frame house filled with insulation and bespoke details for less than £300k.
8. A Courtyard House Filled with Light
De Rosee Sa Architects designed this single-storey self-build on a former garage plot in West London.
The narrow and deep site inspired a long and think house utilising multiple internal courtyards and Crittall-style doors and windows to let in a much natural light as possible.
9. A Narrow Infill on a London Plot
Image 1 of 2
Image 2 of 2
Mark and Adrienne Wheeler's build makes use of a narrow 4.2m wide former, you guessed it, garage plot. The site was steeply sloping and crisscrossed with tree roots, so it took a leap of imagination to see the potential of this miniature piece of land.
The topography of the ground actually plays into the design of this house, allowing Mark and Adrienne to build to maximise the potential of the narrow plot. Clad in contemporary zinc and finished with an impressive spec, this is the sort of house that can stop traffic.
10. An Invisible New Home
On the surface, this home is a simply a reinstatement of the dwelling which originally stood of the plot. but what makes this project special is Clad Studio's inspired use of cutting-edge design, home automation and energy efficiency to create a practical family home on a 130m3 plot (at some points just 4m deep).
11. A High Street Home on a Garage Plot
Samantha Parr turned a redundant garage she owned at the back of her town's high street into this impressive oak-frame home in just 15 weeks to a budget of just £175k.
The plot was no bigger than 140m2 and had difficulties with access due to a 2m-high restrictions at the entryway of the ally, meaning the oak frame supplier had to drag the oak frame through on a hand-help roller.
Read the full story: Built in 15 Weeks! Mum Transforms Disused Garage Into a Beautiful New Home
12. Contemporary Solutions to a Small Site
This former double garage plot with a buildable space of just 35m2 inspired this contemporary subterranean self-build.
An upside down floorplan places the living spaces at the top of the house to maximise light and views, while the more private rooms are positioned in the basement courtyard.
(MORE: Ways to Bring the Outside In)
13. A Coastal Dream Site for a New Home
Formerly an industrial area where pilchard fishermen preserved their catch, this striking modern home replaces two garages.
Due to the idyllic nature of the site, planning permission demanded that the new house was a single storey with a low roof line that would not disrupt anyone's views.
14. Going Down — A Subterranean Solution
Darren and Lucy Henderson dug down into their garage plot to create a basement level to comply with planning permission restrictions.
Read the full story here: Incredible Transformation — From Derelict Garages to Subterranean Modern Home!
Assistant Editor Amy began working for Homebuilding & Renovating in 2018. She has an interest in sustainable building methods and always has her eye on the latest design ideas. Amy has interviewed countless self builders, renovators and extenders about their experiences for Homebuilding & Renovating magazine. She is currently renovating a mid-century home, together with her partner, on a DIY basis, and has recently fitted her own kitchen.
Homebuilding & Renovating Newsletter
Get the latest news, reviews and product advice straight to your inbox.
Thank you for signing up to Homebuilding. You will receive a verification email shortly.
There was a problem. Please refresh the page and try again.