Incredible Transformation — From Derelict Garages to Subterranean Modern Home!
By Alison Wall published
Darren and Lucy Henderson bought their garage plot in Bournemouth for just £120K and built an amazing home for their young family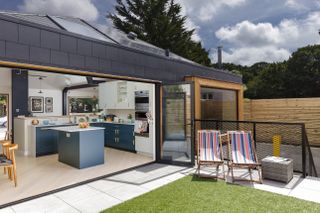 (Image credit: Simon Maxwell)
Like many good self build stories, this one starts with a eureka moment. For Darren and Lucy Henderson, theirs came while walking to the beach with their two young daughters and passing a small site that housed four derelict garages. The couple could see beyond this unloved brownfield site in Bournemouth: this, they felt, could be their next family home.
So they went ahead and bought the plot for £120,000, subject to planning permission — double what it was worth as a garage site, but far less than its potential suggested.
"We could have sold the site straightaway for thousands more but we wanted to live here. My office and the girls' school is just down the road — the beach and pub are here, too," says Darren, who's a director at Dot Architecture (opens in new tab). "What's not to like?"
Not everyone could see their vision. The initial design, to create a two-storey home, was scuppered when a neighbour's concerns about Right to Light meant that the planners insisted that the house was no higher than single storey. So rather than going up, Darren's design went down — to a basement level (for sleeping) accessed via a central staircase and a living/kitchen space at ground level.
Basement Costs and Construction
Project details
Homeowners: Darren and Lucy Henderson Location: Bournemouth Plot cost: £120,000 (2010) Build cost: £350,000 Current value: £650,000
Going underground on a tight urban site is not for the faint-hearted. Basements invariably cost more than building above ground; here, the cost of excavating the ground and installing a basement was £120,000.
"If you were to build this house above ground it would have cost us around £230,000. Here it ended up costing around £350,000," says Darren.
"I don't think all sites are suitable for going underground. But this is a good spot because the local market can take it." (The house is now valued at a healthy £650,000.)
To build the basement, Darren opted for masonry and reinforced concrete using a king post system (a cost-effective construction method that involves drilling holes with a piling rig and then filling them with concrete and installing structural beams).
Above Ground Construction
At ground floor, SIPs (structural insulated panels) are paired with glulam (an ultra-strong structural engineered wood product) and steel beams. This approach allows for a vaulted ceiling, geometrically varied spaces and visually interesting juxtapositions between steel and timber.
The exterior walls splay out towards the rear to make the most of the small site. "Very few of our walls fit the standard 90° angle, and that would have been a challenge for most builders constructing masonry walls on site," Darren explains.
With neighbours on all sides, Darren and Lucy kept in regular contact with them during the build. "People don't normally accept change well, but they're far more accommodating when you talk to them and let them know what's happening.
"When we carried out the piling for the basement's retaining walls the vibrations could be felt in the vicinity of the site. I spent the day going from house to house to explain that there was nothing to worry about. The vibrations were only felt on the hour, and for about one minute at a time, but some people were concerned."
It helped that building the 160m² bungalow was relatively quick. "It was amazing, especially considering the complexity of the excavating out," remembers Lucy. "From clearing the garages to us moving in took about 10 months." Bringing in materials onto the tiny site was tricky, though, both in terms of health and safety and logistics — the couple often craned in more materials than they needed, rather than risking the cost and hassle of a follow-up delivery.
For the external materials, Darren and Lucy chose larch for the projecting picture windows and fibre cement slates for the roof and ground floor exterior. The latter offered the dark, smooth slate-like finish they were looking for, without the expense of natural slate.
Below ground, white K Rend provides a visual contrast to the slates above. "We thought about using the same dark slates here but wanted this area to be light, and we didn't want people to feel that they were in a basement," explains Darren.
Energy Efficiency
The light-filled house is also highly energy efficient, with solar PV panels on the roof, a mechanical ventilation with heat recovery (MVHR) system and, of course, those insulated and airtight SIPs panels.
And how does it feel to live in this mix of subterranean and above ground spaces? "We love the house so much, and we love the location," says Darren. "The courtyard gardens are well used and incredibly light despite being 'underground'. I get an itch to move onto the next project, but I feel settled here now, and that speaks volumes!"
(MORE: Self Build: The Complete Guide)
Homebuilding & Renovating Newsletter
Get the latest news, reviews and product advice straight to your inbox.
Thank you for signing up to Homebuilding. You will receive a verification email shortly.
There was a problem. Please refresh the page and try again.