Built in 15 Weeks! Mum Transforms Disused Garage Into a Beautiful New Home
By Michelle Guy published
A potentially contentious site didn't stop this self builder from constructing a stunning oak frame property in just a matter of months — and with a modest budget too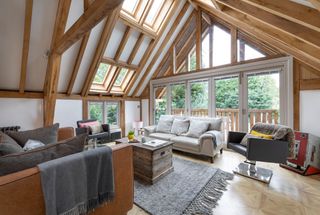 (Image credit: Jeremy Phillps)
When a turn of events meant Samantha Parr had to move out of and sell her family home in a beautiful South Staffordshire village, she wanted to find a way to stay on the high street she'd grown to love over the past 20 years.
Never one to shirk a challenge, Samantha had the idea of turning a redundant garage she owned at the back of the high street into a home on a plot no bigger than 140m2. "Most people I told said I'd never get planning permission to build on the site but I'm one of these people who see an opportunity and thinks 'let's go for it!' So I blindly went ahead and put plans in anyway," recalls Samantha.
She was right to go ahead. The planning process was pretty straightforward. Conditions were placed only on the fabric and materials used for the building (the cladding, bricks and roof tiles) because the plot resides in a Conservation Area.
"Because I had a strong idea of what I wanted, coupled with a really supportive planning officer who understood what I was trying to do, the plans were passed," says Samantha.
Once plans were passed, Samantha had a short timescale to build as she needed somewhere to live, so it was all systems go.
Building a Micro Oak Frame Home
"I knew I wanted a Swiss-style chalet so I put all of my ideas together on a moodboard. I then visited Prime Oak – who normally build orangeries bigger than the size of my plot! – and they were really positive and thought it would be fine to crane in so were happy to proceed."
The result is a beautifully formed oak frame home. It's an upside-down house with two bedrooms and bathrooms located on the ground floor and a first floor that boasts a wonderful openplan kitchen and living area with a glazed gable and small balcony.
The floorplan is small on paper but I just use all the space. It's quiet, private, safe and peaceful. And the location is just great — on a beautiful high street, with views out that change with the seasons. I can't see myself moving anytime soon."
Perhaps surprisingly, the build only cost Sam around £175,000 altogether, although she already owned the land. At the time of completion, the home was valued at around £425,000.
A Tight Squeeze: How Access Became an Issue for the Build
Although planning was pretty straightforward, the location threw up some issues for the build. The plot was nestled down the back of a narrow, quaint cobbled alleyway, which was flanked on either side by independent cafés and shops.
To further complicate matters, the entrance arch leading into this alleyway had a 2m-height restriction. When the oak frame company saw all of this for the first time, they quickly realised they wouldn't be able to crane the frame in, so they had to drag the oak through on a hand-held roller! "It was definitely back to basics, literally moving the frame piece by piece," says Samantha.
(MORE: Does Your Site Have Access Issues?)
And this restrictive access also affected all the trades on site. The builder who did the groundworks had to excavate 50 tonnes of soil from the plot; the services – gas, water and electricity – all had to come in off the high street, which had to be dug up three times.
"Getting the gas connected was a massive job. I tried to get shared access [for the services] but I couldn't, so the street and alleyway were dug up." The lay of the land also meant that a pump had to be installed to get water up to the property. "It was a real challenge," recalls Samantha.
How to be a Good Neighbour When Self Building
Having neighbours en route to the building site was another huge consideration for Samantha and her team. "The shops are shut on a Monday, so we'd take full advantage of that. The first load of any materials would arrive at around 5.30am to make sure we were there outside of the shops' usual opening hours.
One Saturday morning my daughter and I moved all the blocks together by hand before the shops opened. I supplied the shop owners with cake and offered to clean their windows to apologise for all the inconvenience," says Samantha.
On such a small plot tensions did undoubtedly rise. "Towards the end there were around 20 people on site so it got a bit tense. But I'd use some positive energy and herd them all back together," laughs Samantha, who took on the role of project manager.
A Speedy Build Team
Samantha's team consisted of local skilled trades, including an 80-year-old local bricky, called Dickie, who Samantha brought out of retirement having met him in a chance encounter while walking her dogs. "The only digger small enough to get through the alleyway was a digger used for digging graves that Dickie drove. He brought years and years of experience to site. The guys loved him, and all of his stories!"
The rest of the subcontractors included oak framers, roofers, electricians, gas fitters and plumbers. Making a small home feel bigger, Samantha and her team of skilled trades built the house in just 15 weeks — quite an extraordinary feat given the plot restrictions and having never self-built before.
Michelle is Homebuilding & Renovating's Deputy Editor. With an editorial career spanning more than 18 years, Michelle spent time working on educational magazines and websites until her career took an exciting turn into the world of homes and interiors. Working on sister titles Real Homes and Period Living, she then joined the Homebuilding team in November 2018. She's just completed her second kitchen renovation project, armed with an ever-growing knowledge of homebuilding advice and design inspiration. She's just about to embark on another bathroom refurb project.
Homebuilding & Renovating Newsletter
Get the latest news, reviews and product advice straight to your inbox.
Thank you for signing up to Homebuilding. You will receive a verification email shortly.
There was a problem. Please refresh the page and try again.