12 Design Ideas for Urban Homes
If you're dreaming of self building or renovating in a city, be inspired by these great projects in urban locations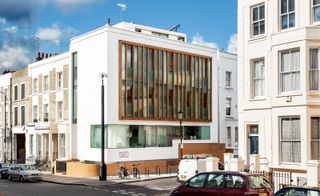 (Image credit: Simon Maxwell)
Self building or renovating in the city can be hard — property prices are high and space is at a premium.
Even if you manage to find a plot or conversion opportunity in your chosen town or city, its size and position can make the design process a challenge.
But don't let this put you off your dream of self building in the city – these projects all demonstrate that it is possible, with some really striking results.
1. Eco-friendly City Self Build
This three-storey end terrace has been designed to fit into the streetscape without emulating the neighbouring houses. This was achieved through matching the brickwork to other houses on the street and choosing a complementary dark stain for the Siberian larch cladding.
Build cost: £139,000
Location: Sheffield
2. Contemporary Home on a Corner Plot
Occupying a tight corner plot, this striking cedar-clad self-build is 100m², including a sheltered courtyard. The triangular plot encouraged innovative design solutions including minimal street-facing glazing, but the result is a light and spacious, highly insulated timber frame home.
Build cost: £350,000
Location: London
3. Remarkable Contemporary Home on a Small London Plot
Born out of the constraints of a small site, this striking home uses a flat roof to minimise its impact on the local surroundings.
Build cost: undisclosed
Location: Camden, London
4. Cutting-edge London Self Build
This self build on a former garden plot is packed with exciting features — including a hidden entrance. The addition of a basement was necessary to create a the 159m² family home on the small London site.
Build cost: £525,000
Location: London
5. Stylish Contemporary Home in Notting Hill
A grill-like window structure adds architectural interest to this end-terrace home in the heart of London. The small site was split into two vertically detached houses, thanks to the corner location allowing the creation of two separate entrances.
Build cost: £100,000
Location: Notting Hill, London
6. From Office Building to Ultra-Modern Home
From 1970s office block to ultra-modern home — a creative solution for city living.
Build cost: £500,000
Location: Loughborough
7. Remarkable Remodel in London
Frameless glazing, crisp render and an extension have taken this home from a dull semi to a modern villa.
Build cost: £700,000
Location: London
8. Glazed Basement Extension
A large glazed basement extension offers additional family living space in this terraced home in the heart of Oxford.
Build cost: £4,118/m²
Location: Oxford
9. Cleverly-Designed Urban Self Build
Clever planning allows this single storey home to maximise every available inch of space on its tiny London plot.
Build cost: £230,000
Location: London
10. Hidden Contemporary Self Build
Two-thirds of this subterranean home is hidden from view at street level in order to comply with the strict planning rules in this London Conservation Area.
Build cost: undisclosed
Location: West London
11. Compact Timber Frame Home
Hiding this 75m² London home behind a high perimeter wall offers privacy for both the homeowners and their neighbours. It also helped to mitigate concerns from neighbours and planners about the property's external appearance.
Build cost: £170,000
Location: London
12. Three-storey Home on a Narrow Plot
Replacing a 1950s end terrace with this new home allowed for a basement level to provide extra space.
Build cost: £330,000
Location: South London
Homebuilding & Renovating Newsletter
Get the latest news, expert advice and product inspiration straight to your inbox.
Thank you for signing up to Homebuilding. You will receive a verification email shortly.
There was a problem. Please refresh the page and try again.