Dado Rail Ideas: How to Use This Detail to Transform a Room
By Natasha Brinsmead published
If you are on the hunt for great dado rail ideas then you're in luck — we have all pulled together a collection of fantastic ways to treat this moulding detail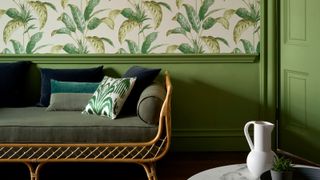 (Image credit: Paint & Paper Library)
The right dado rail ideas have the potential to take a room from being a bland and uninspiring space to one that is packed with character and charm.
Much like other mouldings and skirting boards, dado rails came into being through a practical need, in this case to protect walls and wall coverings from damage. However, they quickly became a design feature and can be used in all kinds of homes — not just those with period features already in place.
Dado rails have been a fashionable home detail since the 18th century and, although their popularity has wavered a little over the years, they are currently enjoying huge popularity. Alongside painting skirting boards, painting dado rails in a bold colour to complement walls has been one trend of late.
Here, we have brought together some of the best dado rail ideas around, to ensure that no matter what style of room you are working with, there will be something to suit you.
Which Dado Rail Ideas Are Right For Me?
Despite their very traditional roots, dado rails these days come in all kinds of designs meaning they are no longer the reserve of period properties — with the right treatment, this type of moulding can be used in even highly contemporary homes.
If you live in a period house that is missing sections of original dado rails, it will usually be possible to ask a specialist to make replica sections to match the existing. Dado rails are most commonly made from timber or plaster. However, it is also now possible to buy dado rails crafted from high-density polystyrene and MDF — often a cheaper option.
Modern dado rails are usually unfussy in their design, as opposed to period styles that tend to feature intricate decoration and ornate profiles.
For a nice, uniform look, aim to tie the design of your dado rail in with that used for your other mouldings and bear in mind your skirting board sizes to ensure everything looks in proportion.
1. Highlight Period Dado Rails With Paint Tricks
If you are lucky enough to find original dado rails in place, you want to do everything you can to draw attention to them. One of the best ways to do this is by using paint techniques.
Here, the classical design of the dado rail has been put on show thanks to a combination of subtle paint colours – Temple 238 and Monument 151 from Paint & Paper Library (opens in new tab) – on the upper and lower walls respectively, with a bold strip painted in New Black 126 just above the dado rail.
Painting skirting in the same colour as the wall is also a good skirting board ideas.
2. Tie Your Dado Rail in With Other Mouldings
Ensure that your dado rail design of choice is mirrored in your other mouldings, such as architrave around windows and doors, cornice and skirting. You can either opt for the same profiles, or simply paint them all a coordinating shade, such as has been done here — the colour of the woodwork has also been picked up in the wallpaper, from Bobbi Beck (opens in new tab).
Dado rails and beautiful wall panelling ideas are a match made in heaven so if you are planning on fitting wall panelling do take time to think through your choice of dado rail to ensure it will fit in with your panelling design.
3. Create a Two-Tone Look
A simple yet effective idea is to paint the lower section of the wall a bold shade that sits in complete contrast to that used for the mouldings and upper section of the wall.
Using a darker shade on the lower portion of the wall will help add visual height to the room, while the interesting two-tone effect that is created can really work to distract the eye from a room that is on the more compact side.
4. Use Your Dado Rail as a Picture Shelf
Dado rails not only protect walls from furniture damage, they can also become handy spots on which to sit pictures, mirrors and knickknacks.
Leaning artwork up against walls, as opposed to hanging them, adds a more eclectic look to a spaces — plus it makes it easy to swap out your choices as and when the mood takes you. What's more, you don't need to know how to hang a picture frame or fill holes in the wall should you wish to move pictures around.
In this calming neutral living room, the shade Paper III from Paint & Paper Library (opens in new tab)has been used on the upper section of the wall, while Paper V has been used for the lower part — the chunky dado rail design sits the artwork comfortably.
5. Keep it Fresh and Simple
If it is hallway ideas you are after, in order to address the issue of a narrow space, it is a good idea to stick to a simple, unfussy approach when it comes to your treatment of mouldings such as dado rails and skirting boards.
Rather than getting too carried away with paint effects and tricks of the eye, it can be best to stick to just one pale shade all over the walls. This way, your dado rail will still stand out, but the space won't feel crowded — the decorative element the rail adds will prevent the room from looking too stark.
6. Consider a Tiled Dado Rail
Wall tiles are not just for bathrooms — they can add a really interesting look to hallways too.
Half tiling a wall actually presents an ideal opportunity for introducing a dado rail — you will need to look at dado border tiles for this idea to work at its best. They are used to finish off the top of the tiles and are available in a whole range of profiles, such as decorative 'swan neck' designs, although modern designs are a possibility too — pencil moulding is perfect.
7. Create a Headboard Effect With a Dado Rail
Finishing off half wall panelling ideas with a dado rail above is a great idea behind a bed, where it will help to create the illusion of a full-width headboard.
Here, simple tongue-and-groove panelling, painted a fresh white, has been topped with a simple wooden dado rail, positioned just higher than where the pillows sit to complete the headboard look.
8. No Dado Rail? No Problem
Not everyone has existing dado rails to work with — and not everyone wants to spend time or funds on fitting one either.
If you are keen to break you walls up visually though, you can easily conjure up a similar effect to that created by a dado rail by using painting techniques.
Simply paint just the lower portion of your wall a different shade to that used on the upper section — and achieve a crisp finish using masking tape or similar. We like Frog Tape from Amazon (opens in new tab).
10. Set Off Original Dado Rails With Wallpaper
Using a richly patterned wallpaper beneath your dado rail will really bring out the detail of its profile. Keep the paint colour you choose for the rail neutral in order to keep the focus on its design at the same time as ensuring the pattern of the paper doesn't have to compete with anything, and to avoid the look becoming overly fussy.
Here, SUZIE Q print wallpaper from Mindthegap (opens in new tab)has been paired with an unfinished section of wall — together they offset the period mouldings perfectly.
11. Get The Dado Look With Wallpaper
There is an enormous range of wallpapers out there to choose from, some of which do a great job of mimicking the look of other materials and products, from wood effect to tile.
An idea we love right now is wood panelling-effect wallpaper that adds depth and interest to any wall — and looks perfect when fitted beneath a dado rail, which will add to the 3D effect of the paper. Plus, it's a look you can achieve on a budget if you learn how to wallpaper.
Here, Library Frieze wallpaper from Lime Lace (opens in new tab) and designed by Cole & Son in collaboration with Historic Royal Palaces, has been used to add to the classic architecture of this hallway.
12. Look at Modern Dado Rail Ideas
Dado rails need not be limited to those living in traditional homes — they can suit contemporary interior schemes really well too.
For a sleek, modern look, pair plain wall panelling with a subtle pencil profile dado rail and paint both the same shade — although the example here looks great in crisp white, a brave dark shade would work equally well. Building the panelling out a little, as has been done here, will provide a handy shelf too.
13. Give the Illusion of a Dado Rail
There are now many wallpapers and wall decals available that mimic the look of, or give the impression of, a dado rail — a sign, perhaps, of the popularity of this type of moulding right now.
Wallpaper is a great option for those after wall covering ideas that can easily be changed — it is simple to remove or paint or paper over, and easy to fit on a DIY basis.
The room here features paint effects created using stencils from Annie Sloan (opens in new tab) that allude to a dado rail, with a plain lower section and a patterned upper half.
What is a Dado Rail?
Before getting stuck into our collection of dado rail ideas, it is well worth taking a moment to get to grips with exactly what a dado rail is.
The word 'dado' describes the lower section of a wall when it comes to home design — and a dado rail is the moulding strip that sits above this space. They can either sit alone on the wall or be used to finish off the top of wooden wall panelling.
The Georgians are thought to be the first to widely use the dado rail. It was introduced as a way to protect walls and wall coverings from damage caused by furniture, mainly chairs, which would often be pushed up to the walls at this time. The backs of the chairs were often at the exact height of the dado rail — which is why they are also sometimes seen referred to as 'chair rails'.
Don't confuse dado rails with picture rails, which are placed higher on the wall and were, as the name suggests, designed as a way to hang pictures without having to disturb the surface of the wall.
What Height Should a Dado Rail Be?
There are no hard and fast guidelines to state the correct height of a dado rail — the proportions of your room and how you plan on decorating and furnishing it should influence its height.
Ideally, you want to go lower rather than higher, particularly in rooms with low ceilings where a dado rail set too high can give the illusion of bringing ceilings down further.
To find the right height for your dado rail, measure the distance between the floor and ceiling of your room, then aim to fix your rail around a third of this measurement up the wall from the floor.
Natasha is Homebuilding & Renovating's Associate Editor and has been a member of the team for over two decades. An experienced journalist and renovation expert, she has written for a number of homes titles. She has renovated a terrace and is at the end of the DIY renovation and extension of her Edwardian cottage. She is now looking for her next project.
Homebuilding & Renovating Newsletter
Get the latest news, reviews and product advice straight to your inbox.
Thank you for signing up to Homebuilding. You will receive a verification email shortly.
There was a problem. Please refresh the page and try again.