Skirting Board Ideas to Finish Off Your Interiors in Style
By Natasha Brinsmead published
Take a look at our collection of skirting board ideas to ensure that this often disregarded detail doesn't ruin the final look of your interior design scheme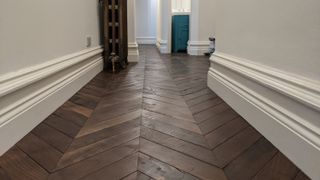 (Image credit: Finwood)
While skirting board ideas might not seem like a priority when building or renovating your home, they are one of those smaller details that can actually make or break an interior design scheme.
Although skirting boards have an important practical role to play in concealing the untidy join between the base of a wall and the floor, they can, given the right thought and treatment, become design features in their own right, adding depth and interest to the spaces they are fitted in.
When it comes to skirting board ideas, you shouldn't have to look too hard to find that there is a massive range of choice when it comes to profiles — from super slim designs with crisp straight edges, to those designed to slide seamlessly into period homes with decorative details.
Finding The Right Skirting Board Ideas For You
While there are a huge number of skirting board ideas to consider, not all will necessarily be suitable for you. It is important that your skirting boards fit in with the style of your house, the proportions of the rooms and the look you are aiming for.
Those after a design to grace a period property should think carefully about skirting board sizes as the height needs to take into account the ceiling — using very tall boards in cottages with lower ceilings, for example, can have the effect of visually shrinking the walls.
If you live in a contemporary house and want minimalist decor, you will need to look at slimline boards with little in the way of detail — or consider a shadow gap instead.
Here, we take a look at a range of great skirting board ideas and treatments for every style of house. We also take a look at ways you could give existing boards a facelift.
1. Turn Skirting Boards into a Design Feature
Rather than viewing your skirting boards as nothing more than a practical way to protect and finish off walls, why not use them to enhance or add to your design scheme?
Painting skirting boards a bold colour that stands in contrast to the rest of the wall colour can undoubtedly make a real statement — but how about this fantastic multi-tonal approach instead? The tall boards have been painted using Pale Lupin 278 from Little Greene, a softer shade than the Thai Sapphire 116 colour used on the walls. Between the shades, a small bright strip of Trumpet 196 has been used to highlight the top edge of the skirting and make the whole thing pop.
2. Match Skirting to The Period Of The House
If you are renovating, particular care needs to be taken when dealing with original features such as skirting boards. If sections are missing, it is sometimes possible to find matching designs off-the-shelf but often you will need to have them custom made.
If you have a Victorian or Georgian house, bear in mind that taller ceilings usually look best with taller skirting boards. Decorative profiles such as torus and ovolo tend to work well in period homes. Here, painting the very deep skirting the same khaki shade as the walls and joinery has a bold effect.
3. Keep Things Simple and Subtle For a Fresh Look
In modern homes, or where a simple, fresh finish is the aim, opt for an inconspicuous skirting board design that doesn't shout for attention. If your house has lower ceilings, as many modern homes do, choosing a shorter, unfussy board is a really good idea too as it has the effect of visually raising the ceiling height.
4. Create Bold Contrast on Your Walls
Using your skirting boards to create a brave colour contrast is a great idea. Here, the deep blue walls are offset beautifully by the crisp white skirting boards that mirror the cornicing used at the top of the walls.
This is an idea that tends to suit rooms with higher ceilings best as it really draws the focus to the vertical proportions of the space — something you might want to avoid if you have very low ceilings where it could make the room feel a little oppressive.
5. Replace Skirting With Wall Panelling
In many ways, wall panelling plays a similar role to skirting boards in protecting walls from scuffs and damage. Wainscoting is a great wall panelling idea that sees wood panelling fitted to just the lower section of the wall — it is the ideal way to create shelving and hide insulation or pipework services. It also works well as an alternative to skirting boards.
6. Match Walls and Skirting For a Unified Look
For a pleasingly cohesive look to your interiors, paint your skirting boards the same colour as your walls. This is a great idea for those after ways to make small rooms feel bigger, but don't think that by painting the boards a co-ordinating colour they won't stand out. As can be seen here, using an eye-catching colour for your skirting can actually really highlight a decorative profile.
7. Use Tiles For Your Skirting Instead of Wood
Where tiles have been used on the walls, it makes sense to use them for your skirting too. You have several options when it comes to how to tile a wall. You might decide to use the same tiles all over or you may, as can be seen here, use different tiles for the skirting boards — there are in fact tiles specifically for the job.
Tiled skirting is actually really common in mainland Europe where tiled floors are favoured over soft flooring to keep homes cooler. Unlike wooden skirting, tiles won't require painting, oiling or staining and are waterproof.
8. Be Bold With Your Choice of Skirting Colour
There are lots of different ways to introduce colour into your home. Some people choose to paint their walls in bright shades while for others this can be a bit too much. In this case, using colourful accessories or artwork is a great option.
However, there is another option that lies somewhere in the middle — using your skirting and timber mouldings as colourful additions. Here, a zingy yellow – Trumpet 324 from Little Greene – has been used on the skirting and architrave, picking up on the small yellow details in the wallpaper.
9. Match Skirting Boards to Flooring For Rustic Appeal
In barn conversions or more rustic country properties, an idea that can work really well is to match the skirting to the wooden flooring. This works really well in homes with exposed beams, where it can further enhance the warmth and character an expanse of timber tends to invoke.
Oiled or varnished softwoods such as pine look great and are a cost effective option, although hardwood skirting made from a wood such oak or ash will be more resistant to damage. When it comes to cutting skirting boards however, bear in mind that hardwood can be tricker.
10. Use Slimline Boards in a Contemporary Scheme
Where a crisp, streamlined look is the order of the day, opt for thin, square-edge skirting such as this. The most commonly used skirting board depth is 18mm, but they can be as thin as 12mm.
Bear in mind that very thin skirting tends to be available in fewer profile designs than thicker products — usually square edge, pencil round and other more simple profiles. That said, if a minimalist look is what you are after then this should not present a problem.
11. Opt For Shadow Gaps Instead
Shadow gaps can replace the need for skirting boards and are a popular option amongst those after a minimalist interior scheme.
Shadow gaps are tiny spaces between the base of the wall and the floor and are designed to allow movement between the two. They are a tricky little detail to get spot on and need planning in early on — as such they are often avoided in retrofits.
An alternative is to choose skirting that recessed into the wall so that it lies flush with it.
Natasha is Homebuilding & Renovating's Associate Editor and has been a member of the team for over two decades. An experienced journalist and renovation expert, she has written for a number of homes titles. She has renovated a terrace and is at the end of the DIY renovation and extension of her Edwardian cottage. She is now looking for her next project.
Homebuilding & Renovating Newsletter
Get the latest news, reviews and product advice straight to your inbox.
Thank you for signing up to Homebuilding. You will receive a verification email shortly.
There was a problem. Please refresh the page and try again.